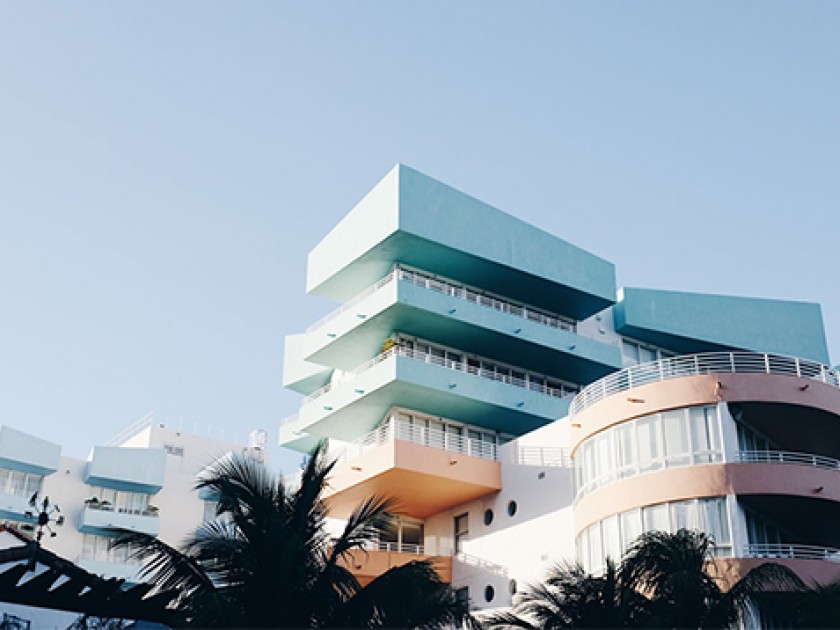 Rebekah Frumkin is writ­ing here as part of Jew­ish Book Coun­cil's Vis­it­ing Scribe series.
Every good Jew knows there were two dias­po­ras: the first out of Israel and the sec­ond out of New York. I was born just out­side of Chica­go, the child of an Ashke­nazi father from New York and a gen­tile moth­er from Illi­nois. I didn't con­sid­er myself a mem­ber of the Jew­ish com­mu­ni­ty because by the halakhah I wasn't. I didn't go to Hebrew school, didn't become a bat mitz­vah. When my father tried to share his back­ground with me by dress­ing me up in a kip­pah and tal­lit and tak­ing me to an ortho­dox shul, the rab­bi declared, ​"Women can't wear those!" and ordered us out the front door.
"Women can't wear those," my father intoned bit­ter­ly. Then he looked at me, eyes heavy with sad­ness. ​"You're just a kid."
I wasn't Jew­ish except for my Jew­ish name, my Jew­ish-look­ing hair and face. I had inher­it­ed my father's inabil­i­ty to sleep, my mother's abil­i­ty to cat­a­stro­phize. I was sun­ny-but-ner­vous, the dis­po­si­tion of the dias­po­ra. I was Frankenstein's Jew, an assem­blage of parts that some­how added up to a func­tion­al whole. I didn't fit in any­where: the two Jew­ish kids at my sub­ur­ban school had been born into the faith in a way I hadn't, but the many gen­tiles didn't seem to under­stand that life was a gift in need of con­stant worry.
Then one sum­mer my father and I drove down to Mia­mi to vis­it his sis­ters. I'm not sure what I expect­ed. My aunts smil­ing on a beach, their tight curls invul­ner­a­ble to the wind, their cut­offs rolled up above their knees? My aunts build­ing sand­cas­tles while the rest of the world func­tioned some­where with­out them? What did peo­ple do in Flori­da? I under­stood that the wealthy vaca­tioned there, but who lived there?
The answer: Jews. I remem­ber watch­ing an old man amble across the beach car­ry­ing a boom­box play­ing klezmer music. An old woman in cat-eye sun­glass­es and a swim­suit with a flamingo's head on the stom­ach told me I was ​"dar­ling" and asked my father if he knew what a delight­ful punim I had. Kids my age ran around with me on the beach and taught me how to curse in Yiddish.
And then there were my aunts. Aunt Hat, the world trav­el­er, showed me a col­lec­tion of cur­ren­cy from for­eign con­ti­nents. Aunt Laney, the ani­mal res­cuer, woke up at the crack of dawn every day to feed stray cats. Aunt Paula, the dri­ver, could pilot a car for fifty hours with­out blink­ing. They were myth­i­cal to me, women who defied the log­ic of my sub­ur­ban world. And Flori­da was their playground.
Like many good Jews before me, I fell in love with Flori­da. The sun, the beach, the com­mu­ni­ty! It was like my dad's native Queens but with­out all the garbage. Sure, there was garbage in Flori­da, but it went some­where mys­te­ri­ous, some­where out of the way. Some­where that was not a street cor­ner. And back in my sub­ur­ban Mid­west, every­thing moved so slow­ly. Peo­ple were so iso­lat­ed from one anoth­er: we drove cars to work and school, did what we need­ed to do, and came back home to eat snacks and watch TV. In Flori­da, every­one was out­side all the time. And every­one was Jew­ish, and almost every­one was old. I loved old peo­ple — I knew I'd make a fine one some­day — and old peo­ple loved me. Flori­da was every­thing I'd want­ed from a place. It was every­thing I'd want­ed from Judaism. The faith and the sun­shine became insep­a­ra­ble for me.
I remem­ber the last day of our vis­it. My father and I were at a seafood restau­rant with my aunts: he was dous­ing his lob­ster in but­ter and I was mak­ing short work of a plate of salmon bits. My aunt Laney sat next to me. In between bites, I watched her eat. The restau­rant was wall-less, and the set­ting sun formed a pink corol­la around her head. I was not yet fin­ished with my meal and I already felt sat­ed and tired like a post-brunch retiree.
"When you res­cue the cats, are they nice to you?" I asked.
Her head jolt­ed from its corol­la. The heat was pleas­ant, palpable.
"Not always," she said. ​"Some­times they don't want to be rescued."
"But it's good for them to be res­cued, right?"
Here she put her fork down and regard­ed me as though she were see­ing me for the first time. ​"Yes," she said. ​"I'd like to think so."
"Can we do it for people?"
"Res­cue them?" she laughed. ​"Peo­ple don't like to be rescued."
I watched the palm trees arc and sway in the dis­tance. I thought how if there real­ly was a G‑d, Florid­i­ans would be the first to know.
Rebekah Frumkin is a writer liv­ing in Chica­go. Her work has appeared in numer­ous out­lets includ­ing Gran­ta, Pacif­ic Stan­dard, and Poet­ry Mag­a­zine. She teach­es at Cat­a­pult and North­east­ern Illi­nois University.