Read all of the posts in our Eight Nights of Sto­ries series here.
Hanukkah Bear by Eric A. Kim­mel; illus. Mike Wohnout­ka

I have to admit, I was extreme­ly puz­zled when I first approached this book. It looked com­plete­ly unfa­mil­iar, yet I knew I had read this sto­ry some­where before.
So have you, if you held a sub­scrip­tion to Crick­et mag­a­zine two decades ago. Orig­i­nal­ly pub­lished in Crick­et and as a 1990 pic­ture book under the title The Chanukah Guest, Hanukkah Bear is a new ren­di­tion of the Eric Kim­mel clas­sic, out this year. Once more, our nona­ge­nar­i­an hero­ine Bub­ba Bray­na wel­comes the wooly ​"rab­bi" into her home for Chanukah: she lights the can­dles, plays a game of drei­del, feeds her guest steam­ing, scrump­tious latkes, and sends him home with a new knit­ted scarf before her friends arrive and dis­cov­er her fool­ish mistake!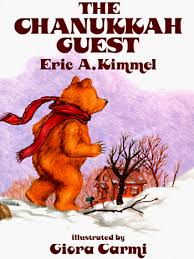 I wouldn't say that Hanukkah Bear is an improve­ment on it's orig­i­nal incar­na­tion; nor is it an infe­ri­or edi­tion, either: Hol­i­day House mere­ly seems to be try­ing to achieve some­thing very dif­fer­ent with the sto­ry than the orig­i­nal pub­li­ca­tion strove for — as evi­denced by the very titles of each book. Where The Chanukah Guest relied on sub­tle­ty, Hanukkah Bear goes for the overt. The for­mer main­tained the Crick­et air of sophis­ti­ca­tion in sto­ries for young read­ers; the lat­ter adopts a child­ish text font and warm, car­toon­ish illus­tra­tions by Mike Wohnout­ka — a stark con­trast to Gio­ra Carmi's sub­dued ren­der­ings. Thought the text remains, as far as I can recall, unchanged, Hanukkah Bear bends toward a younger read­er­ship than its pre­de­ces­sor by dint of aes­thet­ics alone. It is cer­tain­ly a charm­ing book for read­ers 4 – 8, but if you're look­ing for some­thing with a bit more longevi­ty, see if you can get your hands on a copy of the orig­i­nal title.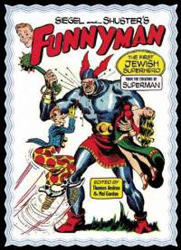 Of course, what lends Hanukkah Bear its plot is the twist of mis­tak­en iden­ti­ty — a lit­er­ary ploy cru­cial to vir­tu­al­ly every super­hero nar­ra­tive. It's the apex of dra­mat­ic irony in the com­ic book world: the one thing we are allowed to know out­side of the action as it unfolds. It's exhil­a­rat­ing and often amus­ing when­ev­er Peter Park­er or Bruce Wayne nar­row­ly avoid dis­cov­ery, much like when Bub­ba Bray­na unwit­ting­ly faces off with a hun­gry bear. But what about the aver­age schmo who's mis­tak­en for a hero? Reel­ing from the legal con­tro­ver­sy over the own­er­ship of Super­man, Clark Kent cre­ators Jer­ry Siegel and Joe Shus­ter dreamed up the mor­tal Fun­ny­man, a tele­vi­sion come­di­an who devel­ops a taste for humor­ous­ly fight­ing crime. The full col­lec­tion of com­ic books and news­pa­per strips have been repro­duced in Siegel and Shus­ter's Fun­ny­man: The First Jew­ish Super­hero From the Cre­ators of Super­man edit­ed by Thomas Andrae and Mel Gor­don, inter­laced with his­tor­i­cal expla­na­tions and crit­i­cal essays. Teens who appre­ci­ate com­ic books, mid-cen­tu­ry cul­tur­al his­to­ry, or a good wise­crack ought to get a taste of this Super­man side project and legit­i­mate piece of Jew­ish Amer­i­can history.
After the kids are asleep…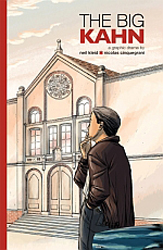 Maybe you'd like a graph­ic nov­el for your­self? In a dark twist on the mis­tak­en-for-a-rab­bi premise of Hanukkah Bear, The Big Kahn by Neil Kleid and Nico­las Cinque­grani fol­lows the three chil­dren of a fic­tion­al (and fic­ti­tious) promi­nent rab­bi as they cope with the dis­cov­ery that their father had been liv­ing a lie right up to his death: Rab­bi David Kahn, now deceased, was nev­er Jew­ish. The Big Kahn is a graph­ic nov­el for adults: the depic­tions of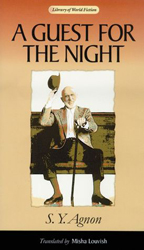 sex and com­plex adult rela­tion­ships might not be appro­pri­ate for younger read­ers; any­one con­sid­er­ing this book for a teenag­er should make sure to it pass­es a parental review first.
But tonight's theme also involves the wel­com­ing of strange guests, and it does­n't get much bet­ter than the S.Y. Agnon clas­sic A Guest for the Night.
Nat Bern­stein is the for­mer Man­ag­er of Dig­i­tal Con­tent & Media, JBC Net­work Coor­di­na­tor, and Con­tribut­ing Edi­tor at the Jew­ish Book Coun­cil and a grad­u­ate of Hamp­shire College.