Ilana Garon is a high school Eng­lish teacher and the author of ​"Why Do Only White Peo­ple Get Abduct­ed by Aliens?": Teach­ing Lessons from the Bronx (Sky­horse, 2013), as well as var­i­ous arti­cles for The Guardian, Dis­sent Mag­a­zine, Huff­in­g­ton Post, and Edu­ca­tion Week. She is excit­ed to have just com­plet­ed the ING New York City Marathon. Ilana lives and works in New York City. She will be blog­ging here all week for Jew­ish Book Coun­cil and MyJew­ish­Learn­ing.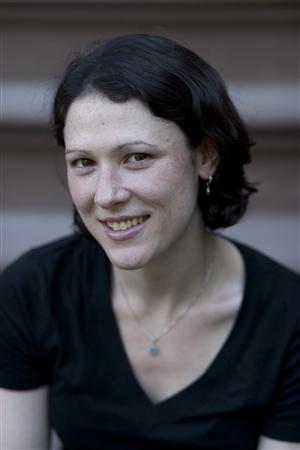 Last week­end I ran the ING New York City Marathon, which was an amaz­ing expe­ri­ence — essen­tial­ly, a 26.2‑mile long par­ty cel­e­brat­ing run­ning, com­mu­ni­ty, and Gatorade. Run­ning the marathon was a real ​"buck­et-list" check-off for me, and the cul­mi­na­tion (though cer­tain­ly not the con­clu­sion) of a love affair with run­ning that began for me when I was 10 or 11, in the Jew­ish day school I attend­ed in North­ern Virginia.
Gesh­er Jew­ish Day School, where I was a stu­dent through 6th grade, was for­mer­ly housed in Agu­das Achim Con­gre­ga­tion (before it got a build­ing of its own, the year after I grad­u­at­ed — I found it ter­ri­bly unfair that the moment I was no longer a stu­dent there, Gesh­er sud­den­ly had a swank new facil­i­ty, includ­ing access to the local JCC's swim­ming pool). Hav­ing to teach gym class­es in what was, on Sat­ur­days, the synagogue's social hall, forced our P.E. teacher Mr. Slover to be cre­ative. In an effort to get us moti­vat­ed and excit­ed about run­ning as a sport in its own right (as opposed to a part of some oth­er sport, like soc­cer or dodge-ball), he set up a com­pe­ti­tion called ​"The Big Cheese," and put fly­ers for it all over the school. For my age group, the 6th graders, it involved run­ning 18 laps around the social hall-cum-"gym", on a ​"track" demar­cat­ed by care­ful­ly placed orange cones, in four min­utes or less. The total dis­tance was prob­a­bly a third of a mile. If you achieved The Big Cheese, you got a prize — the nature of which Mr. Slover left inten­tion­al­ly mys­te­ri­ous, but promised would be ​"awe­some."
Each stu­dent had three tries to make it before a cer­tain dead­line. I remem­ber that I failed the first two times, col­laps­ing dra­mat­i­cal­ly at lap 16 or 17 when Mr. Slover blew his whis­tle to sig­nal ​"time's up," and in one case, cry­ing in dis­ap­point­ment. I was all set to try again for my 3rd and final attempt (I had even been run­ning laps around our court­yard on week­ends, try­ing to improve my time) when the unthink­able hap­pened — a bliz­zard struck the DC-area, and school was closed for an entire week.
After the ini­tial ela­tion at receiv­ing anoth­er (unplanned) win­ter break, I real­ized with hor­ror that my 3rd attempt at The Big Cheese would be can­celled along with school. There was no way I could make it by the dead­line, now. I tried con­sol­ing myself with bit­ter thoughts that Mr. Slover's prize was prob­a­bly not that awe­some, that The Big Cheese was a stu­pid com­pe­ti­tion any­way, and that get­ting a week off from school was the best thing that could ever happen.
When the snow melt­ed and we returned to school, Mr. Slover showed yet again his gift for out­side-the-box think­ing, by unex­pect­ed­ly push­ing back the dead­line for The Big Cheese. Third time was the charm, and come Wednes­day (my next P.E. day after the return to school) I made my 18 laps in under four min­utes, fair and square. I was over­whelmed by how incred­i­ble I felt — the sat­is­fac­tion at hav­ing com­plet­ed a race against the clock, beat­ing my own time (and those of every­one who hadn't tak­en The Big Cheese seri­ous­ly) to achieve a goal. And, when Mr. Slover pre­sent­ed the prizes after morn­ing minyan sev­er­al days lat­er — shiny cop­per medals on red, white, and blue rib­bon (indeed, an ​"awe­some" prize) — I knew I was hooked.
What fol­lowed was a mid­dling career in mid­dle and high school Track & Field, fol­lowed by the belat­ed dis­cov­ery (in senior year, three months before grad­u­a­tion) that long-dis­tance run­ning was ​"my thing," and I should've been run­ning Cross Coun­try instead. Bet­ter late than nev­er, I sup­pose. I took a break from run­ning in col­lege, then focused on swim­ming in my ear­ly 20s. I occa­sion­al­ly ran casu­al­ly, for exer­cise or with friends. But near­ly two decades after Mr. Slover and The Big Cheese, in 2011, I par­tic­i­pat­ed New York Road Run­ners' ​"Israel Day 4‑Miler" and was once again ensnared by that unbeat­able thrill of com­pe­ti­tion against the clock.
That time, it stuck. I kept run­ning, and I haven't looked back since.
Read more about Ilana Garon here.
Ilana Garon works as an Eng­lish teacher at a pub­lic high school in the Bronx, N.Y. In addi­tion to her book
​

"

Why Do Only White Peo­ple Get Abduct­ed by Aliens?": Teach­ing Lessons from the Bronx
, her writ­ing has appeared in
The Guardian
,
Busi­ness Insid­er
,
Gotham Schools
,
Edu­ca­tion Week
,
Dis­sent Mag­a­zine
,
The Huff­in­g­ton Post
, Tablet, and
Pre­sen­Tense Mag­a­zine
.