Ear­li­er this week, Ilana Garon wrote about Jew­ish day school and run­ning. She will be blog­ging here all week for Jew­ish Book Coun­cil and MyJew­ish­Learn­ing.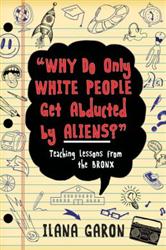 My broth­ers and I togeth­er attend­ed var­i­ous Jew­ish day schools in France, then in North­ern Vir­ginia, and in South­ern Mary­land through­out our respec­tive pri­ma­ry and sec­ondary school years. The middle/​high school we all attend­ed, Charles E. Smith Jew­ish Day School (known as ​"JDS"), boast­ed a rea­son­ably well-devel­oped ath­let­ic pro­gram: They offered three sea­sons of sports, includ­ing soc­cer, bas­ket­ball, track and cross-coun­try, vol­ley­ball, soft­ball, base­ball, and briefly a lacrosse team. We com­pet­ed against var­i­ous oth­er small schools, most­ly parochial, in the Potomac Val­ley Ath­let­ic Conference.
Our most heat­ed rival­ries (i.e., the ones where­in we'd actu­al­ly have some spec­ta­tors at the games) were against two oth­er Jew­ish schools: Beth T'Filoh, in Bal­ti­more, and Hebrew Acad­e­my, also in the Rockville/​Silver Spring area. When­ev­er we played either of these teams, our gym would be plas­tered with signs say­ing, ​"Let the Jews win!" or ​"Jews are the best ath­letes!" The rival­ries were tra­di­tion­al, but good humored, and lack­ing in feroc­i­ty. Los­ing a bas­ket­ball game, even to one of our ​"rival" teams, was no big­gie — every­one would be over it in a day. Get­ting a low grade in Tal­mud—then you had a problem!
Look­ing back, I rec­og­nize and very much appre­ci­ate our school's healthy atti­tude towards ath­let­ics: It was implic­it­ly under­stood that sports were fun, but not the be-all-end-all of exis­tence. If you want­ed to be on a real­ly com­pet­i­tive team, you played out­side of school. (A lot of kids were on teams out­side of school, either to have access to a more chal­leng­ing pro­gram and pos­si­ble ​"scout­ing," or because our school didn't offer a par­tic­u­lar sport, as was the case with my broth­ers and me, who all par­tic­i­pat­ed in a neigh­bor­hood swim team.)
Nev­er­the­less, despite the lack an obses­sive sports cul­ture, stu­dents — even ones with­out nat­ur­al ath­leti­cism — were very much encour­aged to try new sports and join teams. ​"Try out for bas­ket­ball! We need peo­ple, and you might like it," one of our gym teach­ers once told me, after see­ing me shoot bas­kets (poor­ly) in the gym dur­ing a free peri­od. I was pre­dictably awful; I have no eye-hand coor­di­na­tion, and spent most of my time dur­ing games warm­ing the bench. But I learned a lot from bas­ket­ball — not only about the sport, but about being part of a team, and the val­ue of keep­ing in shape year-round. When spring track sea­son came along, I was glad I'd been run­ning laps of the gym all win­ter long.
Judaism has tra­di­tion­al­ly held an ambiva­lent view of sports, dat­ing from Hel­lenic times, and the ​"hea­then" wor­ship of the body implied by build­ing enor­mous gym­na­si­ums and par­tic­i­pat­ing in nude Olympics. Up to the rise of Zion­ism and the Mac­cabi­ah games, which have gone far to legit­imize ath­leti­cism with­in our ranks, Jews have been more com­fort­able iden­ti­fy­ing as brainy than brawny. I remain grate­ful to JDS for embrac­ing a mod­ern and enlight­ened approach to sports, both for girls and guys (which might have been an issue in some reli­gious schools), and fos­ter­ing — if not Olympic-lev­el skills — an appre­ci­a­tion for exer­cis­ing the body as well as the mind.
Ilana Garon is a high school Eng­lish teacher and the author of ​"Why Do Only White Peo­ple Get Abduct­ed by Aliens?": Teach­ing Lessons from the Bronx (Sky­horse, 2013), as well as var­i­ous arti­cles for The Guardian,Dis­sent Mag­a­zine, Huff­in­g­ton Post, and Edu­ca­tion Week. She is excit­ed to have just com­plet­ed the ING New York City Marathon. Ilana lives and works in New York City.
Relat­ed Con­tent: Jew­ish Jocks: An Unortho­dox Hall of Fame
Ilana Garon works as an Eng­lish teacher at a pub­lic high school in the Bronx, N.Y. In addi­tion to her book
​

"

Why Do Only White Peo­ple Get Abduct­ed by Aliens?": Teach­ing Lessons from the Bronx
, her writ­ing has appeared in
The Guardian
,
Busi­ness Insid­er
,
Gotham Schools
,
Edu­ca­tion Week
,
Dis­sent Mag­a­zine
,
The Huff­in­g­ton Post
, Tablet, and
Pre­sen­Tense Mag­a­zine
.