We're leav­ing you with three nights' worth of read­ing in one book for the week­end, but don't wor­ry: Eight Nights of Sto­ries con­tin­ues next week!
What's this all about? Read the intro­duc­tion to the Eight Nights of Sto­ries series here and find all posts from the series here.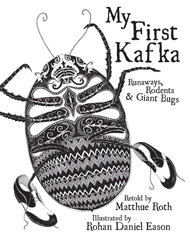 My First Kaf­ka: Run­aways, Rodents, and Giant Bugs by Matthue Roth
There's a sort of won­der­ment to Franz Kafka's per­spec­tive on the world that adults gen­er­al­ly miss or mis­take for bleak­ness, but it isn't lost on kids. As Matthue Roth dis­cov­ered while read­ing Kaf­ka sto­ries to his own chil­dren, there's a delight­ful creepi­ness and wry humor in these works that just clicks with young read­ers. Hon­est­ly, between the col­lapse of real­i­ty into the imag­i­nary and an allur­ing dash of ter­ror, all that real­ly sep­a­rates Kaf­ka from Where the Wild Things Are are Mau­rice Sendak's enchant­i­ng illus­tra­tions — and now Kaf­ka has them, too: Rohan Daniel Eason's stark, intri­cate black-and-white etch­ings some­how cap­ture, more expres­sion than col­ors ever could, trans­mit­ting a sense of con­stant, warped move­ment on each page.

My First Kaf­ka intro­duces ​"The Meta­mor­pho­sis", ​"An Excur­sion in the Moun­tains", and ​"Josephine the Singer, or the Mouse Folk" to read­ers 5 and up — and I mean all the way up. But for read­ers ready to cast aside the pic­ture book, Rock­etChair Media has devel­oped a whim­si­cal iPad app that trans­forms ​"The Meta­mor­pho­sis" into a tru­ly cap­ti­vat­ing inter­ac­tive expe­ri­ence. To clar­i­fy: this is not an e‑book; it's an app that forces the read­er to vir­tu­al­ly enter the sto­ry, effec­tive­ly sim­u­lat­ing Gre­gor Samsa's dis­ori­en­ta­tion upon wak­ing one morn­ing to find him­self utter­ly transformed.
After the kids are asleep…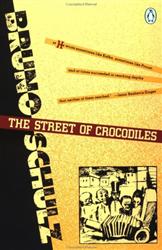 You thought I'd sug­gest some more Kaf­ka for you tonight, eh? Sure, go for it! I would nev­er dis­cour­age any­one from read­ing more Kaf­ka. But maybe you feel that you've hit your Kaf­ka quo­ta for the night — per­fect­ly under­stand­able. In any case, I rec­om­mend switch­ing to Bruno Schultz for the lat­ter por­tion of your evening, espe­cial­ly if you've nev­er read him before. And even if you have, as with Kafka's works, The Street of Croc­o­diles is always worth a re-read: you'll see some­thing com­plete­ly dif­fer­ent with each sub­se­quent encounter.