Wel­come to the sec­ond install­ment of the Jew­ish Book Coun­cil's Eight Nights of Sto­ries series! Missed yes­ter­day's read­ing list on Hanukkah mag­ic? Catch up here.
What's Eight Nights of Sto­ries all about? Read Nat's explana­to­ry blog post!
Molly's Pil­grim by Bar­bara Cohen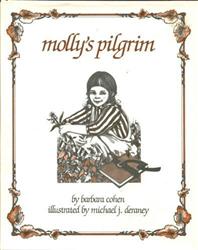 There can't pos­si­bly be a bet­ter book, for read­ers of any age, for the inter­sec­tion of Chanukah and Thanks­giv­ing. My moth­er (she who rec­og­nized the poten­tial for Har­ry Pot­ter well before its pop­u­lar­i­ty soared in North Amer­i­ca, remem­ber) has always averred that Molly's Pil­grim is one of the best children's books ever writ­ten, peri­od. Bar­bara Cohen mas­ter­ful­ly unrav­els the com­plex sub­ject of Amer­i­can iden­ti­ty for young read­ers through the sim­ple sto­ry of a Jew­ish Russ­ian immi­grant girl's Thanks­giv­ing school assign­ment. The nar­ra­tive is time­less, and speaks to uni­ver­sal expe­ri­ences of oth­er­ness, her­itage, and child­hood. It's a book to be read every autumn, year after year.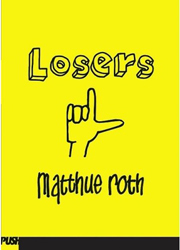 Does your teen need an update to this sto­ry? YA nov­el Losers by Matthue Roth also focus­es on the Russ­ian immi­grant expe­ri­ence in the Amer­i­can class­room, sim­i­lar­ly address­ing ques­tions of iden­ti­ty and belong­ing, but with an edgi­er, old­er twist.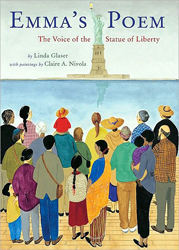 If Mol­ly's Pil­grim sparks an inter­est in the expe­ri­ence of Russ­ian Jews, it's shared with Emma Lazarus, the Jew­ish Amer­i­can poet best known for com­pos­ing the inscrip­tion on the Stat­ue of Lib­er­ty. Emma's Poem: The Voice of the Stat­ue of Lib­ert by Lin­da Glaser and illus­trat­ed by Claire A Nivola detail Lazarus' young men­tor­ship under Ralph Wal­do Emer­son, blos­som­ing career of poet­ry and polit­i­cal activism, and her com­mis­sion for ​"The New Colossus".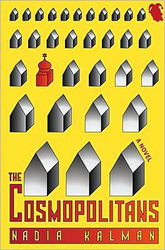 Nadia Kalman was 2010 Sami Rohr Prize final­ist for her debut work of fic­tion, The Cos­mopoli­tans. The nov­el fol­lows the sto­ries of an aging Russ­ian immi­grant cou­ple in sub­ur­ban Mass­a­chu­setts and their three adult daugh­ters, each fam­i­ly mem­ber fac­ing chal­lenges of iden­ti­ty and human inter­ac­tion. The Cos­mopoli­tans is blunt: it does­n't crow the feel-good, inspir­ing end­ing of Mol­ly's Pil­grim, but it is dark­ly humor­ous, deliv­er­ing a very real taste of the mod­ern Russ­ian Amer­i­can family.