Post­ed by Nao­mi Firestone-Teeter
Two years ago, I had the oppor­tu­ni­ty to assist in the devel­op­ment of a book web­site for Hope, Not Fear: A Path to Jew­ish Renais­sance
, co-authored by Edgar Bronf­man and Beth Zasloff. Beth recent­ly approached me about blog­ging for the Jew­ish Book Coun­cil, and I'm pleased to share her thoughts below on how she came to write the book, her own strug­gles with Judaism, and the Jew­ish iden­ti­ty she wants to instill in her chil­dren. Read below, enjoy, and share your thoughts. As always, we'd love to hear from you!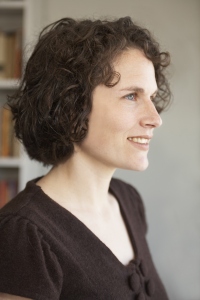 For most of my adult life I have been, like many oth­er Amer­i­can Jews, sec­u­lar in my out­look and uncer­tain about my com­mit­ment to liv­ing a Jew­ish life, what­ev­er that might mean. Where I dif­fer from the norm is in the time I have spent employed con­vinc­ing oth­ers to com­mit to Judaism, most recent­ly as the co-author of a book with phil­an­thropist Edgar M. Bronf­man: Hope, Not Fear: a Path to Jew­ish Renais­sance.
My first job after I grad­u­at­ed from col­lege was an intern­ship at an orga­ni­za­tion that pro­mot­ed Jew­ish edu­ca­tion. This was 1996, and the Jew­ish com­mu­nal focus was ​"Jew­ish con­ti­nu­ity," a phrase that had come into use since the 1990 Nation­al Jew­ish Pop­u­la­tion Sur­vey sparked the fear that Amer­i­can Jew­ry would inter­mar­ry itself into extinc­tion. I found all the dis­cus­sion of how to ​"get" the Jew­ish young peo­ple pret­ty alien­at­ing. I didn't like the feel­ing of Jew­ish orga­ni­za­tions breath­ing down my neck, try­ing to shape my iden­ti­ty. When the intern­ship was over, I felt a sense of relief to have some dis­tance from Jew­ish community.
The oppor­tu­ni­ty to work on a book with Edgar M. Bronf­man, for­mer CEO of Sea­gram and long­time pres­i­dent of the World Jew­ish Con­gress, came when I was in my late twen­ties. Bronf­man dis­liked the term ​"con­ti­nu­ity." The phrase he want­ed to bring for­ward was ​"Jew­ish renais­sance," and this was the sub­ject of the book I was hired to help him write. The idea is that Amer­i­can Jews need to do more than con­tin­ue the Jew­ish life of their grand­par­ents, which took shape amid the strug­gles of the immi­grant expe­ri­ence and the real­i­ty of anti-Semi­tism in every­day life. The book's title, Hope, Not Fear, express­es the idea that fear for Jew­ish sur­vival can no longer be the dri­ving force in the Amer­i­can Jew­ish com­mu­ni­ty. Young Jews, hav­ing grown up com­fort­ably in a soci­ety that is wel­com­ing to Jews, need to recre­ate Jew­ish life for them­selves. The book also argues that Jews should stop talk­ing about inter­mar­riage as an ene­my or dan­ger. Instead, the com­mu­nal focus should turn to wel­com­ing non-Jew­ish part­ners and cre­at­ing vital com­mu­ni­ties that will be attrac­tive to Jews and non-Jews alike.
The dif­fer­ence between con­ti­nu­ity and renais­sance may seem rhetor­i­cal, but the shift felt right to me. And I found some impor­tant points of con­nec­tion with Edgar Bronf­man. He does not often attend syn­a­gogue, and says pub­licly that he does not believe in the God of the Old Tes­ta­ment. After what he describes as a life­time of alien­ation from Jew­ish prac­tice, he start­ed read­ing the Tal­mud in his six­ties, and now holds week­ly text study ses­sions at his office for his staff and oth­ers. The tra­di­tion of text study is for me one of the great draws to Judaism. I first encoun­tered it dur­ing my high school sum­mer on the Bronf­man Youth Fel­low­ships in Israel (which Bronf­man cre­at­ed and con­tin­ues to fund), where there was a thrill to jump­ing into inter­pre­ta­tion along­side kids from Ortho­dox day schools.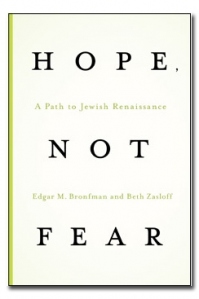 My work with Edgar Bronf­man came as I faced a new set of choic­es about the role Judaism would play in my life. Both my daugh­ters were born dur­ing the time I was work­ing on the book, and I had to make deci­sions about Hebrew School and syn­a­gogue mem­ber­ship, sig­nif­i­cant invest­ments of time and mon­ey I wasn't sure I was ready for. I saw both how lit­tle and how much it takes to cre­ate what the book's final chap­ter calls the most impor­tant piece for Jew­ish iden­ti­ty — the Jew­ish home. With­out a strong reli­gious com­mit­ment or an active com­mu­ni­ty of Jews, even some­thing as sim­ple as light­ing Shab­bat can­dles takes the effort of pri­or­i­tiz­ing, of weigh­ing the val­ue of one activ­i­ty against anoth­er. I know I want to bring up my three chil­dren with an under­stand­ing and appre­ci­a­tion of Judaism, but I don't always find the time and ener­gy to cre­ate the kinds of Jew­ish expe­ri­ences I have in mind.
Some­times I feel almost apolo­getic to the Jew­ish com­mu­ni­ty for invest­ing in me. One of the ongo­ing debates in Jew­ish edu­ca­tion has been in-reach ver­sus out­reach — is it worth devot­ing time and mon­ey to sec­u­lar Jews whose inter­est in Judaism is unre­li­able? Would it be bet­ter to let Jews like me fall away, and invest in the com­mit­ted core? But then I get back into the mind­set of the con­vin­cer. I think that Judaism is fas­ci­nat­ing in all its lay­ers: its his­to­ry, texts, ethics, rit­u­als and tra­di­tions. I don't want to give up on the idea that it has some­thing to offer to peo­ple who are sec­u­lar, and that sec­u­lar peo­ple have some­thing to con­tribute to the new shape of Amer­i­can Judaism.
I also rec­og­nize in myself a child­like sense of push­ing back at a Jew­ish com­mu­ni­ty that wants some­thing of me, even as I have been part of the iden­ti­ty build­ing enter­prise myself. Among Jews below a cer­tain age, there seems to be a need to feel like we're always want­ed, but also to main­tain an iron­ic dis­tance from the Jew­ish insti­tu­tions that hov­er around us and make us feel guilty. There's no doing away with guilt or irony in Jew­ish life — we would cer­tain­ly be lost with­out it — but I know from expe­ri­ence that there's no mono­lith­ic Jew­ish par­ent out there try­ing to reshape your life. It's not Edgar Bronf­man, who, like many of the con­vin­cers, has done a lot of work to con­vince him­self that Judaism mat­ters, and to explore why. For myself, I know it's time to take own­er­ship of what I val­ue in Judaism, and to fig­ure out how to share this with my kids.
Beth Zasloff is the co-author, with Edgar M. Bronf­man, of Hope, Not Fear: A Path to Jew­ish Renais­sance, which will be released in paper­back on Octo­ber 26, 2010. Her fic­tion and essays have been pub­lished in JANE mag­a­zine, in Sh'ma: A Jour­nal of Jew­ish Respon­si­bil­i­ty, and in the anthol­o­gy Third Mind: Cre­ative Writ­ing Through Visu­al Art. She has taught writ­ing at New York Uni­ver­si­ty, Johns Hop­kins Uni­ver­si­ty, and in New York City pub­lic schools.
Beth Zasloff has taught writ­ing at NYU, at Johns Hop­kins, and in New York City pub­lic schools. She is direc­tor of the Mid­town Workmen's Cir­cle School, a pro­gres­sive Jew­ish com­mu­ni­ty, and co-author, with Edgar M. Bronf­man, of Hope, Not Fear: A Path to Jew­ish Renais­sance (St. Martin's). She and her hus­band Joshua Steck­el received the Studs and Ida Terkel Award for Hold Fast to Dreams.