Ear­li­er this week, Michal Lem­berg­er wrote about Lot's wife and the oth­er name­less women of the Bible. She is the author of the recent­ly pub­lished book After Abel and Oth­er Sto­ries and will be blog­ging here all week for Jew­ish Book Coun­cil's Vis­it­ing Scribe series.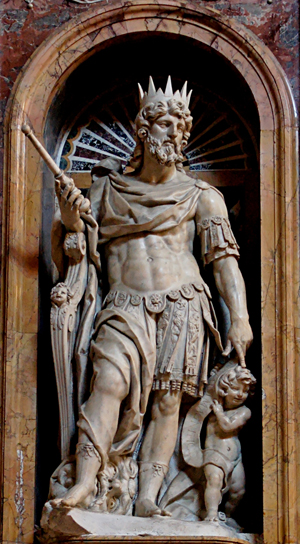 As the pub­li­ca­tion date of my book grew clos­er, I began to imag­ine some of the ques­tions that read­ers might ask me. Chief among them was: how can you make King David into a villain?
King David is a great hero in the Bible. I could even argue that he is the great bib­li­cal hero. He uni­fies Israel and Judah once and for all to cre­ate the nation. He is the prog­en­i­tor of all the kings of Judah and the ​"eter­nal House of David." God loves him. These are not the attrib­ut­es of a villain.
It's true that the book of 1 Samuel, which tells his sto­ry, doesn't paint him as per­fect. There's that unpleas­ant­ness with Uri­ah, who has to be got­ten rid of so that David can mar­ry his wife, Bat­she­va. David doesn't step in when his son, Amnon, rapes his daugh­ter (and Amnon's half-sis­ter), Tamar. He doesn't act like a con­quer­ing hero when his son, Absa­lom, tries to wrest the crown from his head. The only thing that saves David in that case is Absalom's van­i­ty and long, lus­cious hair.
But David remains a hero. He's still the war­rior who took down Goliath. He's still the tal­ent­ed musi­cian, the Psalmist. For reli­gious Jews, David is tied up with the hope for a mes­sian­ic future. Prayer ser­vices still talk about ​"restor­ing the fall­en Booth of David," mean­ing, a reli­gious monar­chy in the land of Israel under the lead­er­ship of the mes­si­ah, who will come from David's lineage.
So how could I paint him as a villain?
Two clichés come to mind, both of which are per­ti­nent here: ​"there are two sides to every sto­ry," and ​"his­to­ry is writ­ten by the vic­tors." The sto­ry of the nation of Israel as we have it is a record of the vic­to­ri­ous House of David. It's the sto­ry told from David's point of view. But there's anoth­er sto­ry there — of his strug­gles with Saul — and it tells anoth­er tale.
Every detail about David that I includ­ed in my sto­ry, ​"Saul's Daugh­ter," comes straight from the bib­li­cal text. In addi­tion to being a great war­rior, musi­cian, and fol­low­er of God, David also ran to Moab — Israel's his­toric ene­my — to hide from Saul. He sold the ser­vices of his grow­ing army as mer­ce­nar­ies and fought for Achish, king of Gath, against his own peo­ple. Achish trust­ed David, because, as he says, ​"he has aroused the wrath of his own peo­ple Israel."
What these details point to is the com­pli­cat­ed way in which David final­ly reach­es the throne. To put it sim­ply, he was a pop­ulist leader who attract­ed the poor and dis­en­fran­chised to his cause, but the wealth­i­er class­es — the landown­ers and pro­fes­sion­al war­riors, for exam­ple — didn't fall in line. They stayed loy­al to Saul. That was the real­i­ty I stepped into when I wrote Michel's story.
She, after all, was Saul's daugh­ter. She was mar­ried to David, but he ran out into the night with­out a glance back at her. And then she mar­ried Palti, one of Saul's sup­port­ers. The ques­tion for me wasn't: how do I tell this sto­ry and make David the hero? It was: giv­en the polit­i­cal real­i­ties of their lives, how would these peo­ple — his aban­doned wife and her sec­ond hus­band — feel about David? To put it plain­ly, they would despise him.
What we tend to for­get when we read the Bible is that it tells more than reli­gious or legal sto­ries. In 1 – 2 Samuel, we get glimpses of a polit­i­cal envi­ron­ment every bit as com­plex as our own.
In a civ­il war, one side inevitably los­es. Michel's rea­sons for hat­ing David are easy to under­stand: He fights against and defeats her father, which she might view as trea­son, espe­cial­ly after he desert­ed her. Even worse, when she final­ly gets com­fort­able in a new life, he pulls her back, forces her to stand by his side while the man who loves her is left cry­ing by the side of the road as she is led away. She is, by any def­i­n­i­tion, one of history's losers.
Inter­est­ing things hap­pen when we tell the losers' sto­ries. David is a nation­al hero, but to some of his con­tem­po­raries, he would, indeed, be the villain.
Michal Lemberger's non­fic­tion and jour­nal­ism have appeared in Slate, Salon, Tablet, and oth­er pub­li­ca­tions, and her poet­ry has been pub­lished in a num­ber of print and online jour­nals. She holds a BA in Eng­lish and reli­gion from Barnard Col­lege and a MA and PhD in Eng­lish from UCLA, and she has taught the Bible as lit­er­a­ture at UCLA and the Amer­i­can Jew­ish Uni­ver­si­ty. Michal lives in Los Ange­les with her hus­band and daugh­ters. Learn more atmichallem​berg​er​.com.
Relat­ed Content:
Michal Lem­berg­er holds a BA in Eng­lish and Reli­gion from Barnard Col­lege and a MA and PhD in Eng­lish from UCLA. Her non­fic­tion and jour­nal­ism have appeared in Slate, Salon, Tablet, Lilith Mag­a­zine, and oth­ers; her poet­ry has been pub­lished in a num­ber of print and online jour­nals, includ­ing The Belle­vue Lit­er­ary Review and The Rat­tling Wall.