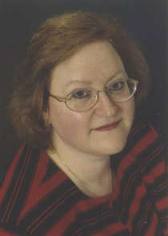 Bar­bara Kras­ner is an author, edu­ca­tor, and cre­ator of The Whole Megillah blog. I have the good for­tune of serv­ing with Bar­bara on the Syd­ney Tay­lor Book Award Com­mit­tee. Bar­bara is pas­sion­ate about his­to­ry and research — her wealth of knowl­edge is inspir­ing. I was delight­ed to chat with Bar­bara about her mostre­cent book, Goldie Takes a Stand (Kar-Ben) about Gol­da Meir.
Bar­bara Bietz: In your new book Goldie Takes a Stand you focus on a spe­cif­ic time in Gol­da Meir's youth. How did you dis­cov­er Goldie's involve­ment in the school book fundrais­ing effort and why did you choose to write about this event?
Bar­bara Kras­ner: In 2010, I was attend­ing a two-week retreat (the Car­olyn P. Yoder Alum­ni Retreat) at the High­lights Foun­da­tion in Boyds Mills, PA and there was a week­end break between the two one-week ses­sions. I had a press pass to attend the annu­al read­ing of the George Washing­ton and Moses Seixas let­ters of reli­gious tol­er­ance at the Touro Syn­a­gogue in New­port, RI, so when Week One end­ed, I head­ed up to Rhode Island. I had brought with me a book I found on the farm­house shelves at the High­lights Foun­da­tion: My Life by Gol­da Meir. Nes­tled in my bed that night, I read — and dis­cov­ered that Gol­da had lived in Mil­wau­kee when she first arrived in Amer­i­ca. Over the course of two pages, she described how she formed this soci­ety of her friends to raise mon­ey for kids who couldn't afford their text­books. I loved this anec­dote, because she'd only been in the fourth grade and already she'd become a macher.
BB: Dur­ing your research process, what was the most unex­pect­ed thing you dis­cov­ered about Gol­da Meir?
BK: Aside from kids hav­ing to buy their own books, I think the most sur­prising thing was that this fundrais­er was the first time she gave a pub­lic speech, and as much as she tried, she had to speak from her heart. She nev­er wrote down a speech again.
BB: Did you face any chal­lenges in the research process?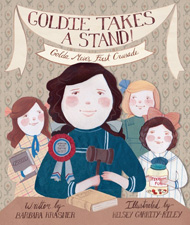 BK: I went down a few bun­ny trails in Mil­wau­kee before find­ing an ar­chivist at Jew­ish Muse­um Mil­wau­kee who was able to find a news­pa­per arti­cle (which Gol­da men­tioned in her auto­bi­og­ra­phy) doc­u­ment­ing the fundrais­er event. Dis­tance also pre­sent­ed a chal­lenge. For most oth­er projects, my research has kept me with­in dri­ving dis­tance from home in New Jersey.
BB: How did it feel to see the illus­tra­tions by Kelsey Garrity-Riley?
BK: I think it's always excit­ing for an author to see her words inter­pret­ed by an illus­tra­tor. I was re­ally curi­ous to see what she would do with Gol­da, since even Gol­da knew she was not par­tic­u­lar­ly attrac­tive. I think the results speak for themselves.
BB: Can you share one writ­ing or research tip for aspir­ing non-fic­tion writers?
BK: Think broad­ly when con­duct­ing your re­search. Go side­ways if you have to. For instance, if your sub­ject left no jour­nal or diary or didn't pen an auto­bi­og­ra­phy, find con­tem­po­raries who did. That at least will give you context.
To learn more about Bar­bara Kras­ner vis­it her web­site at www​.bar​barakras​ner​.com.
Bar­bara Bietz is a free­lance writer and children's book review­er. She is cur­rent­ly a mem­ber of the Syd­ney Tay­lor Book Award Com­mit­tee. Bar­bara is the author of the mid­dle grade book, Like a Mac­cabee. She has a blog ded­i­cat­ed to Jew­ish books for chil­dren at www​.jew​ish​books​forkids​.com.
Relat­ed Content: