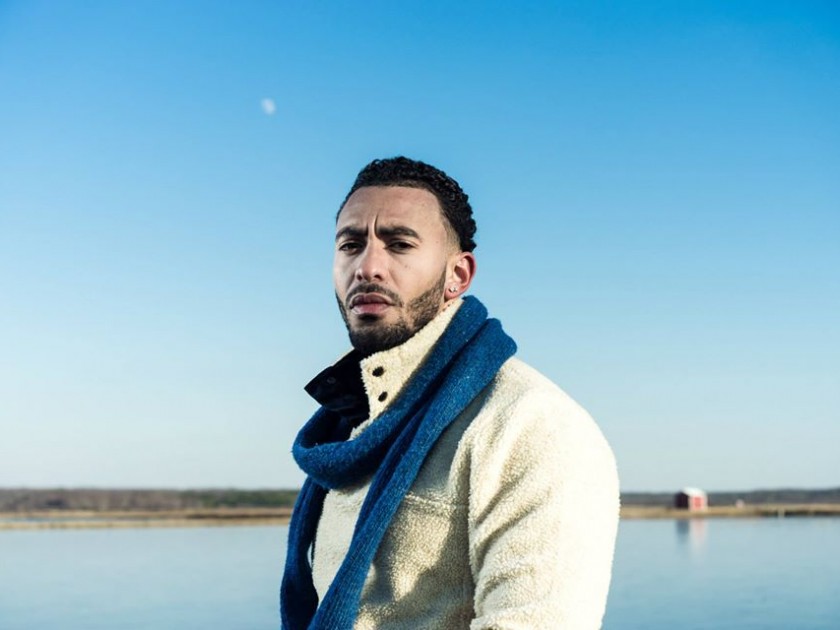 In the small town in New Jer­sey where I grew up, the Jew­ish pop­u­la­tion was almost nonex­is­tent. I was always embar­rassed to admit I was half Jew­ish. It was bad enough I was one of the only Black kids in our school, but to reveal being half Jew­ish meant I was going to be known as ​"the Black Jew" — a her­itage of two of the most oppressed peo­ples in his­to­ry. The ridicule would nev­er end.
So, I nev­er owned or affil­i­at­ed myself with Judaism. I nev­er read the Torah or had a bar mitz­vah or cir­cled ​"Jew­ish" on any form.
But through a string of per­son­al encoun­ters with fam­i­ly mem­bers and with his­to­ry, I even­tu­al­ly came to think that maybe my Black iden­ti­ty was con­nect­ed to my Jew­ish iden­ti­ty, as I found com­mon themes between our peo­ples' expe­ri­ences. What seems to sep­a­rate us — our skin, our cul­ture, our his­to­ry — is real­ly what binds the Black and Jew­ish peo­ple. We have defied per­se­cu­tion and slav­ery and geno­cide and sys­temic and insti­tu­tion­al racism and anti­semitism, but we're not defined by just our strug­gles. Our resolve, our irrefutable dri­ve for free­dom and equal­i­ty define us. As a kid, I didn't under­stand any of that.
After my pater­nal grand­fa­ther died when I was nine, my Jew­ish father, whom I rarely saw, thought it would be a good idea for me to meet his moth­er. He and I drove to Long Island in New York a few times to vis­it her. I remem­ber look­ing at her strange­ly, try­ing to find myself. I scanned her eyes, her lips, her skin, look­ing for any­thing I could attach myself to. She fed me a bowl of mat­zo ball soup and watched me eat it. I remem­ber feel­ing for­eign in her lit­tle world, but also like I had final­ly found a miss­ing piece of something.
When I was six­teen, my high school his­to­ry class took a trip to the US Holo­caust Memo­r­i­al Muse­um in Wash­ing­ton, D.C. My class­mates and I stared at a pile of shoes in an exhib­it — those ghosts, still some­where in the soles. There was no idiom in any lan­guage to express that inef­fa­ble his­to­ry, what it meant to erase peo­ple, leav­ing only their rags, their bowls, their brush­es, their spoons. Their bod­ies were sum­ma­rized in the captions.
There was no idiom in any lan­guage to express that inef­fa­ble his­to­ry, what it meant to erase peo­ple, leav­ing only their rags, their bowls, their brush­es, their spoons. Their bod­ies were sum­ma­rized in the captions.
In a sem­i­nar room, a pair of elder­ly Holo­caust sur­vivors, so del­i­cate, like tiny birds, recount­ed their expe­ri­ences. They remind­ed me of my grand­moth­er. Their pre­sen­ta­tion was unlike any­thing I or my class­mates had ever expe­ri­enced. It was as if being thrown into some­one else's mem­o­ry, a pro­jec­tion of a dream, tak­ing on its sad­ness, its loss, its kind of death. They talked of when they were chil­dren — before, dur­ing, and after the Holocaust.
A his­to­ri­an invit­ed those who had Jew­ish rel­a­tives to search the museum's Data­base of Holo­caust Sur­vivor and Vic­tim Names. On some lev­el, I was excit­ed to search my name as if look­ing for val­i­da­tion, for accep­tance in this place, as if to say: I am fam­i­ly to this too. On the kiosk screen, I typed my last name, ​"Loeb," and was flood­ed with results. The his­to­ri­an said that if our Jew­ish rel­a­tives came from Europe there was a greater chance one or more of them were Holo­caust vic­tims or survivors.
So, out­side the muse­um, I called my grand­moth­er, my father's moth­er, think­ing that she could pin­point my search — a name, a birth­date, a birth­place, some­thing. I didn't remem­ber the last time we'd spo­ken, for she was a stranger, like those sur­vivors. But what if? What if she had been wait­ing all this time for me to expe­ri­ence this, the Holo­caust muse­um, just to tell me about our fam­i­ly tree — my lin­eage, my his­to­ry, our ori­gins, what­ev­er she knew. But when the phone trilled and she final­ly answered and her voice sound­ed far off, she didn't rec­og­nize me — not even my name. I felt reject­ed because she knew me only as her oth­er grand­son — not the white grand­sons, my father's oth­er sons, whom she often saw, but me, the Black one, whom she some­times remem­bered but often forgot.
In the decades since vis­it­ing the Holo­caust muse­um, since the pass­ing of both my pater­nal grand­par­ents, since mend­ing the rela­tion­ship with my father, I have con­tin­ued to build my own links to my Jew­ish roots. I've stud­ied the Hebrew Bible, learned about the geneal­o­gy of the ancient Hebrews, signed my best friend's Jew­ish mar­riage con­tract, and now, hyphen­ate myself as Black-Jew­ish Amer­i­can. All of this helped me cor­re­late being Jew­ish with the oth­er side of my iden­ti­ty, show­ing me how much our sto­ries overlap.
I have also real­ized that as a child of mixed her­itage, I didn't have to rely on oth­ers to pro­vide con­nec­tions to my ances­try. I am as much Jew­ish as I am Black. Being the Black Jew, a label I'd feared in school, was exact­ly who I was, who I am and who I want to be.
This essay was first pub­lished on the Los Ange­les Times Op-Ed page.
Excerpt from The In-Betweens by Davon Loeb (West Vir­ginia Uni­ver­si­ty Press). Repro­duced by per­mis­sion of the publisher.
Davon Loeb the author of the mem­oir, The In-Betweens (West Vir­ginia Uni­ver­si­ty Press) and is an assis­tant fea­tures edi­tor at The Rum­pus. He earned an MFA in cre­ative writ­ing from Rut­gers Uni­ver­si­ty – Cam­den and has had work pub­lished in The Sun Mag­a­zine, The Los Ange­les Times, Lon­greads, Cat­a­pult, Ploughshares, and else­where. He lives in New Jer­sey and can be reached on Twit­ter @LoebDavon.