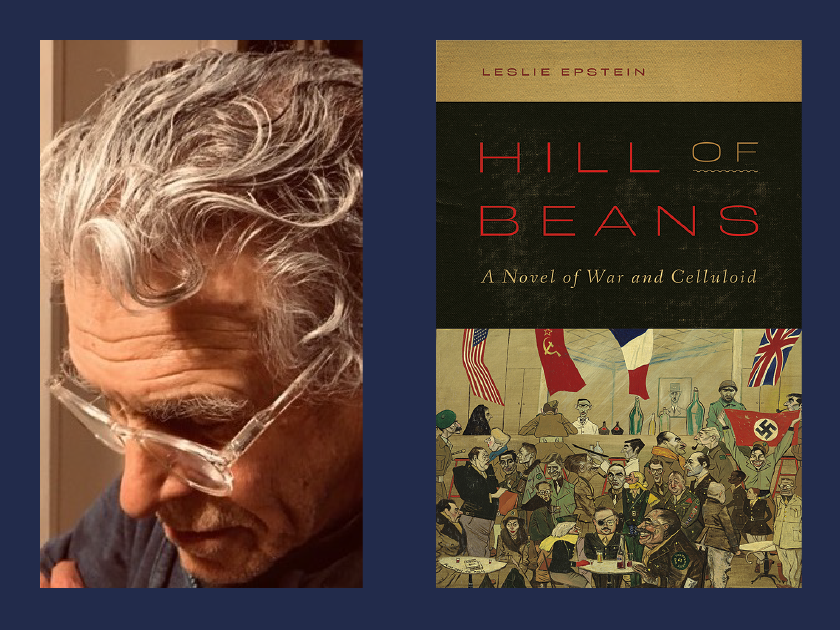 West­ern nov­el­ist Lar­ry McMurtry, who passed away ear­li­er this year, wrote, ​"non­fic­tion is a pleas­ant way to walk, but the nov­el puts one horse­back, and what cow­boy, sym­bol­ic or real, would walk when he could ride?"
For the past four-and-a-half decades, Leslie Epstein has gal­loped across the land­scape of Amer­i­can fic­tion. His new nov­el, Hill of Beans: A Nov­el of War and Cel­lu­loid, marks a return to old stomp­ing grounds, name­ly the eter­nal­ly fas­ci­nat­ing world of Hol­ly­wood. His father and uncle (Philip and Julius Epstein, respec­tive­ly) and their epic suc­cess in writ­ing Casablan­ca, give rise here to the tech­ni­col­or sto­ry of Jack Warn­er, with whom they worked and strug­gled. Like its pre­de­ces­sors, Leslie Epstein's twelfth book is filled with unique ener­gy and mega­phone voice that nev­er stops from first page to last.
Mark Bern­heim: More than fif­teen years ago, Con­tem­po­rary Authors (CA) ran a long and insight­ful piece about you that begins with a quote from Katha Pol­litt writ­ing for The New York Times: ​"If writ­ers got gold stars for the risks they took, Leslie Epstein would get a handful."
See­ing your work as giant risk-tak­ing is a good way to approach its range and entire­ty. Can you speak about some risks you have embarked on — what was at stake for you per­son­al­ly and pro­fes­sion­al­ly? What books do you think mer­it a shiny star for intent, and which ones were per­haps less dar­ing? Have your risks been understood?
Leslie Epstein: I nev­er think of myself as tak­ing risks; instead, I am some­times aware I have no choice. I start­ed King of the Jews four times and each time stopped on the first page. How can I write in this jaun­ty voice, with these insou­ciant rhythms, and with the sun as a lemon lozenge when writ­ing about the Holo­caust? Cow­ardice caught me. But after a few days, I real­ized if I was going to write the book at all, this is how it would come out. It was my own voice I was hear­ing. Not to make ridicu­lous com­par­isons, but I thought of Lear: of how tragedy can be pushed so far — a man jumps from a cliff that is not there and oth­ers mock, while he grows into a dif­fer­ent man after the fall — that it becomes some­thing like farce.
Often those are the best books, the ones that catch up to the author unaware.
MB: The CA essay quotes you say­ing: ​"The entwined ('twinned') themes of my work are Jew­ish­ness on the one hand, and fam­i­ly, films, and Cal­i­for­nia on the oth­er." You explain that you turned away from Judaism, away from fam­i­ly, away from Cal­i­for­nia — only to obses­sive­ly return to all these in your fic­tion. Can you set Hill of Beans in this prism?
LE: You answered — or rather, I answered — the ques­tion for both of us. Every­thing worth­while in art, as Freud and Baude­laire ("genius is noth­ing more than child­hood recap­tured at will") and most artists them­selves well knew, comes from child­hood. Mine was the film indus­try and the war and, after the war, the aston­ish­ing knowl­edge of what Hitler did and much of the world allowed him to do: so this is what human beings are, the child as much as told him­self. And of course pro­ceed­ed to for­get it.
But we nev­er for­get, and so it came out, these themes, entwined, in every­thing I wrote. To tell you the truth, lots of peo­ple are writ­ing about it still — how could they not?— even though they don't quite know it. Often those are the best books, the ones that catch up to the author unaware. Still, the great­est book since the war, Life and Fate by Vasi­ly Gross­man, was writ­ten with wide open eyes. But the child is in that book — in the suf­fer­ing, the mute­ness, the help­less­ness, the sim­ple small­ness in the midst of clash­ing forces.
MB: One of your ear­li­est works, and the one that intro­duced me to your imag­i­na­tion, is Regi­na, a por­trait of New York in the 1970s. It stands almost alone for the depth of its por­tray­al of Amer­i­can life. Four decades after, if you want­ed it to, how would your work involve Amer­i­can­life of this mil­len­ni­um? More­over, your focus has been for the most part on coastal Amer­i­ca; how would you char­ac­ter­ize Amer­i­can cul­ture away from the coasts, or in addi­tion to them, if you want­ed to inform read­ers what our coun­try is like now?
LE: I thank you for your kind­ness toward a book I hard­ly remem­ber. I haven't reread any of them, except the Leib Gold­ko­rn books, for a laugh now and then and because we are mak­ing a new trilor­gy (that's no typo) of the series. I don't think I'm cut out to write about Mid­dle Amer­i­ca, except inso­far as all of this coun­try fought in World War II and goes to the movies (mak­ing Casablan­ca the clas­sic it has become). Even after Trump, I write off nobody and noth­ing, not com­plete­ly. On the oth­er hand, since you men­tion the coasts, I do recall the New York­er map that has the Hud­son on one side and the Pacif­ic on the oth­er, and in between a large white swatch labeled ​"fried food."
MB: Rarely have I read a more mov­ing state­ment of affir­ma­tion for art than the con­clu­sion to your updat­ed auto­bi­o­graph­i­cal state­ment of 2003: You quote Freud: ​"What a child has expe­ri­enced and not under­stood by the age of two he may nev­er again remem­ber except in his dreams," and then add, ​"My books have been such dreams." You have relat­ed this idea to your sys­tem­at­ic read­ing of Proust and your trans­po­si­tions of his char­ac­ters to your fam­i­ly mem­bers and their embod­i­ments in your works. Now that you present Hol­ly­wood again in Hill of Beans, can you elab­o­rate on how a few of these eight-decades-old expe­ri­ences have tak­en their place in Epstein-land?
LE: Do you remem­ber that at the end of In Search of Lost Time (Remem­brance of Things Past, thank you Scott Mon­crief, is the more mov­ing title), Mar­cel goes to a par­ty and he sees the fig­ures from his child­hood trans­fig­ured into stooped women trail­ing their scarves like wind­ing sheets and the men with pow­dered hair as if they had been wear­ing the wigs of judges? Well, that hap­pened to me in Cal­i­for­nia, when, bury­ing first my moth­er and then Uncle Julie with­in three days of each oth­er, I saw all the glam­orous adults of my youth — the actors, writ­ers (even they seemed glam­orous to this sil­ly child), direc­tors, the wits and thinkers, and kind peo­ple gath­ered around our pool on sun­days. Sud­den­ly they, too, were stooped and gath­ered at the edge of the pal­isades that led sharply to the dark, inevitable sea. With a start, I real­ized that like Mar­cel, I, too, was grow­ing old (and, see? I have arrived); and like Mar­cel at that moment, I under­stood that I had bet­ter get down to work.
MB: To close, Tablet mag­a­zine recent­ly pro­filed Her­bert Gold on his nine­ty-sev­enth birth­day through a long con­ver­sa­tion with Ray March. It's nar­rat­ed that Gold encour­aged March to write, urg­ing him, ​"Tell a sad sto­ry of your life and make it fun­ny. Keep run­ning it through the loom…" I found that quo­ta­tion some­how descrip­tive of your work. If you agree, can you com­ment on some of the threads that you have run tire­less­ly through the loom?
LE: Gee, the warp and woof of a writer's work are often, as with the case of Gold, best expressed by some­one else look­ing on. I'm impressed with the way you have done it for and about me, Mark. I won­der some­times about the books I read when I was sev­en and eight, Pad­dle to the Sea,The Pur­ple Pirate of Oz, and all of a sud­den Grapes of Wrath, with that tor­toise sin­gle-mind­ed­ly try­ing to cross the high­way. Are they not the threads on the loom? Along with my moth­er for all her push­ing and pulling but almost cer­tain­ly car­ing, the broth­er none of us could reach, the sun through the euca­lyp­tus trees and cork trees on our lawn, the cards attached to the rear tires of my bike rac­ing down Amal­fi and — well, I am no genius, but look: I was able to recap­ture a fair amount of those things at will.
Mark Bern­heim is an emer­i­tus pro­fes­sor and jour­nal­ist with degrees in world lit­er­a­ture, and the author a biog­ra­phy of Janusz Kor­czak for young read­ers. He taught children's lit­er­a­ture at Amer­i­can uni­ver­si­ties and abroad on Ful­bright and oth­er res­i­dences in France, Aus­tria, and Italy. He cur­rent­ly free­lances as a cul­tur­al crit­ic and book editor.