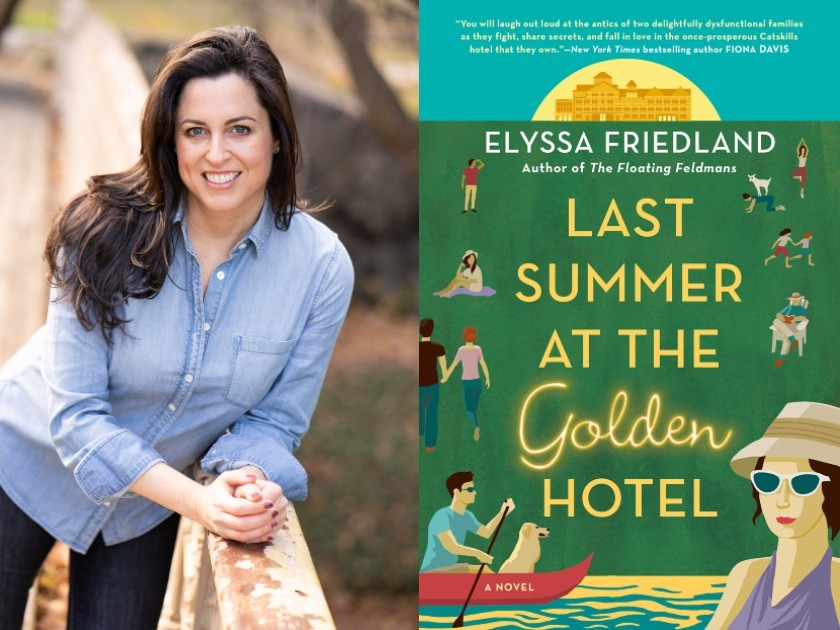 Some­how I was late to check into the Rose­bud Motel, despite being a huge fan of Eugene Levy and Cather­ine O'Hara. I've seen Best in Show at least a dozen times, prob­a­bly the same num­ber of times I've seen Dirty Danc­ing. (More on that lat­er.) But I had a long queue of shows to work my way through, and since I write come­dies all day, I usu­al­ly unwind by watch­ing doc­u­men­taries about ser­i­al killers and cults, or shows about women slow­ly poi­son­ing their hus­bands with Arsenic. Schitt's Creek took a back­seat, even though I knew I would love it.
But I could ignore the show that swept the Emmys no longer after my third nov­el, The Float­ing Feld­mans, end­ed up in not one, not two, but three round-ups of books to read if you love Schitt's Creek (Bus­tle, SheRe­ads, and Elite Dai­ly). I won­dered what my book about a dys­func­tion­al fam­i­ly aboard a cruise ship to cel­e­brate their matriarch's sev­en­ti­eth birth­day had to do with a fam­i­ly of dis­graced mil­lion­aires forced to live in a Podunk town. It turns out, a lot.
The major sim­i­lar­i­ty is that, in both, the char­ac­ters are forced into togeth­er­ness. The Ros­es, a fam­i­ly of four, were used to peace­ful­ly going about their busi­ness at a com­fort­able remove from one anoth­er. But after the gov­ern­ment seized their assets to pay off back tax­es owed thanks to a fraud­u­lent busi­ness man­ag­er, their only pos­ses­sion left is a … town. A real­ly crap­py town. The four of them move into two adjoin­ing rooms at the local motel, much like the Feld­mans — used to 3,000 miles between them — are stuck at sea togeth­er. And just as it does for the Feld­mans in my nov­el, the prox­im­i­ty makes the Ros­es clos­er. They take over the local motel and the rest is … very funny.
While I was in the mid­dle of watch­ing the sec­ond sea­son, my then nine-year-old daugh­ter asked me what Dirty Danc­ing was. It was one of those piv­otal par­ent­ing moments when I want­ed to sweep her in my arms and say some­thing like, ​"Come here, child. This is going to take a while." She had seen a ref­er­ence to the famous Patrick Swayze – Jen­nifer Grey lift on one of her tween shows. Feel­ing inad­e­quate to even begin to describe the movie, I decid­ed to just put it on. I knew some of the plot­lines were inap­pro­pri­ate — abor­tion, name­ly — but the trade­off was worth it: my daugh­ter watch­ing Baby car­ry the giant water­mel­on and dance the cha-cha in Johnny's mus­cu­lar arms. It came as no sur­prise that my daugh­ter was hooked. And I couldn't get the damn sound­track out of my head for weeks.
There's a cre­ative ener­gy that over­takes me as an idea for a book takes root in my brain — I become man­ic, orga­niz­ing clos­ets that are already neat and bak­ing non­stop. This fre­neti­cism lasts until I am cer­tain of what I want to write about, and then I chan­nel all my shpilkes into cre­at­ing a nov­el. While I col­or-cod­ed sweaters and per­fect­ed oat­meal-raisin cook­ies, the same thoughts kept swirling around in my head. I love watch­ing the Rose fam­i­ly trans­form the ail­ing motel. I love the Catskills. I miss Baby. I want to have the time of my life! And I want my read­ers to have it, too!
And so it was that Dirty Danc­ing and Schitt's Creek shared a lit­tle too much Man­is­che­witz and got preg­nant with The Gold­en Hotel.
And so it was that Dirty Danc­ing and Schitt's Creek shared a lit­tle too much Man­is­che­witz and got preg­nant with The Gold­en Hotel. Once I had the eure­ka moment, the rest came eas­i­ly. (By eas­i­ly, I mean four drafts, a ton of caf­feine, and me cry­ing more than once at my lap­top and then furi­ous­ly wip­ing the tears so the keys didn't stick.)
I decid­ed to set the book in present times. The Gold­en Hotel is the last remain­ing Catskills resort, co-owned by two Jew­ish fam­i­lies, the Wein­golds and the Gold­mans. The grand­par­ents are the devot­ed founders; the mil­len­ni­al grand­chil­dren only care about Tik­Tok; and the gen­er­a­tion in between is tugged in both direc­tions. A com­pa­ny makes an offer to buy The Gold­en Hotel in order to con­vert it to a casi­no, forc­ing the two fam­i­lies back to cam­pus to nego­ti­ate the future of the hotel. It was once the reign­ing queen of the Catskills; now the fur­ni­ture is duct-taped togeth­er. Can the Gold­en be saved? Should the Gold­en be saved? Will the hotel con­tin­ue to serve gefilte fish or is organ­ic, veg­an cheese the way for­ward? These are some of the themes I explore in the novel.
I hope you will ​"check in" on May 18 when it's out in the world. Nobody puts my books in the corner!
Elyssa Fried­land is the author of five adult nov­els and teach­es cre­ative writ­ing at Yale, from which she grad­u­at­ed. She also holds a J.D. from Colum­bia Law School. The Muse­um of Lost Teeth is her first pic­ture book. She lives in New York City with her hus­band and three children.