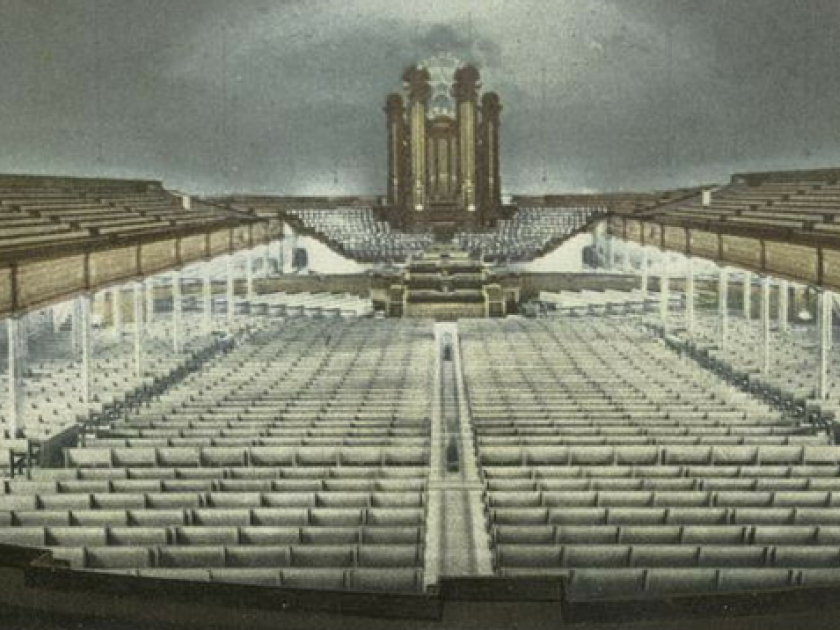 Allan Appel is the author of The Book of Nor­man, out Sep­tem­ber 26th from Man­del Vilar Press. Ear­li­er this week, he wrote about the care­ful bal­ance fic­tion writ­ers must strike between truth and sto­ry. He has been blog­ging here all week for Jew­ish Book Coun­cil's Vis­it­ing Scribe series.
The Miri­am and Ira D. Wal­lach Divi­sion of Art, Prints and Pho­tographs: Pho­tog­ra­phy Col­lec­tion, The New York Pub­lic Library. ​"Inte­ri­or, Mor­mon Taber­na­cle, Salt Lake City, Utah"
A friend of mine, a high school his­to­ry teacher old enough to have learned to dri­ve in the stick shift era, once described his prepa­ra­tion for teach­ing a course as some­thing akin to gun­ning the engine and then pulling back on the choke.
By that, he meant his approach was to learn every­thing he could about the sub­ject, stuff­ing him­self with won­der­ful and inter­est­ing infor­ma­tion. How­ev­er, when, at the first ses­sion, the stu­dents looked up at him glassy-eyed, he start­ed to back up; he slowed down; he offered salient points and con­text and sine qua nons of all the knowl­edge he had obtained. In oth­er words, he refrained from, as edi­tors warn reporters, dump­ing the whole notebook.
Nov­el writ­ing, and specif­i­cal­ly my expe­ri­ence in research­ing The Book of Nor­man, very much fol­lowed that kind of arc of eru­di­tion. When my char­ac­ters began to lead me to their grow­ing con­cerns about the after­life, both the Jew­ish and Mor­mon ver­sions, my first stop was the Mor­mons and I began with biogra­phies of Joseph Smith, Brigham Young, and the group's history.
I think some not-so-latent prej­u­dice was at work in that I didn't want to pick up a book devot­ed to straight Mor­mon the­ol­o­gy. Why? Hav­ing in the course of a nor­mal life cruised by Mor­mon vis­i­tor cen­ters in New York and else­where, hav­ing looked in the win­dow at their man­nequin-evo­ca­tions of the Angel Moroni and oth­er celes­tial fig­ures, I con­clud­ed there was not much here of intel­lec­tu­al richness.
Wrong! That was my point of view. Not the characters'.
My char­ac­ters were deeply inter­est­ed in the stuff, and if they were, I had to be. I found Mor­monism for Dum­mies (yes, that yel­low-and-black cov­er series from Wiley Pub­lish­ing Com­pa­ny that — please don't tit­ter — is real­ly immense­ly help­ful). My Jonathan char­ac­ter, the younger of my two broth­ers, would be going, as an enthu­si­as­tic poten­tial con­vert, to class­es where he learned Mor­monism 101, and so would I.
So I learned the dis­tinc­tions between celes­tial, teles­tial, and oth­er lev­els of Mormonism's elab­o­rate heav­en­ly archi­tec­ture. I learned that Mormonism's Heav­en­ly Moth­er and Heav­en­ly Father prop­a­gate souls on a dis­tant plan­et called Kolob. Mor­monism for Dum­mies itself is a lit­tle embar­rassed about these inter­plan­e­tary, sci­ence-fic­tion ori­gins and it comes through in the lit­tle jokes the authors seem to make about such aspects of Mor­mon theophanies.
But there it was. I gath­ered the kinds of Mor­mon after­life infor­ma­tion I need­ed to be con­ver­sant in, and then not snob­bery but igno­rance kicked in when it came time for me to learn some­thing of Jew­ish beliefs about the afterlife.
My expe­ri­ence grow­ing up in a Con­ser­v­a­tive Jew­ish com­mu­ni­ty in L.A. was such that the after­life hadn't played much of a part in our edu­ca­tion or con­cerns. When it came down to it, I knew very lit­tle. My Nor­man, who was to become a reluc­tant defend­er of the faith against his brother's increas­ing­ly sophis­ti­cat­ed queries on Jew­ish after­life beliefs, drove me to the Jew­ish library this time.
I read Abba Hil­lel Silver's Where Judaism Dif­fers; I re-read Mil­ton Steinberg's As A Dri­ven Leaf. I was study­ing with a Cha­sidic rab­bi in Brook­lyn at the time, DovBer Pin­son, and I read his book on the after­life as well as sev­er­al by Con­ser­v­a­tive-trained rab­bis. I got much bet­ter stuff about dyb­buks and ibburs and oth­er ema­na­tions of the Jew­ish soul, lots of folk beliefs, from DovBer than from the super­sti­tion-cleaned the­ol­o­gy pre­sent­ed by the more ​"respectable" sem­i­nary trained writ­ers. My old 1919 Kauf­man Kohler-edit­ed Jew­ish ency­clo­pe­dia had exten­sive arti­cles on Jew­ish angelol­o­gy; who knew such things exist­ed even where I grew up, in the City of the Angels?
So now I knew stuff and I could stuff my stuff into my char­ac­ters to prove that they knew it too. Nov­el writ­ers, heed the warn­ing! Mis­take. After hav­ing thrown out a first draft because I knew I was too close to the ori­gins of the sto­ry and it went emo­tion­al­ly all wrong, I wrote anoth­er draft or two that were emo­tion­al­ly much clos­er to the truth, but they were obscured because I had too many Plan­et Kolobs and/​or one too many ref­er­ences to how the rab­bis told us to dis­tin­guish an angel — they appar­ent­ly have no Adam's apple.
My eru­di­tion was nec­es­sary but not suf­fi­cient to make the char­ac­ters real. In the ear­ly drafts, they were in too many places talk­ing heads for the author, and so I edit­ed away and edit­ed away. I lost inter­changes that includ­ed many wit­ty moments of intel­lec­tu­al duel­ing between nascent Mor­mon Jonathan and sem­i­nary dropout Nor­man. As the play­writ­ing teacher tells the stu­dent, ​"You must learn to throw away your babies."
In short, knowl­edge and infor­ma­tion are crit­i­cal, but beware of using too much of it. This becomes a par­tic­u­lar dan­ger if you your­self grow inter­est­ed in the mate­r­i­al, as I did. I'm old enough to be think­ing about the after­life, if there is one, far more than I did when I wrote my first nov­els decades ago. So to the same extent that you attach to the mate­r­i­al, you have to find it in your­self to detach in order for it to be there for the characters.
If you don't let the research become expo­si­tion, it turns into a kind of ener­gy that fuels the nov­el and it becomes a resource so the nov­el can slow down, or accel­er­ate, to get back to our ini­tial motor vehi­cle metaphor, or sput­ter, and then, with a jolt of sur­prise, take off. Just like life itself.
Allan Appel, born in Chica­go and raised in Los Ange­les, is a prize-win­ning nov­el­ist and play­wright whose books include The Book of Nor­man,Club Rev­e­la­tion, High Hol­i­day Sutra, win­ner of a Barnes and Noble Dis­cov­er Great New Writ­ers Award, and The Rab­bi of Casi­no Boule­vard, a final­ist for the Nation­al Jew­ish Book Award.