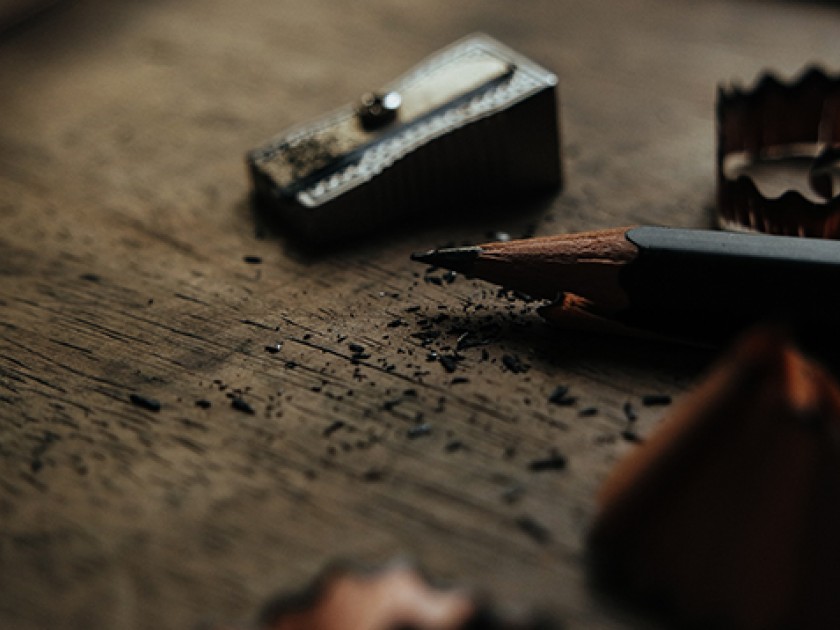 Allan Appel is the author of The Book of Nor­man, out Sep­tem­ber 26th from Man­del Vilar Press. He will be blog­ging here all week for Jew­ish Book Coun­cil's Vis­it­ing Scribe series.
Like so many of the dusty, ven­er­a­ble clichés about writ­ing, one of the most stal­wart, ​"To write what you know," is sharply dou­ble-edged when it comes to fiction.
Here's the prob­lem: If all you write is a tran­scrip­tion of what you know, how­ev­er mov­ing or har­row­ing, you're not going to come up with some­thing that has verve or mag­ic or that extra boost that is the sine qua non of fic­tion and that sep­a­rates it from cre­ative non­fic­tion, or even heart­felt journalism.
How­ev­er, if in fear of stay­ing too close to the non­fic­tion reportage, as it were, of what you know and expe­ri­enced—if you fil­ter or trans­form or invent too much—there's a dan­ger of cre­at­ing some­thing that los­es the emo­tion­al heart of your story.
In writ­ing The Book of Nor­man I found this a par­tic­u­lar­ly net­tle­some prob­lem to nego­ti­ate. In my first of what have to have been sev­en drafts of the nov­el, which I began writ­ing that many years ago, I have two broth­ers and their fam­i­lies gath­ered at a house they are joint­ly rent­ing on Cape Cod for a week in the sum­mer. There one evening, short­ly after the fam­i­lies watch a Mas­ter­piece The­ater ver­sion of George Eliot's Daniel Deron­da on TV, out comes one broth­er, the Mor­mon con­vert, bran­dish­ing a piece of paper and asks the still-Jew­ish broth­er to look it over. The paper turns out to be an ordi­nance, an impor­tant Mor­mon doc­u­ment usu­al­ly requir­ing a blood relative's sig­na­ture or okay to ini­ti­ate the proxy bap­tism of the dead.
Well, that inter­change pret­ty much hap­pened in our real lives togeth­er in that sum­mer house. I remem­ber, writ­ing that first draft, I was still seething with emo­tion. I was (am) the Jew­ish broth­er, and my Mor­mon old­er broth­er who had con­vert­ed in our twen­ties, sev­er­al decades before, was the pre­sen­ter of the ordinance.
We had a huge blowup, our chil­dren had to restrain voic­es, and, like a kid hav­ing a tantrum, I had to have my daugh­ter and wife sit beside me in the bed­room where I felt my heart beat­ing dou­ble-time as I raged for hours. All that entered the draft as well, pow­er­ful for me to write at the time because it was raw.
After fifty pages of my first draft, a sto­ry too close to the actu­al events except for sil­ly name changes, I knew I was in trou­ble. It didn't feel quite right, but I thought I could write my way out. So I kept writ­ing for anoth­er twen­ty or thir­ty pages. At close to a hun­dred pages I ran out of gas. After I had more or less tran­scribed the events, my char­ac­ters had noth­ing else to do. I had cre­at­ed them, or rather non-cre­at­ed them, so close to the bone of what actu­al­ly had occurred, they did not have suf­fi­cient life to make choic­es, to go in direc­tions that I could not antic­i­pate. Anoth­er old writ­ing saw became true again: Fol­low the char­ac­ters, back off, let them lead.
Here's the thing: If you don't cre­ate char­ac­ters with suf­fi­cient life of their own, they are going to die on the page. One of the hard­er things to learn is to rec­og­nize they are dying and let them go, take a deep breath, have a beer, med­i­tate, wait some time, and go at it again.
When I did, some months lat­er, I resolved to keep the strug­gle over a dead father, the emo­tion­al heart of the sto­ry, but I now knew I should insert some changes that by their nature would force true fic­tion­al­iza­tion. In my first draft, the two char­ac­ters were in age just like me and my broth­er, I younger and he old­er. This time I ren­dered myself old­er, and alleged­ly wis­er, and this made the char­ac­ter begin to oper­ate more independently.
A sec­ond crit­i­cal change was that I yanked the events out of the present of the actu­al inci­dent and cat­a­pult­ed them way back into the past, in the late 1960s, rough­ly around the time of my brother's con­ver­sion. That of neces­si­ty also prompt­ed fic­tion­al­iza­tion; because I remem­bered lit­tle, I had to invent much.
I also delib­er­ate­ly cre­at­ed a fan­ta­sy moth­er. My real mom was a shy, self-effac­ing tem­ple lady who went to the oneg Shab­bats and swiped a lot of the brown­ies and dan­ish­es and oth­er good­ies to bring home to us. She rarely wore make­up. She was sweet but frowsy, very far from the inde­pen­dent, wit­ty, film noir-esque deli wait­ress I made her in the nov­el. Like a true char­ac­ter, she start­ed to do things that I nev­er planned, like orga­nize one of my favorite scenes in the nov­el, the Sab­bath dinner.
When the char­ac­ters sur­prise, you are on the right track, but you're there because you've delib­er­ate­ly insert­ed devices to remove the sto­ry from its fac­tu­al ori­gin while retain­ing the emo­tion­al heart. That's one of the true mag­ic tricks of fic­tion. It doesn't guar­an­tee a great sto­ry, but it does guar­an­tee sto­ry, which is the fun­da­men­tal job of a fic­tion writer to cre­ate. It also is impor­tant, in such del­i­cate mat­ters as reli­gion, con­ver­sion, and love, to have this dis­tance if you're sen­si­tive to those whose encoun­ters with you are the source of the material.
At this writ­ing I have not yet heard how my broth­er or oth­er mem­bers of his fam­i­ly, all still devout Mor­mons, respond­ed to The Book of Nor­man. I hope they'll like it and tell me so. Even bet­ter, I hope my broth­er will say he likes the sto­ry and add ​"But that didn't happen."
Allan Appel, born in Chica­go and raised in Los Ange­les, is a prize-win­ning nov­el­ist and play­wright whose books include The Book of Nor­man,Club Rev­e­la­tion, High Hol­i­day Sutra, win­ner of a Barnes and Noble Dis­cov­er Great New Writ­ers Award, and The Rab­bi of Casi­no Boule­vard, a final­ist for the Nation­al Jew­ish Book Award.