Yes­ter­day, Steve Stern wrote about his deci­sion to teach cre­ative writ­ing in Vil­nius. He will be blog­ging here for the Jew­ish Book Coun­cil and MyJew­ish­Learn­ing all week.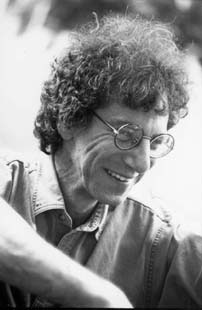 I liked to sit sip­ping cof­fee in the tall kitchen win­dow of my apart­ment in Vil­nius. The win­dow over­looked the broad Town Hall Square teem­ing day and night with inter­na­tion­al tourists. Gold-domed church­es and pas­tel hous­es with ter­ra cot­ta roofs bor­dered the square above which loomed the red brick cas­tle on its hill. Beyond the cas­tle were the dense pine forests that sur­round­ed the city like a green vel­vet set­ting for a dia­dem. The win­dow coin­ci­den­tal­ly faced the cor­ner where the Nazis had staged their so-called Great Provo­ca­tion. This was the faked snip­ing inci­dent they used to jus­ti­fy the ​"retal­i­a­tion" that led ulti­mate­ly to the exter­mi­na­tion of the Vil­na Jews. Turn left out­side of my apart­ment and you entered the Square, with its wind-tossed foun­tain, linen and amber bou­tiques, and out­door cafes. Turn right and you found your­self in a drea­ry, cav­ernous court­yard carved out of what had once been the small ghet­to. In this area women, chil­dren, and the elder­ly were cor­ralled and starved before being marched out to the killing fields of Pane­r­i­ai, where they were sum­mar­i­ly shot and tossed into open pits.

Dur­ing my first week in Vil­nius, when­ev­er I left the apart­ment, I always turned right. I walked through the twist­ed streets of the for­mer ghet­tos, the large and the small, and read the signs in Yid­dish com­mem­o­rat­ing the slaugh­tered; I went to the lit­tle Holo­caust Muse­um in the Green House and fed my revul­sion on the names of both the ordi­nary and cel­e­brat­ed cit­i­zens that had per­ished. I made the pil­grim­age out to Pane­r­i­ai and tried to iden­ti­fy with the men assigned to burn the corpses, who might dis­cov­er among the dead the body of a wife, a father, a child or two. I tried in my fash­ion to obey the 11th com­mand­ment: Zakhor! Remem­ber! and its more piquant Yid­dish corol­lary, ​"Zol­stu krenken un gedenken," may you sick­en and remem­ber. I believe that the Shoah dimin­ished the whole human enter­prise, that as a race we've been miss­ing vital parts of our­selves ever since. So shouldn't it be incum­bent upon per­sons of con­science to return to the scenes of the crime in the hope of retriev­ing some­thing of what was lost? Of course it's a quixot­ic exer­cise; lan­guage and emo­tion are unequal to the task. Poet­ry, as Theodor Adorno famous­ly pro­nounced, is bar­bar­ic after Auschwitz. Besides, there's noth­ing to be found in such places but the stray stones placed atop the mon­u­ments by mourn­ers. And even the Jew­ish grave­yards of Vil­nius have been removed. Mean­while, from my kitchen win­dow, I watched the ear­ly morn­ing the­ater: young men stum­bled car­toon-like from all-night ben­ders, scat­ter­ing pigeons as they soaked their sore heads in the foun­tain; a pair of lovers, still tip­sy from their the pre­vi­ous evening's carouse, per­formed the com­ic pan­tomime of a mat­ing dance; a street sweep­er whis­tled as he worked to a tune played by a soli­tary Gyp­sy accor­dion­ist. And lat­er on, when I left the apart­ment, I turned left — as I did every day after that first week in Vil­nius — duck­ing under the arch to enter the car­ni­val atmos­phere of the square.

I'm not entire­ly a fool. I knew that the city was large­ly illu­sion, its crooked streets and fan­ci­ful facades recon­struct­ed after the war upon a foun­da­tion of ash­es and bones. I knew that, if you walked beyond the perime­ter of the pre­cious Old Town, you imme­di­ate­ly found your­self in a sovi­et waste­land, where impov­er­ished and often sui­ci­dal alco­holics sold their daugh­ters into slav­ery. I knew that, in the face of the night­mare of his­to­ry, even the Deutero­nom­ic injunc­tion to choose life is a flim­sy excuse. But the square was so full of a num­ber of things and the city such a god­dam gem.
Steve Stern is the author of sev­er­al works of fic­tion, includ­ing A Plague of Dream­ers, The Frozen Rab­bi, and North of God. His hon­ors include twoNew York TimesNotable Books, a Push­cart Writer's Choice Award, an O. Hen­ry Prize, and the Edward Lewis Wal­lant Award for Jew­ish Amer­i­can Fic­tion. Stern was born in Mem­phis, Ten­nessee and now lives in Sarato­ga Springs, New York.
Stern's fic­tion, with its deep ground­ing in Yid­dish folk­lore, has prompt­ed crit­ics such as Cyn­thia Ozick to hail him as a suc­ces­sor to Isaac Bashe­vis Singer. He has won five Push­cart Prizes, an O'Henry Award, a Push­cart Writ­ers' Choice Award and a Nation­al Jew­ish Book Award. For thir­ty years, Stern taught at Skid­more Col­lege, the major­i­ty of those years as Writer-in-Res­i­dence. He has also been a Ful­bright lec­tur­er at Bar Elan Uni­ver­si­ty in Tel Aviv, the Moss Chair of Cre­ative Writ­ing at the Uni­ver­si­ty of Mem­phis, and Lec­tur­er in Jew­ish Stud­ies for the Prague Sum­mer Sem­i­nars. Stern splits his time between Brook­lyn and Bal­ston Spa, New York.