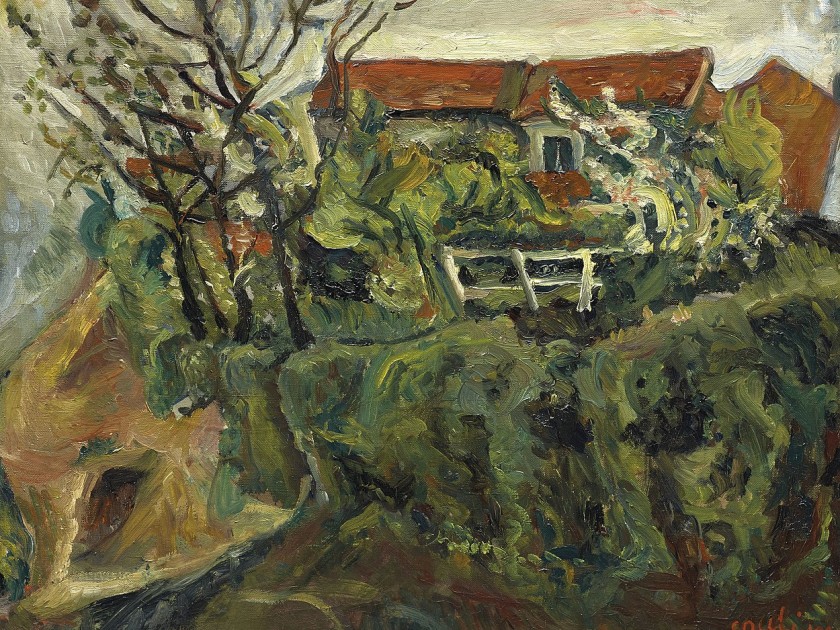 He wish­es the past had begun no ear­li­er than an after­noon four years ago when he depart­ed the third-class car at the Gare de l'Est. His first encounter with the pan­de­mo­ni­um of the Parisian streets had unnerved him and caused him to duck back into the sta­tion, though there was no com­fort in its milling crowd. Seek­ing sanc­tu­ary, he ignored the address in his pock­et and accost­ed passers­by with the sin­gle French phrase he'd learned, ​"Où est le Lou­vre?" Their answers were incom­pre­hen­si­ble. But fol­low­ing some hom­ing instinct, he schlepped his rope-strung suit­case through pas­sages and arcades; he stum­bled past man­nequins in empo­ri­um win­dows, along an avenue of ivory-white hous­es with wrought-iron bal­conies that might have lined a boule­vard in par­adise — and there it was.
Under­stand, Sou­tine had nev­er before been face-to-face with a mas­ter­piece. He'd only seen cheap repro­duc­tions and fad­ed plates in the books of the small acad­e­my library in Vil­na. Now, in those baroque, quar­ter-mile-long cor­ri­dors, he came upon, unannounced,
Titian's Entomb­ment and El Greco's writhing, atten­u­at­ed Christ on the Cross; he approached with­out fan­fare Rembrandt's Bathshe­ba at Her Bath and — God help him! — the Dutchman's mag­is­te­r­i­al Slaugh­tered Ox. He viewed Corot's Lady in Blue, the cas­cad­ing folds of whose gown made him for­get even to look for the Mona Lisa; and a por­trait in oil by Jean Fou­quet of Charles VII, whose unhap­py eyes pen­e­trat­ed his vitals like a cobbler's awl. He felt he might be close to a seizure and hugged the walls, fright­ened of the uni­formed guards star­ing sus­pi­cious­ly at the thread­bare Jew. He want­ed to hide in the privy until the muse­um closed, then haunt the gal­leries by him­self all night long, or for eternity.
It was only by virtue of some cos­mic error, Chaim decid­ed, that the likes of him was allowed to enter such a place. Shak­en to his toes from a sur­feit of bliss, his ulcer flared, his left eye­lid flut­tered like an insect's wing. He had upon him only the mea­ger pin mon­ey donat­ed by a sym­pa­thet­ic doc­tor in Vil­na. Nev­er­the­less, for the first time in his life he hailed a motor-cab and gave the dri­ver the scrap of paper with the scrawled des­ti­na­tion: 2 pas­sage de Dantzig, Mont­par­nasse. This was the address of la Ruche, the Bee­hive, the octag­o­nal artists' pha­lanstery fab­ri­cat­ed out of a dis­as­sem­bled pavil­ion from the 1889 Uni­ver­sal Expo­si­tion. The same world's fair for which the Eif­fel Tow­er had been built. The eccen­tric struc­ture, whose cupo­la tow­ered above the sur­round­ing rooftops, had been financed by the benef­i­cent sculp­tor Alfred Bouch­er, who lived with his pet don­key in an out­build­ing on the over­grown grounds. The Bee­hive itself housed a dis­or­der­ly war­ren of stu­dios thronged with a rag­tag assort­ment of gift­ed immi­grants who had swapped the pover­ty of inhos­pitable nations for the more roman­tic pover­ty of the City of Light.
No one there was espe­cial­ly hap­py to see Sou­tine. His rep­u­ta­tion for being a tem­pera­men­tal nudzhe had pre­ced­ed him among the Rus­sians, some of whom had been his fel­low stu­dents in Lithua­nia. They informed him that the swarm­ing ten­e­ment was full up. The good-natured sculp­tor Miestchani­noff, how­ev­er, agreed for some imag­i­nary fee to share his stu­dio, at least until the yokel from Smilovitchi was on his feet. A decade would pass before that was the case.
Fanat­i­cal­ly pri­vate despite their close quar­ters, Chaim hung a burlap cur­tain over his des­ig­nat­ed cor­ner of the wedge-shaped stu­dio. It was a blind cor­ner unil­lu­mi­nat­ed by the tall win­dows that gave onto the roof of the Vau­gi­rard slaugh­ter­house, whose stench per­vad­ed the apart­ments night and day. (Its butch­ers, with an inher­ent dis­dain for artists, would raid the Beehive's gar­den at night, lop­ping off the heads of sculp­tures with brick­bats.) He paint­ed in his long johns to pre­serve his only suit of clothes, itself already much the worse for wear. As always he worked in fits and starts, attack­ing the can­vas dur­ing the fits like a berserk­er. In Vil­na his teach­ers had tried to wean him from his unschooled ear­ly efforts. They'd hum­bled him with the exam­ples of the Old Mas­ters, stunned him into an apoplexy with images from Dürer and del­la Francesca. They ham­pered him with the rules of sym­me­try and lin­ear per­spec­tive. House­bro­ken, he'd set­tled for attempt­ing sober nature mortes in the man­ner of the Dutch, or two-dimen­sion­al, tem­pu­ra por­traits like those pre­served on the walls of Byzan­tium. Still ten­ta­tive dur­ing those first months in Paris, he paint­ed in mut­ed pig­ments: burnt sien­na, yel­low ocher, Van Dyke brown, and on auda­cious days a tinc­ture of Pruss­ian blue. But that was before he met Modigliani.
He hadn't been look­ing for a friend. He had even avoid­ed his com­pa­tri­ots Kikoïne and Krémègne, with whom he'd stud­ied and starved in Vil­na. The elec­tri­fy­ing air of Paris was a shock to his sys­tem after the pre­vail­ing gloom of the Russ­ian Pale. Reclu­sive by nature, since arriv­ing in the city Chaim had gone vir­tu­al­ly to ground. He might have attained some flu­en­cy in the lan­guage of his somber pig­ments, but with oth­er peo­ple he could be inar­tic­u­late to the point of moron­ic. More­over, when not paint­ing he was occu­pied with the busi­ness of sur­vival. He'd spent the remain­der of the Vil­na doctor's sub­sidy on a tutor who'd aban­doned him with only the rudi­ments of a pid­gin French he would nev­er mas­ter. To assuage his life­long hunger, he took odd jobs. He appeared for the sun­rise shape-ups at the sites of pub­lic works, humped crates at the Gare Mont­par­nasse, hoist­ed bas­kets of pro­duce at les Halles. It was labor that aggra­vat­ed the chron­ic inflam­ma­tion of his intestines and left him dis­abled for days.
While he resolved each time to resist the Italian's calls to way­ward­ness, he near­ly always respond­ed like one in thrall to some hyp­not­ic suggestion.
With the pit­tance he earned, he pur­chased the fruit, fish, and fowl that became the sub­jects of his com­po­si­tions. He paint­ed them with a water­ing mouth, con­vinced that his emp­ty stom­ach height­ened his con­cen­tra­tion. Then rav­en­ous, he would devour his sub­jects. On the evening he made the acquain­tance of Modigliani, he was paint­ing a brace of her­rings dan­gling from a chi­anti bot­tle. He was involved in daub­ing a dol­lop of red to the neck of the sap-green bot­tle, a pale red the col­or of a robin's breast with which he was dis­sat­is­fied. That's when the cur­tain was yanked aside by Jacques Lip­chitz, who whis­pered to Amedeo Modigliani, ​"The Lit­vak Soutine."
They hadn't known he was there. The two artists had come to vis­it Oscar Miestchani­noff, who was absent from his stu­dio. They had poked about in the mean­time, inspect­ing the sculptor's sleek mar­ble heads. Curi­ous to see more, Lip­chitz drew aside the hang­ing burlap to reveal the immi­grant in his paint-dap­pled gatkes.
As Chaim, in his absorp­tion, was obliv­i­ous to their pres­ence, they stood there watch­ing his rapt activ­i­ty. ​"The shtot meshuge­nah,
'the vil­lage idiot,' they called him back in Hotzeplotz or wher­ev­er he comes from," Lip­chitz con­fid­ed to the Ital­ian. But when he start­ed to drop the cur­tain, Modi grabbed it, still inter­est­ed in observ­ing the painter at work. Lip­chitz looked from Modigliani to the grub­by shtetl refugee, won­der­ing what he was so fas­ci­nat­ed by.
They might have turned and depart­ed unno­ticed had not the bluff Miestchani­noff hailed them upon enter­ing his stu­dio: ​"Lands­men!" At that Chaim turned from his easel and was outraged.
He spat three times in anger at their tres­pass, and remem­ber­ing his naked can­vas, spun around to cov­er it with a sheet.
"We were just admir­ing your … offer­ing?" said Modigliani, aim­ing a fin­ger at the her­rings, as if the fish rather than their ren­der­ing were the object of their espionage.
Chaim fumed. ​"You had no right!"
Modi stepped for­ward to intro­duce him­self, calm in the face of the painter's vex­a­tion, but not yet ready to be paci­fied, Chaim was slow to take his hand. Though he nev­er­the­less accept­ed the offer of a cig­a­rette; it was his pol­i­cy nev­er to refuse a hand­out. Then even as he bent to let the Italyan­er light his Gitanes, he was struck by the man's Sephardic beau­ty, which he seemed to rec­og­nize despite their nev­er hav­ing met. Who hadn't heard tales of the pen­ni­less prince of the car­refour Vavin?
He was every­thing that Chaim wasn't. There was a thor­ough­bred ele­gance about him that the nap of his vel­vet jack­et and the frayed edge of his car­di­nal-red scarf could not impugn. His dense shock of curl­ing mid­night hair was disheveled from hav­ing been tou­sled (one sup­posed) by a mod­el or mis­tress. His faun's eyes were at once teas­ing and ten­der. In his pres­ence Chaim was keen­ly aware of the heavy lids of his own sloe-black eyes, the left one giv­en to a ner­vous tic, the right half-hid­den by a fringe of oily hair. His nose was a bul­bous beet­root, his lips what the goy­im called ​"nig­ger." Hadn't he enti­tled the sin­gle self-por­trait he'd both­ered to exe­cute The Grotesque?
Modigliani gra­cious­ly invit­ed Sou­tine to join them for aperitifs.
"I've had a loan today from my rainy-day patron Guil­laume. The drinks are on me."
Still reluc­tant to let go of his umbrage, Chaim couldn't help but feel flat­tered at being includ­ed. No one in recent mem­o­ry had request­ed his com­pa­ny. Grudg­ing­ly he con­ced­ed that his work was in any case kaput for the night.
"I was going out any­way," he lied, and began to pull on his filthy pants over his filthy long johns. He snuffed out the spir­it lamp and fol­lowed the rak­ish Ital­ian through the lit­tle reg­i­ment of carved busts and torsos.
Lip­chitz and Miestchani­noff, how­ev­er, begged off. Jacques remem­bered that he had a wife and the pie-faced Oscar a rare com­mis­sion to com­plete. So it was left to Modi to intro­duce the unfledged immi­grant to the city after dark.
"Come, Sou­tine," he said, ​"with­out hope, we live in desire."
It was an entice­ment Chaim would hear var­i­ous ver­sions of in the com­ing months and years. But while he resolved each time to resist the Italian's calls to way­ward­ness, he near­ly always respond­ed like one in thrall to some hyp­not­ic suggestion.
Stern's fic­tion, with its deep ground­ing in Yid­dish folk­lore, has prompt­ed crit­ics such as Cyn­thia Ozick to hail him as a suc­ces­sor to Isaac Bashe­vis Singer. He has won five Push­cart Prizes, an O'Henry Award, a Push­cart Writ­ers' Choice Award and a Nation­al Jew­ish Book Award. For thir­ty years, Stern taught at Skid­more Col­lege, the major­i­ty of those years as Writer-in-Res­i­dence. He has also been a Ful­bright lec­tur­er at Bar Elan Uni­ver­si­ty in Tel Aviv, the Moss Chair of Cre­ative Writ­ing at the Uni­ver­si­ty of Mem­phis, and Lec­tur­er in Jew­ish Stud­ies for the Prague Sum­mer Sem­i­nars. Stern splits his time between Brook­lyn and Bal­ston Spa, New York.