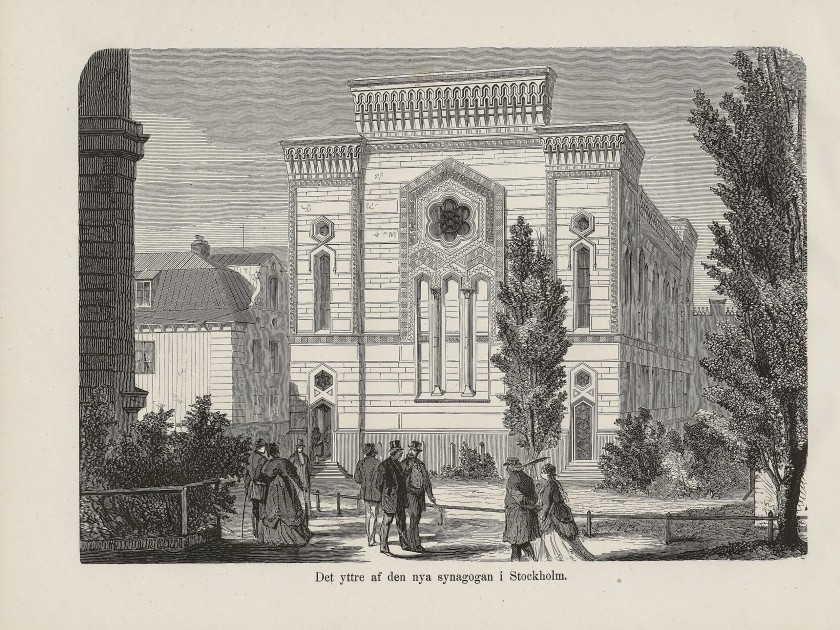 Stockholm's Old Town is maze-like and is easy to get lost in. But since it is locat­ed on an island, soon­er or lat­er you will return to a famil­iar spot and realise that you have walked in circles.
There are two small tri­an­gu­lar city blocks that look very sim­i­lar. Stockholm's Jew­ish muse­um is locat­ed in one of these areas today. Cen­turies ago, this is where Sweden's first syn­a­gogue was located.
In my nov­el Dr. B., the pro­tag­o­nist — based on my grand­fa­ther, Immanuel — vis­its the Ger­man church, locat­ed in the Old Town. In the dim­ly lit church he spots a hardy lit­tle boy who turns out to be the bell ringer. After a dream-like expe­ri­ence in the church's tow­er, watch­ing the boy exe­cute his duties, and a puz­zling con­ver­sa­tion with a Luther­an priest, the pro­tag­o­nist gets lost in the labyrinth of nar­row streets. He keeps return­ing to that square where the syn­a­gogue once was located.
The boy, the son of a Jew­ish librar­i­an, remains an elu­sive and mys­te­ri­ous fig­ure through­out the nov­el. His per­for­mance in the tow­er is oth­er­world­ly: ​"The bell ringer's dance was ter­ri­fy­ing but also beau­ti­ful. It was like noth­ing he had ever seen before and dif­fi­cult to describe in a way that did it justice."
Dr. B. was the byline used by my grand­fa­ther, a jour­nal­ist who escaped the Nazis in 1939 and set­tled in neu­tral Swe­den with his wife and two sons. He was an assim­i­lat­ed Jew, the son of a well-known can­tor in the syn­a­gogue in Königs­berg. My nov­el is not real­ly a por­trait of him, even if it is called Dr. B.; the book is bet­ter described as a por­trait of a city — Stock­holm, 1939. It's a sto­ry full of shad­ows, reflec­tions, and ambi­gu­i­ties. My pro­tag­o­nist is exhaust­ed and so per­haps he sees things that no one else can.
For instance, does that bell ringer real­ly exist? Or is he a fig­ment of Immanuel's imag­i­na­tion? He fol­lows him through the wind­ing streets and in the end, Immanuel remains uncer­tain if he is real­ly there:
"The streets were emp­ty, but he glimpsed an unsteady fig­ure a stone's throw ahead of him, keep­ing close to the build­ings and then dis­ap­pear­ing around a cor­ner. He turned the cor­ner too and thought he could see the short fig­ure again, cast­ing a long shad­ow on the wall oppo­site. The light must have come from a low win­dow, but to his sur­prise all was in dark­ness when he reached that part of the street. He wasn't sure he was going in the right direc­tion, and again he was filled with a sense of dis­qui­et. The feel­ing inten­si­fied at the thought that he had rec­og­nized the out­line of the fig­ure that was walk­ing in front of him a moment ago and was now no longer to be seen. It must sure­ly be none oth­er than the small boy from the tow­er, the bell ringer. Or was he chas­ing his own shadow?"
My book is based on real events. I inher­it­ed a box full of doc­u­ments that belonged to my grand­fa­ther Immanuel. A few years ago I start­ed to study them and lost myself in let­ters, arti­cles, ver­dicts, and inter­ro­ga­tion reports. I began to see the out­line of a sto­ry that was any­thing but straight­for­ward. There were many things I did not know; for instance, my grand­fa­ther was giv­en work as an edi­tor for a lead­ing pub­lish­ing house, Got­tfried Bermann Fis­ch­er; they were a Ger­man Jew­ish pub­lish­er who moved their pub­lish­ing house to Stock­holm in the late 1930s. Dur­ing the war years, the com­pa­ny pub­lished many of the most sig­nif­i­cant writ­ers banned by the Nation­al Social­ists, includ­ing Thomas Mann and Ste­fan Zweig.
Zweig's last and best-known book, The Roy­al Game, was pub­lished in Stock­holm after the author's death. The last thing Zweig did before tak­ing his own life was to send the man­u­script to Bermann Fis­ch­er. The main char­ac­ter in the sto­ry is impris­oned; in his iso­la­tion, he stud­ies a book about famous chess games, there­by devel­op­ing mirac­u­lous skills as a play­er. He plays chess with him­self, split­ting him­self into two.
My grand­fa­ther worked for Bermann Fis­ch­er in Stock­holm in 1939 but was caught up in a com­pli­cat­ed spy intrigue. He was sup­port­ing British Secret Ser­vice agents but was arrest­ed and sen­tenced to eight months' impris­on­ment for spy­ing for the Ger­mans. The pub­lish­er Bermann Fis­ch­er was also arrest­ed; he was deport­ed from Swe­den and with his fam­i­ly man­aged to make the jour­ney to New York via Rus­sia, Japan, and California.
Fis­ch­er met Zweig in New York just before he under­took his last jour­ney, per­haps before writ­ing The Roy­al Game. Did the pub­lish­er tell him about the new edi­tor, the one who end­ed up in prison and made sure the pub­lish­er him­self was forced to expe­ri­ence a num­ber of weeks locked up? The name of the chess-play­ing pris­on­er in Zweig's novel­la con­vinces me he did: that name is Dr. B.
Am I claim­ing that Zweig's pro­tag­o­nist is mod­elled on my grand­fa­ther? Not real­ly. Like most fic­tion­al char­ac­ters Zweig's chess vir­tu­oso is a col­lage. Inspi­ra­tion must have come from many sources. Instead of a psy­cho­log­i­cal por­trait, I have con­struct­ed a nar­ra­tive in which the dual nature of Zweig's chess play­er — the dop­pel­gänger motif — becomes a struc­tur­al ele­ment to reflect a sto­ry full of dou­bles. The book is full of sym­me­tries and mir­ror effects. The inner ten­sions of the assim­i­lat­ed Jew have moved out­side: he is torn between irrec­on­cil­able extremes. From the Luther­an church in the Old Town he is con­stant­ly pulled back to the site of the ancient syn­a­gogue. The strange Jew­ish boy in the Church keeps return­ing but per­haps exists only as Immanuel's shadow.
Philoso­pher and art crit­ic Daniel Birn­baum is one of the world's most promi­nent art cura­tors. He is the for­mer direc­tor of the Mod­er­na Museet (Muse­um of Mod­ern Art) in Stock­holm and has man­aged muse­ums and art schools in Ger­many and Italy, and curat­ed the Venice Bien­nale. He is cur­rent­ly the artis­tic direc­tor of Acute Art, an avant-garde stu­dio based in Lon­don, and a con­tribut­ing edi­tor at Art­fo­rum. Dr. B. is his first nov­el. He lives in London.