Jew­ish Book Coun­cil's inau­gur­al Unpack­ing the Book: Jew­ish Writ­ers in Con­ver­sa­tion event fea­tur­ing debut authors was an excel­lent oppor­tu­ni­ty to talk with Alex­is Lan­dau, author of The Empire of the Sens­es, about writ­ing, research­ing, and pos­si­bly extend­ing a fic­tion­al Holo­caust novel.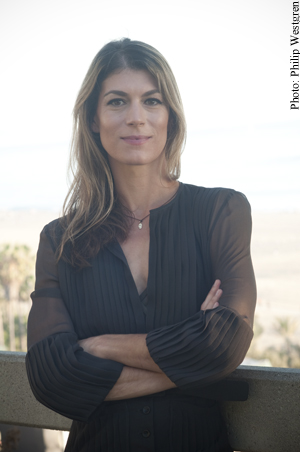 Bec­ca Kan­tor: You recent­ly com­plet­ed your Ph.D. in Cre­ative Writ­ing and Lit­er­a­ture at the Uni­ver­si­ty of South­ern Cal­i­for­nia. Could you tell me more about your research, and how your crit­i­cal exam­i­na­tion of inter­war lit­er­a­ture influ­enced your novel?
Alex­is Lan­dau: There were two start­ing points for the research. In 2007 the Met had an exhib­it called Glit­ter and Doom, which cen­tered on the artists who were work­ing in Berlin in the ​'20s and ​'30s, such as Otto Dix and Max Beck­mann. That was always my favorite peri­od in art his­to­ry. I just loved it. At this exhib­it, they had all the paint­ings col­lect­ed in one place, and infor­ma­tion about the char­ac­ters and the peo­ple who influ­enced the painters. I got so swept up in it and thought, ​"I have to write a nov­el about this time and some of these peo­ple and some of these artists." That idea was always in my mind since then.
Dur­ing my Ph.D., my pro­fes­sors kept press­ing me: ​"What's going to be your crit­i­cal field of inter­est?" At that point I was writ­ing short sto­ries and work­ing on a first nov­el that nev­er got pub­lished. I became more and more inter­est­ed in the idea of Jew­ish iden­ti­ty and assim­i­la­tion before the Holo­caust, in the inter­war peri­od. I remem­ber very clear­ly meet­ing with my advi­sor. I didn't even know if it would be allowed for me to focus on the inter­war peri­od, because it didn't feel as though it were a real cat­e­go­ry or genre. He was real­ly sup­port­ive and said: ​"Yes! You can do that. That sounds amazing."
So I start­ed delv­ing into the work of writ­ers of that time and I end­ed up focus­ing on Irène Némirovsky, the author of Suite Française. No one had heard of her, even in my depart­ment, which was anoth­er rea­son why I want­ed to write about her. Her cir­cum­stances in terms of being Jew­ish and in terms of being high­ly assim­i­lat­ed and well off — a lot of the cul­tur­al trap­pings were sim­i­lar to Lev's. The way he would think about his Jew­ish­ness was also sim­i­lar. So that was where a lot of the crossover came.
BK: So much has been writ­ten about the Holo­caust. You made a more unusu­al — and very intrigu­ing — choice by focus­ing on World War I and the polit­i­cal and social cli­mate that led up to World War II. Was this only because of the inter­ests you men­tioned before, or were you con­scious­ly try­ing to do some­thing new?
AL: I think it was a com­bi­na­tion of both. I def­i­nite­ly start­ed off being more inter­est­ed in the time peri­od of the ​'20s because of the art. That was when the artists were most pro­duc­tive, and by the time Hitler came to pow­er a lot of the art was being banned. I also want­ed to focus on World War I because to me that was the start­ing point for every­thing unraveling.
As I was writ­ing, of course I could have cho­sen to fast-for­ward to the 1930s. But I didn't want to because it's such a vast and huge undertak­ing to write about the Nazi years. I didn't feel like I want­ed to try to do that. Frankly it's pret­ty fright­en­ing to write about the Holo­caust — the­matically, but also from a per­son­al stand­point. Like, what can I bring that is new to the table, to what's already been said?
BK: Each of your char­ac­ters has a dis­tinct per­cep­tion of Jew­ish iden­ti­ty. What were your mod­els for these dif­fer­ent attitudes?
AL: Lev is kind of a com­pos­ite of oth­er writ­ers who were Jew­ish and writ­ing at that time, like Joseph Roth and Irène Némirovsky. They def­i­nite­ly iden­ti­fied as being Jew­ish but they weren't reli­gious, they were very sec­u­lar. They want­ed to be assim­i­lat­ed and were assim­i­lat­ed to a cer­tain extent, but not com­plete­ly, of course. There was always this sense of not belong­ing ful­ly, which I think I also have expe­ri­enced in dif­fer­ent ways. And so maybe that is some reflec­tion on my own upbringing.
In terms of how Josephine looks at Jew­ish­ness, not being Jew­ish her­self, I read accounts of how the Chris­t­ian major­i­ty would view Jews. Obvi­ous­ly she was more sym­pa­thet­ic than a lot of oth­ers because she mar­ried one. But in terms of the prej­u­dice in her fam­i­ly — in some cir­cles it was more spo­ken than in oth­ers, but it was always there. So I want­ed to cap­ture that with her family.
In some ways Franz's inabil­i­ty to be ful­ly him­self in terms of his sex­u­al­i­ty was also a metaphor for him not being able to be him­self in terms of his Jew­ish­ness. There was a lot of writ­ing at that time in which these racial the­o­ries were start­ing to devel­op. There was a the­o­rist, Otto Weininger, who wrote a very pop­u­lar book at the time called Sex and Char­ac­ter in 1903. It equat­ed fem­i­nin­i­ty with Jew­ish­ness and with weak­ness, and not with being strong and mas­cu­line. So those kinds of pre­con­cep­tions were float­ing around. I want­ed Franz to kind of grab on to them and feel ashamed of his Jew­ish­ness because he thought it was femi­nine, or because he thought it wasn't the male, Ger­man way of being.
Vic­ki is kind of sim­i­lar to Lev. She would have been more sim­i­lar, but because of who she falls in love with, she becomes much more on the Zion­ist track in terms of her iden­ti­ty. Still, she's pret­ty con­flict­ed even up until the end in terms of how much she real­ly believes in that project.
BK: Do any of the char­ac­ters reflect your own rela­tion­ship with Judaism?
AL: For the first sev­en years of my life, my par­ents raised me with­out a lot of aware­ness of being Jew­ish. I don't real­ly think I ful­ly knew I was Jew­ish even though my mom is Jew­ish and my dad is half-Jew­ish. My mom didn't iden­ti­fy her­self as Jew­ish. We had a Christ­mas tree, we weren't reli­gious in any sense, and the idea of being Jew­ish was just not in my consciousness.
Then my par­ents got a divorce, and my dad start­ed dat­ing an Ortho­dox Jew­ish woman. She was like: ​"You're Jew­ish, and your daugh­ter is Jew­ish! She doesn't know she's Jew­ish, what's going on here?" She start­ed tak­ing me to tem­ple and we would walk there because of the Sab­bath; we would have to turn the lights off before the Sab­bath; we had kosher plates…All this stuff that I didn't know about was sud­den­ly in my life and sud­den­ly part of my iden­ti­ty, or sup­posed to be. My mom still said: ​"Oh yeah, well, we're Jew­ish, but it doesn't real­ly mean any­thing to me." So I grew up with all these ideas float­ing around about what it means to be Jew­ish: why you wouldn't want to be Jew­ish from my mom's stand­point, and my dad embrac­ing it much more than he had. I think that informed me to start think­ing about Jew­ish iden­ti­ty— maybe more than oth­er peo­ple who might have had a more straightfor­ward type of situation.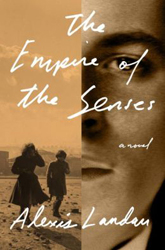 BK: What were the chal­lenges in por­tray­ing char­ac­ters with mind­sets that are very much of their time while still con­vey­ing your contempo­rary insight into the peri­od? Were some per­spec­tives hard­er to evoke than others?
AL: One of my best friends, who is an edi­tor, told me: ​"The most impor­tant thing is tone, and get­ting the tone right, and not hav­ing your con­tem­po­rary voice barge in." When I was writ­ing, espe­cial­ly in the begin­ning, I was real­ly con­scious of that. I can't write well unless I under­stand every aspect of a per­son. Not just what they're experienc­ing psy­cho­log­i­cal­ly, but also their body in time and space. Oth­er­wise the writ­ing becomes too dis­em­bod­ied, and not real. I would fall into the whirlpools of research where I might spend half a day look­ing at men's fash­ion in the 1920s. But a cer­tain amount of those details real­ly fed my abil­i­ty to keep going. Oth­er­wise you're writ­ing in a vac­u­um, and then I don't have the nec­es­sary con­fi­dence. I had to get cer­tain things down to feel that I could move forward.
Mak­ing it feel real or feel relat­able in terms of read­ers now, in terms of con­tem­po­rary issues or even con­cerns, was one of my main con­cerns. I didn't want to float into abstrac­tion, such as Franz is representa­tive of the ris­ing Fas­cist move­ment, or Josephine is rep­re­sen­ta­tive of chang­ing sex­u­al mores at the time. That is just not inter­est­ing. What makes it inter­est­ing is the human­ness of the sto­ry, the emo­tion. Love, death, hav­ing chil­dren, being mar­ried. And those things don't change, real­ly, over time.
BK: Do you have any ideas of themes you might want to explore in the future?
AL: Yes, I do! Of course, writ­ers gen­er­al­ly freak out when­ev­er they have to talk about their next project, but…I have this sense that The Empire of the Sens­es might become a tril­o­gy. That wasn't what I set out to do at first. But then I fin­ished it and some time passed, and I thought, ​"Oh, I don't feel like I'm done with this sto­ry." And so the next book is prob­a­bly going to be from the point of view of the son that Lev had with Leah, whom we nev­er met. He moved with Leah to New York when he was about sev­en. He actu­al­ly ends up fight­ing in World War II, because he would have been about twen­ty, but the focus is going to start in 1946, after the war. The book is prob­a­bly going to be set in the late ​'40s and ear­ly ​'50s Hol­ly­wood. A lot of Ger­man artists and exiles lived here in L.A. So I think I'm head­ing in that direc­tion with my next book, but we'll see!
Alex­is Lan­dau received her MFA from Emer­son Col­lege and her Ph.D. in Cre­ative Writ­ing and Lit­er­a­ture from the Uni­ver­si­ty of South­ern Cal­i­for­nia. She cur­rent­ly teach­es writ­ing at USC and lives in Los Ange­les. The Empire of the Sens­es is her first novel.
Bec­ca Kan­tor received her B.A. from the Uni­ver­si­ty of Penn­syl­va­nia and her M.A. in Cre­ative Writ­ing from the Uni­ver­si­ty of East Anglia. She has lived in Esto­nia, Eng­land, and Ger­many. Cur­rent­ly she lives and writes in her native Philadelphia.
Relat­ed content:
Bec­ca Kan­tor is the edi­to­r­i­al direc­tor of Jew­ish Book Coun­cil and its annu­al print lit­er­ary jour­nal, Paper Brigade. She received a BA in Eng­lish from the Uni­ver­si­ty of Penn­syl­va­nia and an MA in cre­ative writ­ing from the Uni­ver­si­ty of East Anglia. Bec­ca was award­ed a Ful­bright fel­low­ship to spend a year in Esto­nia writ­ing and study­ing the coun­try's Jew­ish his­to­ry. She lives in Brooklyn.