In her last post, Rebec­ca New­berg­er Gold­stein wrote about the inspi­ra­tion behind Azarya Shein­er, the heart of her new nov­el. She has been guest-blog­ging all week for MyJew­ish­Learn­ing and the Jew­ish Book Council.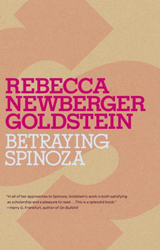 The last book I pub­lished, Betray­ing Spin­oza: The Rene­gade Jew Who Gave Us Moder­ni­ty, intro­duced me to a com­mu­ni­ty I hadn't known much about before: orga­nized non-reli­gion. Spin­oza is a hero to that com­mu­ni­ty, and I began to get invi­ta­tions from var­i­ous pro-rea­son and sec­u­lar human­ist groups. I was invit­ed to speak at con­gre­ga­tions of free­thinkers who gath­er each week, on Sat­ur­day or Sun­day, in order to, you know, not pray. I was even elect­ed a Human­ist Lau­re­ate.
But the more I spoke with peo­ple with whom I basi­cal­ly agree the more dis­sat­is­fied I became when they spoke about peo­ple with whom I don't agree. Athe­ists have excel­lent argu­ments, yet there was some­thing that many of them weren't get­ting. They weren't get­ting what it's like to be a believ­er, what the world feels like when God seems a pres­ence. Per­haps even more impor­tant­ly — and I think this tends to loom larg­er for Jews than for Chris­tians — they weren't get­ting what it feels like to be part of a reli­gious­ly iden­ti­fied com­mu­ni­ty, the sense of com­mu­nal bond­ing that over­rides meta­physics. Reli­gion is about far more than the belief in God, which is, again, some­thing that might be less sur­pris­ing to you if you hap­pen to be Jew­ish. I had a thor­ough­ly Ortho­dox edu­ca­tion but nev­er once, at least as I can recall, did we con­cern our­selves with argu­ments for the exis­tence of God.
How does a Jew­ish athe­ist dif­fer from, say, a Den­nett or a Dawkins? Take the sto­ry I've heard, in mul­ti­ple ver­sions, of two Jews argu­ing on a park bench, one a believ­er the oth­er an athe­ist. They're going at it heat­ed­ly, when sud­den­ly the athe­ist breaks it off with an urgent, ​"Come on, we're going to be late for ma'ariv."
The pro­tag­o­nist of 36 Argu­ments for the Exis­tence of God: A Work of Fic­tion is Cass Seltzer, who has become an inter­na­tion­al celebri­ty with the pub­li­ca­tion of his book The Vari­eties of Reli­gious Illu­sion. He's no stranger to reli­gious expe­ri­ence, and he has been dubbed the athe­ist with a soul. But there's anoth­er athe­ist in the book, less prone than Cass to onslaughts of reli­gious emo­tion. This char­ac­ter is the soul of the book.
In Betray­ing Spin­oza I argued that there was some­thing indeli­bly Jew­ish about the sev­en­teenth-cen­tu­ry philoso­pher, despite the vehe­mence of those who denounced his heresy. Spinoza's extra­or­di­nary rethink­ing of per­son­al iden­ti­ty was, in part, a response to Jew­ish his­to­ry. This para­dox was much in mind when I was writ­ing the nov­el. The most ardent athe­ist in the book is some­one who, like Spin­oza, could only exist in Judaism.
Rebec­ca New­berg­er Goldstein's newest book, 36 Argu­ments for the Exis­tence of God: A Work of Fic­tion
is now avail­able. Vis­it the offi­cial web­site for the book at http://​www​.ran​dom​house​.com/​p​a​n​t​h​e​o​n​/​a​u​t​h​o​r​s​/​g​o​l​d​s​tein/.
Rebec­ca New­berg­er Gold­stein received her doc­tor­ate in phi­los­o­phy from Prince­ton Uni­ver­si­ty. Her award-win­ning books include the nov­els The Mind-Body Prob­lem, Prop­er­ties of Light, and Mazel, and non­fic­tion stud­ies of Kurt Gödel and Baruch Spin­oza. She has received a MacArthur Foun­da­tion Fel­low­ship and Guggen­heim and Rad­cliffe fel­low­ships, and she was elect­ed to the Amer­i­can Acad­e­my of Arts and Sci­ences in
2005
. She lives in Massachusetts.