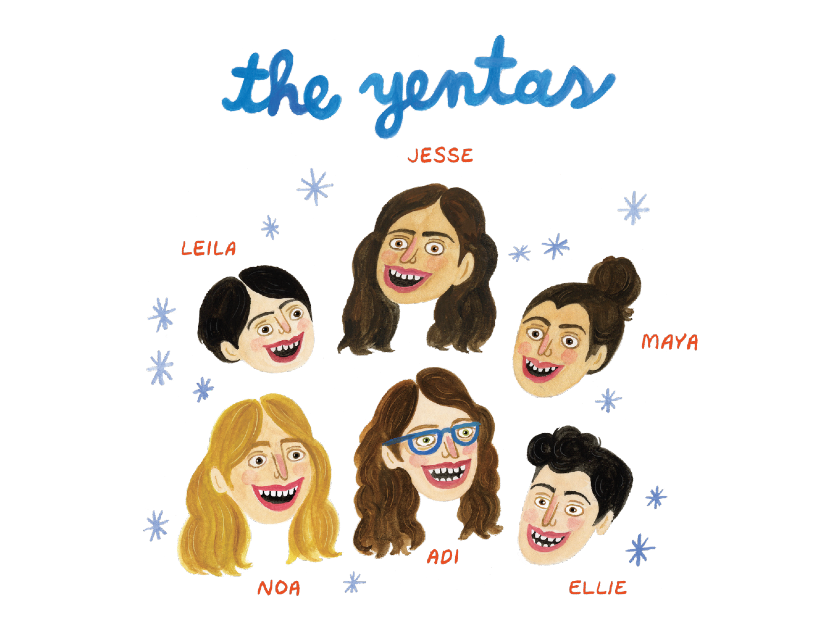 Grow­ing up I was always acute­ly aware of all the ways my body sim­ply didn't fit the mold of what I thought it meant to be a woman. I had a round face with full cheeks, a uni­brow, increas­ing­ly dark upper lip hair that rivaled that of the bar-mitz­vah-aged boys of my grade, short stocky legs with thick thighs, long side­burns, and — most dev­as­tat­ing­ly embar­rass­ing to me— hairy arms. The mag­a­zines I read con­firmed my inse­cu­ri­ties, and the char­ac­ters in movies and TV that I looked up to (specif­i­cal­ly Sandy from Grease, and lat­er Sum­mer from The O.C.) gave me a very nar­row def­i­n­i­tion for what it meant to be a valu­able and desir­able woman. Desir­abil­i­ty was the key. At the core of it, I had inferred that fem­i­nin­i­ty equaled desir­abil­i­ty, and how I felt about myself and my body was based on how I assumed oth­ers saw me. This dis­so­ci­at­ed sense of self felt nor­mal and nat­ur­al — as nat­ur­al as it felt to suck in my stom­ach all day.
I looked to out­side cues to cre­ate guide­lines on how to make my body more accept­able, and by eighth grade I had devel­oped a sol­id rou­tine to keep my body up to par. I joined Weight Watch­ers and jour­naled about my weight loss jour­ney; mas­tered the blowout (a blowout that felt very pre­cious and that I pro­tect­ed whole­heart­ed­ly); suc­cess­ful­ly erased all traces of frizz in my hair each morn­ing before school; began wear­ing Spanx under my jeans as I wait­ed for my flat stom­ach to emerge from all the car­rots (zero WW points!) and crunch­es I'd com­mit­ted to. This prep work often start­ed the night before with a facial hair wax­ing ses­sion. I would nev­er dare do this lev­el of groom­ing in the morn­ing because show­ing up to school with irri­tat­ed red patch­es of skin that seemed to scream ​"I have to remove hair from my face" was a mor­ti­fy­ing thought. Just as impor­tant as it was for me to pre­pare my body in this way, it was vital to give the illu­sion that I didn't have to make these edits in the first place. This behind-the-scenes reg­i­men and the secre­cy of it made me feel even more embar­rassed and alone. It was men­tal­ly and phys­i­cal­ly exhausting.
The only reprieve from this feel­ing came dur­ing the sum­mers I spent at my Jew­ish sleep­away camp — and more specif­i­cal­ly, in my bunk at this camp. For two months out of the year I was sur­round­ed by oth­er girls twen­ty-four hours a day, sev­en days a week. Each day was a whirlpool of nudi­ty; the bunk swirling with soft tum­mies, pubes at vary­ing lev­els of full­ness, and butts — some that were curi­ous­ly smooth and oth­ers that resem­bled mine with a cute lit­tle tri­an­gu­lar patch of wispy hair point­ing down as if sig­nal­ing to the buttcrack. I was no longer alone in my per­ceived devi­a­tions from fem­i­nin­i­ty. Hav­ing a human body with hair and smells and rolls of fat wasn't strange. Ini­tial­ly this envi­ron­ment was a shock and I clung to the clas­sic JCC lock­er room maneu­ver of squirm­ing under­neath my cloth­ing to get undressed to avoid being total­ly naked. For­tu­nate­ly for me, the bunk I was stay­ing in that sum­mer had recent­ly been ren­o­vat­ed to include two show­ers. As long-time campers explained, this was a big deal because nor­mal­ly all the campers in the girls' area would share the larg­er show­er house which was equipped with the sug­ges­tions of stalls: flim­sy cur­tains sep­a­rat­ing show­er heads that were typ­i­cal­ly dis­re­gard­ed to make space for more bathers. It was a free for all naked show­er par­ty and ter­ri­fy­ing to me at the time.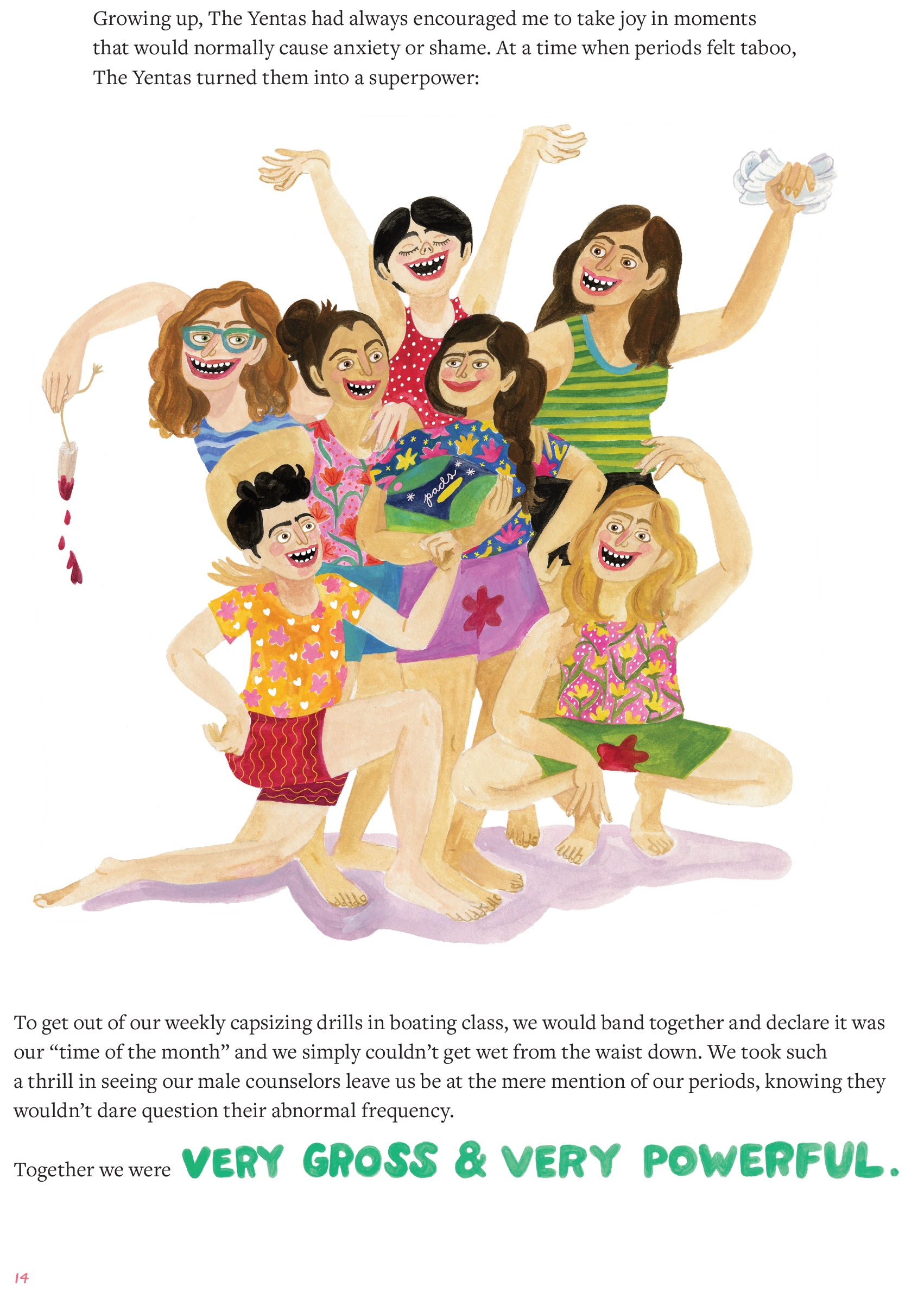 Show­er times — espe­cial­ly on Fri­day after­noons before Shab­bat — were eye-open­ing enough, so I was hap­py to take shel­ter in the pri­vate show­ers we had. I had nev­er got­ten ready for an event with oth­er girls, and at camp I shared three mir­rors with about twen­ty girls. When I plucked my eye­brows there were at least two oth­er girls lay­ered on top of me doing the same, some­times with a boob or two dan­gling in front of my face in the process. I heard girls talk about their toe hair, the deodor­ants that kept them suf­fi­cient­ly dry and clear of pit stains, and requests to be on ​"leak patrol" as we all agreed that peri­ods tend to go rogue the moment we put on a nice out­fit. Yes, we were still par­tic­i­pat­ing in these almost rit­u­al­is­tic groom­ing activ­i­ties to look ​"bet­ter," but our sticky, hairy human­i­ty was on dis­play — and accept­ed as just that. Human. It sud­den­ly was very fun to have an unpre­dictable and messy body.
Mid­way through the sum­mer, the pri­vate show­ers ran out of hot water just hours before Shab­bat and I had no choice but to brave the show­er house. I was one of just a hand­ful of girls in my bunk who famous­ly chose to wash up in the bunk each night, and some decid­ed to stay true and with­stand the cold water. I seized the moment, locked eyes with one of my fel­low new­bies, and with a know­ing nod we went off to the show­er house togeth­er. We ner­vous­ly stood in line with the oth­er girls — campers and coun­selors alike — and won­dered if we would ever be so con­fi­dent­ly blasé about being this naked in front of this many peo­ple. Every­one was chat­ting with each oth­er, catch­ing up on each other's days, total­ly unaf­fect­ed by the nudi­ty they were about to offer up. My fel­low mod­est friend and I qui­et­ly agreed that we would keep our flim­sy show­er cur­tain closed (at least at first, and go from there). As we found our­selves at the font of the line, we stepped into a cloud of steam and through to a tru­ly mag­i­cal and dis­ori­ent­ing scene. There were wet, naked bod­ies every­where. Soap suds cling­ing to full bush­es and shaved pubis alike. Even the cool old­er girls had real bod­ies; with fat and stretch marks, dim­pled butts, and boobs of tru­ly every shape and size I could imag­ine — some that I hon­est­ly didn't know exist­ed. We shuf­fled into our space, mes­mer­ized and a bit over­whelmed. Once in the show­er house it sud­den­ly felt a lit­tle sil­ly to be hid­ing our bod­ies because there was clear­ly noth­ing either of us had going on that hadn't been seen before. What was there to hide? After a quick sham­poo, we decid­ed to draw back the cur­tain. And just like that I was sim­ply anoth­er body roam­ing freely, noth­ing to cri­tique, noth­ing to change, noth­ing to hide.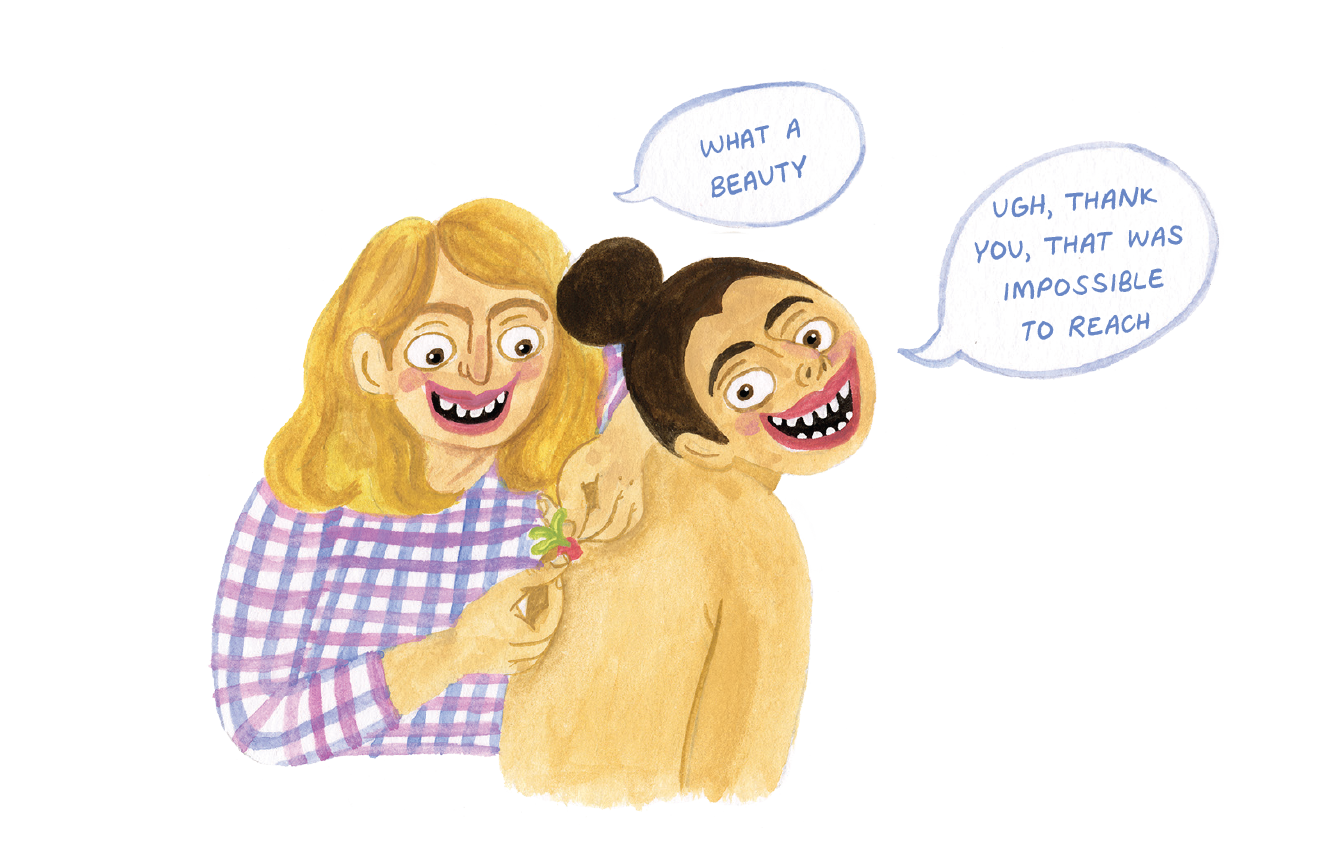 The draw­ing back of the cur­tain was a eure­ka moment of sorts, but it wasn't a mag­ic cure-all that erased all my inse­cu­ri­ties or body hang-ups; swim class remained my most dread­ed hour of the day and I sub­ject­ed myself to a host of diets over the years. But I had found a space to let all that pres­sure go; spend­ing two months of the year with these girls encour­aged me to (if only for a moment) recon­sid­er the ideas I had about how I had to look or how women should look. I left each sum­mer know­ing that me and my body had a lov­ing home to come back to.
Ariel­la Elovic holds a BFA in Com­mu­ni­ca­tion Design from Wash­ing­ton Uni­ver­si­ty in St. Louis. Her work has been fea­tured by The New York­er, Teen Vogue, Refin­ery 29, Buz­zfeed, KAAST, and Wom­an­ly Mag­a­zine. Ariel­la has col­lab­o­rat­ed with var­i­ous female-inter­est brands, includ­ing Lunette Cup, What's In Your Box?, Luna­pads, and Cora for Women. She lives in New York.