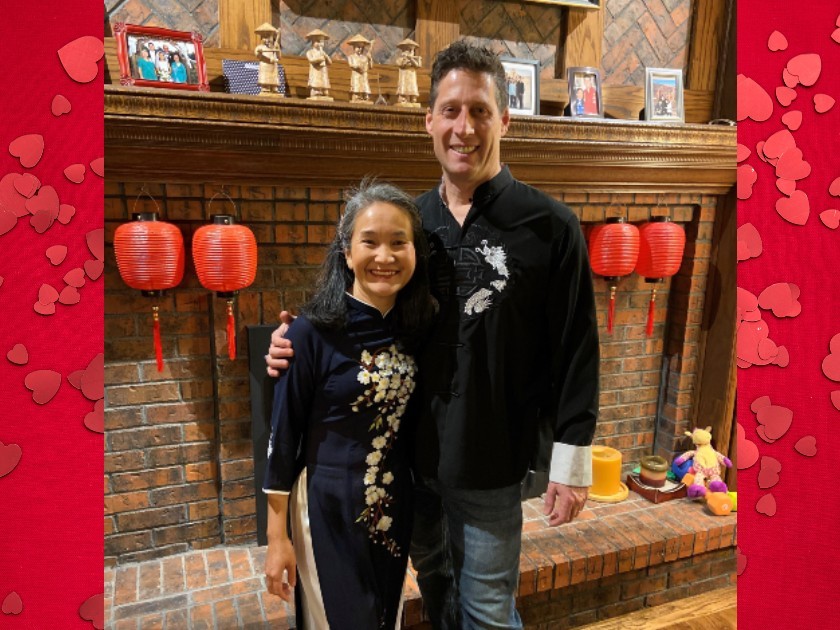 I nev­er heard of the Holo­caust, or Judaism, until my junior year of college.
I didn't know a Jew­ish per­son until I met my now-hus­band of twen­ty-plus years.
It might be astound­ing for a Jew to hear of some­one who would be unaware of the exis­tence of the Holo­caust. In one part of my mem­oir, Soles of a Sur­vivor, I share the sto­ry of how a clue­less teenag­er adopt­ed into a Chris­t­ian house­hold in the South rel­ish­es being Jew­it­namese nowa­days. (Soles of a Sur­vivor will be released May 25 and can be pre-ordered through these retail­ers.)
While I was grow­ing up in Viet­nam after the Viet­nam-Amer­i­can War, the Com­mu­nist gov­ern­ment did not allow its cit­i­zens to lis­ten to any for­eign news. We would be arrest­ed if we were accused of lis­ten­ing to news oth­er than what the Com­mu­nist Par­ty allowed. My days were filled with infor­ma­tion about how great Ho Chi Minh and the Com­mu­nist Par­ty were, and how hor­ri­ble the Amer­i­cans were for occu­py­ing Viet­nam. There was not much diver­si­ty in my beloved coun­try. Prac­tic­ing reli­gion and lis­ten­ing to the news about the out­side world were pro­hib­it­ed — some of the rea­sons I nev­er heard of the Holocaust.
When fight­ing for dai­ly sur­vival, I could not think of any­thing else. The oppres­sion under the Com­mu­nist gov­ern­ment was unbear­able, which led to my escape from Viet­nam; I trudged through the jun­gles of Cam­bo­dia as a twelve-year-old with a group of strangers, seek­ing the Promised Land of Amer­i­ca. My quest for sur­vival through the Cam­bo­di­an jun­gle even­tu­al­ly led me to a boat that took me to Thai­land and an orphan­age where I lived for two years until I qual­i­fied for refugee sta­tus in order to immi­grate to the Unit­ed States. After my arrival as a refugee, I was adopt­ed into a Chris­t­ian house­hold in the South. I was over­whelmed learn­ing a new lan­guage and cul­ture in my new coun­try, along with some of the most essen­tial things for dai­ly sur­vival. As a result, I did not have an oppor­tu­ni­ty to learn about oth­er faiths dur­ing that period.
I even­tu­al­ly learned about the Holo­caust dur­ing my junior year of col­lege when I attend­ed a school pro­gram in France. Dur­ing that time, I trav­eled to a few con­cen­tra­tion camps and learned about the hor­rors that the Jews endured.
Sev­er­al years lat­er, I met and fell in love with a man whom I lat­er mar­ried. He hap­pened to be Jew­ish. In fact, he was the first Jew­ish per­son I had ever known. Back in 2000, Asian-Jew­ish mar­riages were extreme­ly uncom­mon, espe­cial­ly in the Vir­ginia boonies where we got mar­ried. We weren't going to have a preach­er or a rab­bi per­form the cer­e­mo­ny. At the time, a Reform rab­bi would not even con­sid­er mar­ry­ing an inter­faith cou­ple like us.
Thank­ful­ly, my soon-to-be hus­band nev­er pres­sured me into con­vert­ing to Judaism and I loved him for it — he knew using that tac­tic had no chance of suc­cess and would prob­a­bly push me away. He did request that I agree to teach our chil­dren about Jew­ish faith and tra­di­tions. It wasn't that I opposed the idea of con­vert­ing to Judaism; rather, con­ver­sion had to be real, from the heart. Oth­er­wise, it would be emp­ty and meaningless.
I could relate to this his­to­ry of loss, hope, resilience, and sur­vival against all odds.
With­in months of our wed­ding, I hon­ored my com­mit­ment to learn as much about Judaism as I could so I'd know how to raise our fam­i­ly when the time came. I read many books on the sub­ject and asked my new­ly­wed hus­band about his faith, cul­ture, and tra­di­tion. I signed up to take an ​"Intro to Judaism" class and my hus­band agreed to attend with me, which I real­ly appre­ci­at­ed. And then some­thing amaz­ing hap­pened. As I got deep­er and deep­er into the teach­ings, I was amazed — astound­ed, real­ly — that there were so many sim­i­lar­i­ties between what the Jew­ish peo­ple had gone through and what the Viet­namese peo­ple had to endure. They were also immi­grants who endured the worst per­se­cu­tion and suf­fer­ing imag­in­able — nev­er giv­ing up hope that some­day they would enter the Promised Land and begin their new and bet­ter lives. I could relate to this his­to­ry of loss, hope, resilience, and sur­vival against all odds
After study­ing Judaism for four years, I'd made friends and par­tic­i­pat­ed in many dif­fer­ent Jew­ish com­mu­ni­ty events. While it had start­ed as some­thing that I had promised my hus­band I would explore, Judaism became some­thing I embraced and felt from the heart, lead­ing to my desire to convert.
Dur­ing the con­ver­sion process, the rab­bis real­ly want to make sure that you're seri­ous, and one of the ways they do that is by reject­ing you three times. I knew it was a tra­di­tion and hap­pened to every­one who expressed a desire to con­vert, but know­ing your rejec­tion is pre­or­dained doesn't make it eas­i­er to take.
My hus­band and I looked around for the right syn­a­gogue. There were a num­ber of syn­a­gogues in Den­ver, some Reform, some Con­ser­v­a­tive, a few Ortho­dox. We decid­ed to join one of the Con­ser­v­a­tive syn­a­gogues because I liked the peo­ple I met. Upon hear­ing about my desire to con­vert, the rab­bi asked me if I had tak­en an ​"Intro to Judaism" course. He then told me that I would need to turn my home kosher, which was a major issue for me.
To keep a kosher home meant adher­ing to dietary require­ments out­lined by tra­di­tion­al Jew­ish law. I could already hear the argu­ments my hus­band and I might get into if I messed up this kosher law and mixed meat with milk or used the wrong uten­sil to cut some­thing. It seemed like a mine­field of poten­tial mar­i­tal con­flicts await­ing us. Many Jews I knew didn't have a kosher home, and I knew that I would not be keep­ing one either. I looked at the rab­bi and said, ​"I could lie to you — and myself — by telling you that I would turn my home kosher, but that would be extreme­ly dif­fi­cult, as I've spent a life­time eat­ing food that is not kosher."
The rab­bi frowned and told me to find a Reform syn­a­gogue ​"down the road" that might take me. Rejec­tion num­ber one.
It was frus­trat­ing to feel like I wasn't being tak­en seri­ous­ly, even though I knew that con­verts must go through the rejec­tion process. I had, after all, tak­en my Judaism stud­ies quite seri­ous­ly. I was not going to be deterred, though. I con­tin­ued to go to ser­vices at the syn­a­gogue and stood out like a sore thumb because I was the only Asian per­son there. I would often see the rab­bi, and though he didn't say much, I could tell that he took note of my pres­ence and the fact that I had not tak­en his sug­ges­tion to go to anoth­er synagogue.
While it's true that my ini­tial moti­va­tion for explor­ing Judaism was because the man I love was Jew­ish, it had evolved into more than that, and become some­thing I felt in my heart.
Months lat­er, we want­ed to go back to the syn­a­gogue for a sec­ond meet­ing with the rab­bi. Before the meet­ing, my hus­band told me that he did not think many Jew­ish lead­ers would want to have kids who didn't belong to the com­mu­ni­ty just because their moth­ers weren't Jew­ish — espe­cial­ly when inter­faith mar­riages com­prise over 50 per­cent of Amer­i­can Jew­ish mar­riages since the 1990s. Per­haps the rab­bi might not be so quick to dis­miss me the sec­ond time, if he knew I was pregnant.
Not want­i­ng to start off the con­ver­sion process by lying to the rab­bi about hav­ing a kosher home, I addressed this con­cern by telling him that we had made some adjust­ments and would be com­mit­ted to hav­ing a kosher home. The rab­bi gave me a point­ed look and said that I didn't need to con­vert to par­tic­i­pate in the Jew­ish com­mu­ni­ty. Per­haps that com­ment was the sec­ond of my three rejec­tions. My hus­band then men­tioned that I was extreme­ly com­mit­ted to the Jew­ish com­mu­ni­ty and that I want­ed to raise our kids as part of the Jew­ish com­mu­ni­ty. At the men­tion of the word ​"kids," the rab­bi looked up and said that he'd work with me on my conversion.
Because I had already spent years study­ing Judaism and was an active mem­ber of the com­mu­ni­ty, the process of con­ver­sion was rel­a­tive­ly quick once the rab­bi agreed. The day of my con­ver­sion, I was called before the Beit Din, a rab­binic court com­prised of three peo­ple: the rab­bi, and two oth­er obser­vant mem­bers of the syn­a­gogue who are knowl­edge­able about the con­ver­sion pro­ce­dure. The three of them sat behind a small wood­en table fac­ing me, the rab­bi in the mid­dle, and the oth­er two mem­bers on either side. I sat across from them, know­ing that my hus­band was wait­ing for me just out­side the room.
The rab­bi asked why I choose Judaism. I respond­ed that I was not brought up with orga­nized reli­gion. But I have always won­dered if there was some­thing more out there, some­thing big­ger than myself. And when I read about the strug­gles that the Jews had gone through, I saw par­al­lels with the expe­ri­ences I had lived through. Peo­ple in my home coun­try were per­se­cut­ed. I had to flee my home­land, and I found myself in a coun­try where I looked dif­fer­ent and was dis­crim­i­nat­ed against because of it. While it's true that my ini­tial moti­va­tion for explor­ing Judaism was because the man I love was Jew­ish, it had evolved into more than that. It had become some­thing I felt in my heart. I was ded­i­cat­ed to rais­ing my chil­dren Jew­ish, in a Jew­ish home. It was not only what my hus­band and I felt was right for our fam­i­ly, but what was authen­tic for us.
Our con­ver­sa­tion con­tin­ued for about anoth­er half an hour, with the rab­bi ask­ing me ques­tions about my com­mit­ment to Judaism and the Jew­ish peo­ple. I answered truth­ful­ly and from the heart. When the meet­ing with the Beit Din was com­plete, it was time for the mik­vah cer­e­mo­ny, one of the last steps in my con­ver­sion process. This immer­sion was a sym­bol of trans­form­ing from one state to anoth­er — in my case, becom­ing a Jew. My hus­band came with me, though he would not be present dur­ing the immer­sion; only the mik­vah atten­dant would be in the room to watch me sub­merge. She showed me the prepa­ra­tion room where I had to show­er first and then wrap myself in a tow­el. I would ful­ly sub­merge myself in the mik­vah three times.
I fol­lowed the atten­dant into the room, both the floor and the walls cov­ered in earth-toned tiles. The pool was rec­tan­gu­lar and small, very sim­ple. There were three steps lead­ing down into the water and a met­al hand rail­ing. I slow­ly walked down the steps into the mik­vah. I low­ered myself into the water. Once sub­merged, I lift­ed my feet off the tiles so I was ful­ly sus­pend­ed for a moment, float­ing weight­less. I did this three times. And then—
I arose from the water, a Jew.
Based on my expe­ri­ences liv­ing in Viet­nam, my adop­tion into a Chris­t­ian house­hold as a child-refugee, and my con­ver­sion to Judaism, I've learned that it doesn't mat­ter what reli­gion we belong to — life becomes much more mean­ing­ful as long as we radi­ate kind­ness, gen­eros­i­ty, and a will­ing­ness to help the peo­ple we meet in our lives.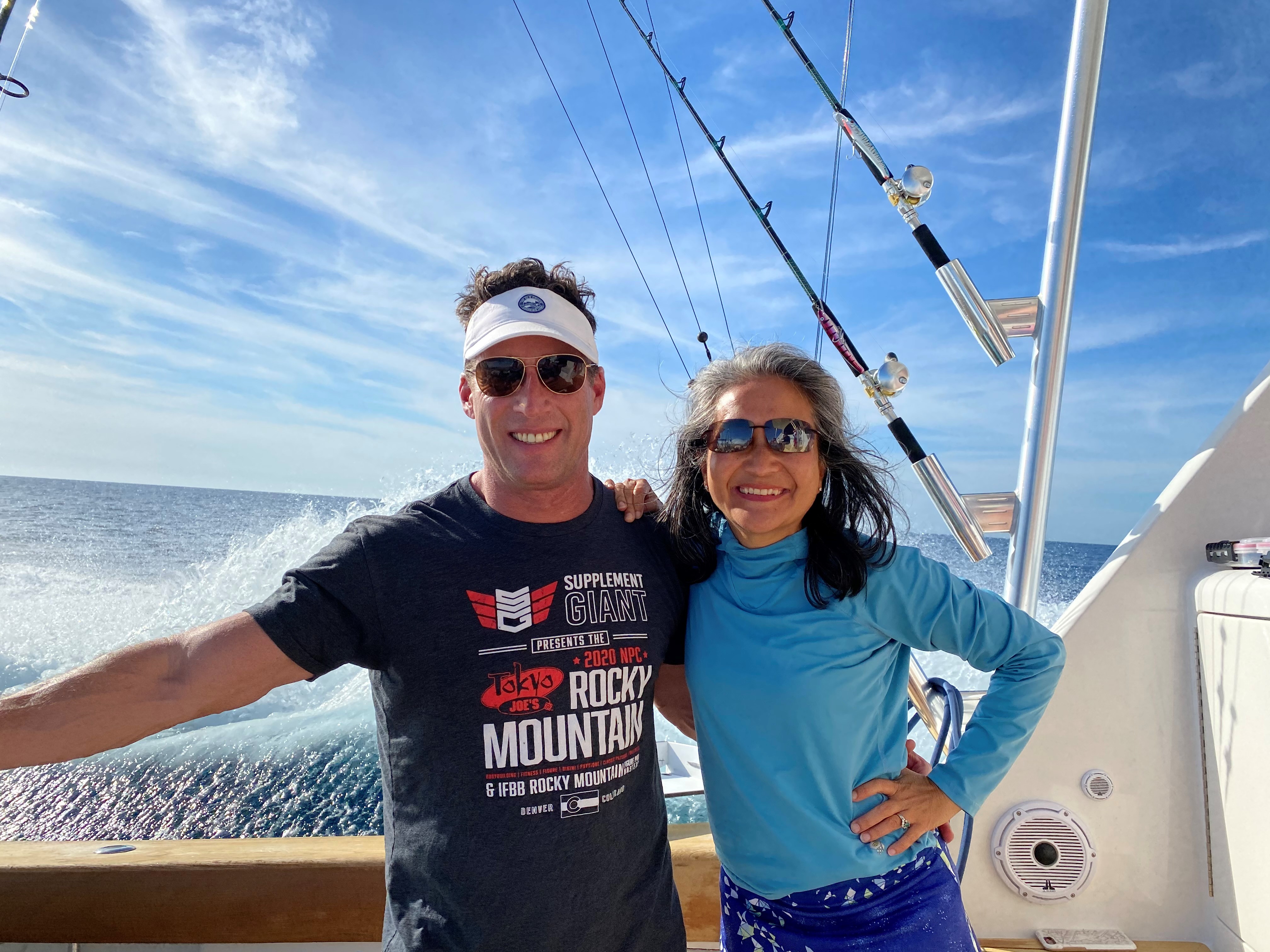 Nhi Aron­heim stands at only four feet, nine inch­es tall, but her sto­ry is immense. Sev­er­al antholo­gies, includ­ing Ken­tucky Women: Two Cen­turies of Indomitable Spir­it and Vision, and a doc­u­men­tary aired on PBS, Viet­nam 101, have pro­filed her har­row­ing jour­ney as a child refugee who escaped war-torn Viet­nam in search of the Amer­i­can dream. Nhi worked for four years as a telecom­mu­ni­ca­tions con­sul­tant, dur­ing which time she met and mar­ried a Jew­ish man and con­vert­ed to Judaism in 2004. Nhi has two beau­ti­ful chil­dren who she has raised to embrace Viet­namese and Jew­ish cul­tures. After tran­si­tion­ing to sales and mar­ket­ing in the mort­gage indus­try — where Nhi worked for over six­teen years — she retired from the mort­gage indus­try as a mar­ket­ing spe­cial­ist at the age of forty-one to have oppor­tu­ni­ties to pay it for­ward. Next to her fam­i­ly, Nhi's pas­sion is to make a pos­i­tive dif­fer­ence in people's lives. She vol­un­teers as a medi­a­tor for courts and the Bet­ter Busi­ness Bureau in Col­orado, in addi­tion to being an inter­preter. Want­i­ng to improve her pub­lic speak­ing skill, Nhi has been an active mem­ber of Toast­mas­ters for over five years where she has held posi­tions as Pres­i­dent, V.P. of Pub­lic Rela­tions and V.P. of Edu­ca­tion for her chap­ter. Vis­it her at her web­site: www​.NhiAron​heim​.com.