Joan­na Her­shon
​

'

s most recent nov­el,
A Dual Inher­i­tance
, was pub­lished ear­li­er this month by Bal­lan­tine Books. She will be blog­ging here all week for Jew­ish Book Coun­cil and MyJew­ish­Learn­ing.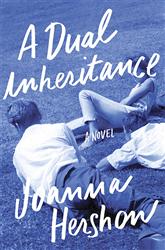 I recent­ly attend­ed my friend's father's memo­r­i­al. It was held at the Fac­ul­ty House of Colum­bia Uni­ver­si­ty in a per­fect­ly love­ly non­de­script room with a bar. An ele­gant man with an appeal­ing­ly mys­te­ri­ous accent led the ser­vice. I imag­ined he'd been a stu­dent of my friend's father, who was a play­wright and pro­fes­sor, or per­haps he worked for the Uni­ver­si­ty in some capac­i­ty. As the memo­r­i­al unfold­ed, three things imme­di­ate­ly came to mind: the deceased was rough­ly the age of the two pro­tag­o­nists in my new nov­el, A Dual Inher­i­tance; like my pro­tag­o­nists, he'd gone to Har­vard, and — though I knew my friend's father was Jew­ish — there was no ref­er­ence to it here. It was an entire­ly sec­u­lar experience.
I thought of how my moth­er always says that there's some­thing cold and emp­ty when an offi­cial ser­vice has no reli­gious frame­work, and as so many friends and fam­i­ly paid lov­ing and wit­ty trib­ute to this obvi­ous­ly tal­ent­ed, stub­born, eru­dite, car­ing man, I car­ried on a men­tal argu­ment with my moth­er, whose Judaism is expressed dif­fer­ent­ly — more polit­i­cal­ly, more con­ser­v­a­tive­ly, less fraught — than mine is. I argued in my head for sec­u­lar­ism. Here was a great exam­ple, I rea­soned; here was a deep trib­ute with­out being defined by a reli­gion into which my friend's father hap­pened to be born. He'd been orphaned fair­ly young, had a mas­sive heart attack as a young man, had nev­er thought he'd live past forty. He'd also been wid­owed young and had raised a daugh­ter — my friend — who was now hap­pi­ly liv­ing in Berlin, rais­ing a Ger­man-speak­ing son with a non-Jew­ish hus­band. You see, I told my moth­er in my silent protest, life can be so much big­ger than reli­gion.
At the end of the evening, after many remem­brances, the man who'd led the ser­vice stood. He intro­duced him­self as not only a friend of the deceased, but his rab­bi. Though my friend's father hadn't led a reli­gious life, he'd evi­dent­ly been inter­est­ed — espe­cial­ly toward the end — in ques­tions of faith. The rab­bi then intro­duced the deceased's friend from Har­vard, a man as not-Jew­ish as one can pos­si­bly be, an opera singer who stat­ed it was his friend's request that he sing this par­tic­u­lar song, a song he imag­ined his dear friend enjoyed assign­ing because it was one that the opera singer didn't know. I think he also knew how much I'd enjoy learn­ing it, he said.
Then he sang.
It was the Mourner's Kad­dish.
And — despite all of those (deeply held!) men­tal argu­ments with my moth­er — that's when I final­ly start­ed to cry.
Read more about Joan­na Her­shon here.
Joan­na Her­shon is the author of the nov­els Swim­ming, The Out­side of August, The Ger­man Bride, and A Dual Inher­i­tance. Her writ­ing has appeared in Gran­ta, The New York Times, One Sto­ry, Vir­ginia Quar­ter­ly Review, and two lit­er­ary antholo­gies, Brook­lyn Was Mine and Freud's Blind Spot. She is an adjunct assis­tant pro­fes­sor in the Cre­ative Writ­ing Depart­ment at Colum­bia Uni­ver­si­ty and lives in Brook­lyn with her hus­band, the painter Derek Buck­n­er, their twin sons, and their daughter.