Ear­li­er this week,
Joan­na Her­shon
wrote about a memo­r­i­al ser­vice she attend­ed for a friend's father. Her new nov­el,
A Dual Inher­i­tance
, was pub­lished ear­li­er this month by Bal­lan­tine Books. She will be blog­ging here all week for Jew­ish Book Coun­cil and MyJew­ish­Learn­ing.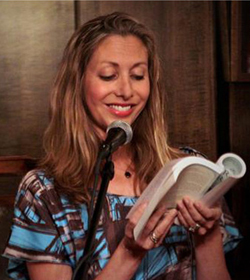 When I was twen­ty, I met a charm­ing elder­ly man on a train in Greece who told me I looked like an angel. He insist­ed on escort­ing me to my des­ti­na­tion. At some point dur­ing our time togeth­er, dur­ing the man's patient expla­na­tion of Greek his­to­ry, he explained to me that the Jews were evil.
I looked him in the eyes and said: But I'm Jew­ish.
No, he said, no, no. As if I was mere­ly confused.
Yes, I assured him. I'm a Jew. This was one hun­dred per­cent true and my fam­i­ly (as far as we know) is one hun­dred per­cent Jew­ish. There was noth­ing com­pli­cat­ed about that fact.
And I was raised by my par­ents to mar­ry some­one Jew­ish. There was no ambiva­lence there, no lib­er­al-mind­ed wig­gle room.
When I met my hus­band in my mid-twen­ties, he was liv­ing in a small town at the bot­tom of the Baja Penin­su­la. He is nei­ther Mex­i­can nor is he Jew­ish. We fell mad­ly in love and that was that. Though he is not a fan of orga­nized reli­gion, he agreed to raise our future chil­dren Jew­ish, but this was going to be my respon­si­bil­i­ty. How, I won­dered, was I going to nur­ture a reli­gious iden­ti­ty, when my own life didn't include much in the way of reli­gious ritual?
Before our twin boys were born, I tried to artic­u­late what I want­ed in terms of pass­ing on Jew­ish tra­di­tion, and I usu­al­ly returned to this: I want them to feel Jew­ish.
But they will, my hus­band always calm­ly explained. You'll make sure they do, because it's impor­tant to you.
But is it? I wondered.
It is, he assured me.
We've always spent most of our win­ters liv­ing in Mex­i­co, and this was the fourth win­ter our boys have gone to school there. We have an inter­na­tion­al com­mu­ni­ty of friends and it's a life we trea­sure. This past win­ter one of my sev­en-year-old sons came home from school and he looked upset.
What's the mat­ter? I asked.
He told me how a boy had announced that Chris­tians were bet­ter than Jews. And that hurt my feel­ings, my son said, because I'm a Jew.
It was obvi­ous­ly a dis­tress­ing moment, but I admit I felt a tiny twist of relief. Because despite hav­ing lived a large­ly sec­u­lar life, despite being part of a fam­i­ly tree that is one half gen­tile, there was no ques­tion that my son felt per­son­al­ly insult­ed. And though of course I don't want my child to feel insult­ed, I was also grate­ful to know he felt this sense of Jew­ish belong­ing. What fol­lowed, that after­noon, was a dis­cus­sion about iden­ti­ty and reli­gion and big­otry. We asked each oth­er ques­tions, my son and I. We each went on at length. It was — I real­ized — a very Jew­ish conversation.
Read more about Joan­na Her­shon here.
Joan­na Her­shon is the author of the nov­els Swim­ming, The Out­side of August, The Ger­man Bride, and A Dual Inher­i­tance. Her writ­ing has appeared in Gran­ta, The New York Times, One Sto­ry, Vir­ginia Quar­ter­ly Review, and two lit­er­ary antholo­gies, Brook­lyn Was Mine and Freud's Blind Spot. She is an adjunct assis­tant pro­fes­sor in the Cre­ative Writ­ing Depart­ment at Colum­bia Uni­ver­si­ty and lives in Brook­lyn with her hus­band, the painter Derek Buck­n­er, their twin sons, and their daughter.