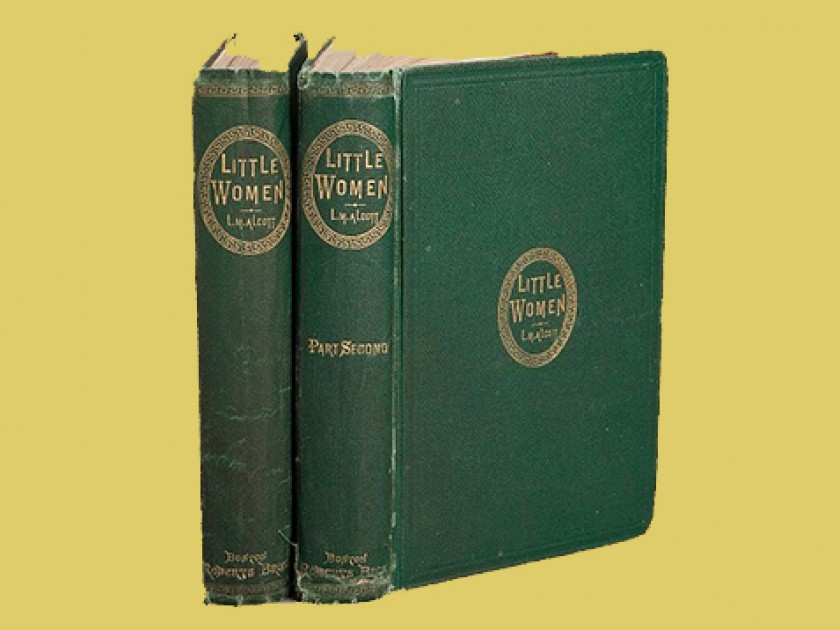 This year marks the 150th anniver­sary of Louisa May Alcott's Lit­tle Women. Read­ers will recall the novel's unfor­get­table female char­ac­ters: domes­tic Meg, artis­tic Amy, spir­i­tu­al Beth, and, of course, strong-willed and lit­er­ary Jo. Recent works, includ­ing Anne Boyd Rioux's Meg, Jo, Beth, Amy: The Sto­ry of Lit­tle Women and Why It Still Mat­ters, cel­e­brate Alcott's book as an endur­ing cul­tur­al touch­stone. But even those who've read Lit­tle Women may not recall the pres­ence of Jews in the sto­ry. Three mem­bers of our tribe make brief appear­ances — so fleet­ing that, if you aren't Jew­ish, they may seem incon­se­quen­tial. None of them are major char­ac­ters; none even speak. They are mar­gin­al­ized peo­ple play­ing lim­it­ed roles in the world of the March sis­ters. Now would be a good time to bring these minor char­ac­ters to cen­ter stage.
All of the Jew­ish char­ac­ters in Lit­tle Women appear in the chap­ter ​"New Impres­sions," an account of Amy's expe­ri­ences in Nice on her tour of Europe. The chap­ter begins with Alcott's col­or­ful descrip­tion of the Prom­e­nade des Anglais, the broad, tree-shad­ed street which attracts both the city's res­i­dents and its eclec­tic vis­i­tors: ​"Haughty Eng­lish, live­ly French, sober Ger­mans, hand­some Spaniards, ugly Rus­sians, meek Jews, free-and-easy Amer­i­cans …" The Anno­tat­ed Lit­tle Women, edit­ed by John Mat­te­son, pro­vides a foot­note to explain the ​"ugly Rus­sians": appar­ent­ly, Alcott's friend­ship with the Pol­ish patri­ot Ladis­las Wis­niews­ki had made her sus­pi­cious of his Russ­ian oppres­sors. Mat­te­son doesn't find it nec­es­sary to explain the rest of this litany of cul­tur­al char­ac­ter­is­tics. They are obvi­ous. Amer­i­cans were brash and unin­hib­it­ed, Ger­mans seri­ous and schol­ar­ly, and Spaniards were exot­i­cal­ly attrac­tive. Jews were meek. They were state­less, and only recent­ly eman­ci­pat­ed by law in France, freed from ghet­tos and oner­ous legal restric­tions. Still, one would have thought that in an edi­tion com­pa­ra­ble in size to a vol­ume of the Tal­mud, Mat­te­son might have remarked on this con­de­scend­ing adjec­tive, and the his­tor­i­cal con­di­tions that made it nor­mal to label Jews as such. Iron­i­cal­ly, in an ear­li­er chap­ter he apol­o­gizes for Jo's offer to play an instru­ment she calls the ​"Jew's harp," assur­ing read­ers that ​"it has no par­tic­u­lar con­nec­tion to Judaism … Though Jo uses the term inno­cent­ly, the name … is now some­times thought offen­sive." I'm impressed by Matteson's sen­si­tiv­i­ty, though it seems selective.
The men­tion of the next Jew­ish char­ac­ter is real­ly curi­ous. Not pre­sent­ed pre­vi­ous­ly in the nar­ra­tive, he shows up in a casu­al state­ment as if need­ing no intro­duc­tion. Amy has to col­lect her mail at her banker's and, Alcott nar­rates, ​"At Avigdor's she found the pre­cious home-let­ters." (She learns from one of these let­ters that her beloved sis­ter Beth is not long for this world, a key plot point in the nov­el.) There was a fam­i­ly by the name of Avig­dor, a Hebrew name, in nine­teenth-cen­tu­ry Nice, and bank­ing was a pro­fes­sion asso­ci­at­ed with the city's small Jew­ish pop­u­la­tion from medieval times. Again, there is no com­ment in the anno­tat­ed edi­tion to remark on this. Per­haps to both Alcott and her read­ers, the iden­ti­fi­ca­tion of Jews with mon­ey was obvi­ous, and lent a real­is­tic touch to her detailed por­trait of a for­eign city.
Com­pli­cat­ing Alcott's por­tray­als of Jews is the fact that she her­self may have had Sephardic ances­try, some­thing Mat­te­son and oth­er schol­ars have not­ed. Although the geneal­o­gy is not clear, Alcott's mater­nal fam­i­ly, the Mays, seem to have referred to this pos­si­bil­i­ty. In Marmee and Louisa: The Untold Sto­ry of Louisa May Alcott and Her Moth­er, author Eve LaPlante makes this claim, and Mat­te­son also notes it in a some­what uncon­vinc­ing expla­na­tion of why Jo is called a ​"San­cho," in allu­sion to the Span­ish nov­el Don Quixote.
Yet Alcott's eth­nic back­ground does not seem to have influ­enced her descrip­tion of the most glar­ing­ly clichéd Jew­ish char­ac­ter in the book — a guest at the Christ­mas par­ty held at Amy's hotel. Rub­bing elbows with the diverse crowd that includes a Russ­ian prince, a Pol­ish count, and an unranked Ger­man noble, is an asso­ciate of some­one whose sig­nif­i­cance would be eas­i­ly rec­og­nized by nine­teenth-cen­tu­ry read­ers: ​"Baron Rothschild's pri­vate sec­re­tary, a large-nosed Jew, in tight boots, [who] affa­bly beamed upon the world as if his master's name crowned him with a gold­en halo." While Mat­te­son fills in the details, explain­ing that Rothschild's sec­re­tary was Frank Romer, and even makes men­tion of his wife, artist Louise Goode Romer Jopling, he ignores Alcott's descrip­tion of Romer. But the stereo­types wrapped up in her por­trait of the sec­re­tary are dif­fi­cult to brush off. Empha­siz­ing the character's large nose effec­tive­ly codes him as an out­sider, while his ​"gold­en halo" seems to draw a par­al­lel between his reli­gion with the pre­cious met­al of wealth. His tight boots also empha­size his poor under­stand­ing of social cues in polite soci­ety; for all his wealth, he can­not choose prop­er footwear. Sure­ly Alcott's choice of words is rel­e­vant to Matteson's schol­ar­ship, par­tic­u­lar­ly since they form a sum­ma­ry of Jew­ish stereo­types of the era.
So, should Jews boy­cott Alcott's work and cam­paign to have her removed from the canon? Of course not. It's intrigu­ing that Jews were present in the author's mind, and that she brought them, even momen­tar­i­ly, into the rich and expan­sive can­vas of her nov­el. Meg, Jo, Beth, and Amy will sur­vive evolv­ing stan­dards of cul­tur­al and reli­gious respect. But Avig­dor, the Baron de Rothschild's sec­re­tary, and those meek and unob­tru­sive Jews of Nice also mer­it our attention.
Image via Houghton Library, Har­vard University/​Wiki­me­dia Commons
Emi­ly Schnei­der writes about lit­er­a­ture, fem­i­nism, and cul­ture for Tablet, The For­ward, The Horn Book, and oth­er pub­li­ca­tions, and writes about chil­dren's books on her blog. She has a Ph.D. in Romance Lan­guages and Literatures.