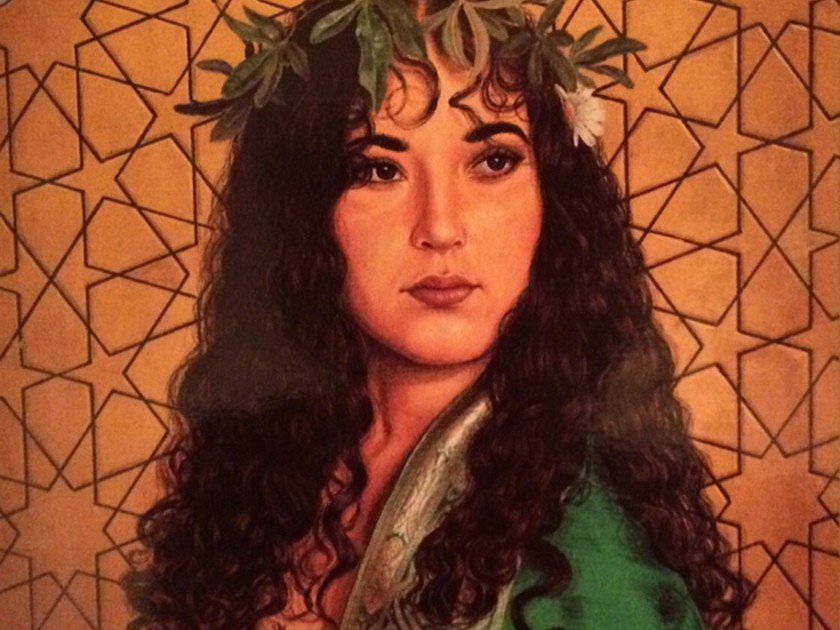 Children's books on Purim empha­size dif­fer­ent aspects of the hol­i­day; some focus on cel­e­bra­to­ry cus­toms — from cos­tume parades to dis­tinc­tive foods — while oth­ers retell the Bib­li­cal sto­ry. At the cen­ter of the tale of Purim is the hero­ism of Esther, who must first con­ceal her iden­ti­ty, and lat­er reveals it in an act of self­less brav­ery. In both Mordi­cai Gerstein's Queen Esther the Morn­ing Star, and Diane Wolkstein's Esther's Sto­ry, illus­trat­ed by Juan Wijn­gaard, Esther begins as a vul­ner­a­ble fig­ure, total­ly depen­dent on her cousin Morde­cai, who acts as her guardian. Her excep­tion­al beau­ty brings her to the atten­tion of King Aha­suerus, a tem­pes­tu­ous male author­i­ty — her fideli­ty to his arbi­trary rules is all that keeps her safe. Esther's com­mit­ment to sav­ing her peo­ple from anni­hi­la­tion leads her to attempt assert­ing her­self with­out threat­en­ing her own exis­tence. In Gerstein's ver­sion, Esther enacts a key role in a col­or­ful moral­i­ty tale, pre­sent­ed with the­atri­cal excite­ment and an inevitable hap­py end­ing. Wolk­stein and Wijn­gaard tell the sto­ry through Esther's per­spec­tive, as she nar­rates her life from orphan to queen. Both ver­sions of the sto­ry seek to rec­on­cile the way Esther is lim­it­ed by soci­ety because of her gen­der, with her role as a hero and a defend­er of her people.
Ger­stein infused his many works for chil­dren with a sense of joy and opti­mism; his inter­pre­ta­tion of Esther is no excep­tion. His prefa­to­ry ​"Author's Note" equates Esther's Per­sian name of Ishtar with Venus, the morn­ing star: ​"The last to fade after all the oth­er stars are gone." None of the threats which Esther faces will deter her, although Gerstein's descrip­tions of the capri­cious world of Ahasuerus's court cre­ate wor­ry over her fate. The king is shown as fool­ish and inse­cure about his pow­er. A trou­bling ele­ment of the Purim nar­ra­tive is that Esther's hero­ism is pred­i­cat­ed on the dis­ap­pear­ance of anoth­er queen: Vashti. Her dis­obe­di­ence is com­pound­ed by the fact that she is host­ing a women's ban­quet when she refus­es her husband's com­mand. Seat­ed at a table sur­round­ed by her guests, ​"all the princess­es and wives of the gov­er­nors and satraps over whom she ruled," Vashti is as impe­ri­ous as Aha­suerus him­self. She responds, ​"Tell the king I will not come," turn­ing her face to one side and stretch­ing out her hand towards the king's emis­sary. Ger­stein con­veys the injus­tice of Vashti's ban­ish­ment through this scene and the king's hys­ter­i­cal response. Esther, a woman exalt­ed in Jew­ish his­to­ry for her courage, is only in a posi­tion to act because of anoth­er woman's rebel­lion and replacement.
She responds, ​"Tell the king I will not come," turn­ing her face to one side and stretch­ing out her hand towards the king's emissary.
Esther is the lucky wife cho­sen for her beau­ty. Morde­cai warns her not to reveal her Jew­ish iden­ti­ty, because her new hus­band is impetu­ous and cru­el. Esther has no choice but to par­tic­i­pate in this ter­ri­fy­ing cha­rade, made even more fraught when the vil­lain, Haman, appears. He poi­sons the king's mind against Esther's cousin and the Jew­ish peo­ple, say­ing they are a poten­tial dan­ger to the realm as they remain loy­al to their own laws. Gerstein's pic­tures are com­i­cal­ly exag­ger­at­ed, less­en­ing the sense of emer­gency which the details of Haman's nefar­i­ous plot pro­vide. When Esther cau­tious­ly approach­es the king, Ger­stein shows him as an obese and scowl­ing tyrant, pathet­i­cal­ly clutch­ing his sword. When he notices her, he is ​"over­come with love." The car­toon-like tran­si­tion from fury to pli­ant agree­ment with his wife is the stuff of car­i­ca­ture. Sim­i­lar­ly, Haman's overblown arro­gance deforms him, ​"his eyes pop­ping with rage," an image matched by Gerstein's pic­ture of him stamp­ing and fum­ing. Even the con­struc­tion of the gal­lows on which Haman plans to hang the hat­ed Morde­cai turns into a fam­i­ly project, his wife look­ing on as their ten sons strug­gle to make the struc­ture work.
When Esther final­ly sum­mons up all her strength to inter­vene on behalf of her peo­ple, con­fess­ing that she is a Jew and a tar­get of Haman's mur­der­ous plot, her husband's response dimin­ish­es the moment's grav­i­ty: ​"I com­plete­ly for­got! I don't even remem­ber why he want­ed to do such a stu­pid thing…Guards…take him away!" The book con­cludes with a tran­si­tion from nar­row­ly avert­ed tragedy to the delights of hol­i­day obser­vance, as Morde­cai, Aha­suerus, and Esther con­sume a huge plate of haman­taschen. Esther is no longer hid­den; she has been saved by her own dar­ing, but also by the unpre­dictable whims of a king. In the end, her sto­ry is a reas­sur­ing fable about good tri­umph­ing over evil and of the con­tin­u­a­tion of Jew­ish soci­ety through­out history.
Esther's Sto­ry offers a dif­fer­ent per­spec­tive on the hero­ic queen. Wolk­stein draws on both the Bible and on midrashim of the Book of Esther. In her com­plex reimag­in­ing of Esther's life, com­ple­ment­ed by Wijngaard's expres­sive paint­ings, the woman who emerges is both a vic­tim of exploita­tion as well as an icon of female val­or. Esther's Sto­ry is for old­er pic­ture book read­ers, who will under­stand the premise of Esther keep­ing a diary, giv­en to her by Morde­cai. Esther is aware that her moth­er named her Hadas­sah, after the fra­grant myr­tle plant. But Mordecai's news of the polit­i­cal sit­u­a­tion forces Hadas­sah to go into a form of hid­ing, to be replaced by Esther, mean­ing ​"secret or con­cealed." From then on, Esther is forced to con­ceal her true self, and to act as a proxy in a larg­er plan con­struct­ed by the men in her life. Wolk­stein does not con­ceal the emo­tion­al effects of this arrange­ment on the young girl.
From then on, Esther is forced to con­ceal her true self, and to act as a proxy in a larg­er plan con­struct­ed by the men in her life.
Wolk­stein and Wijn­gaard expose the dark­er side of Ahasuerus's rejec­tion of Vashti and his sub­se­quent attach­ment to Esther. When the sto­ry begins she is a young orphan liv­ing under her guardian's pro­tec­tion, but soon she con­fronts an abrupt change. Morde­cai sends Esther from his home to the king's court, where she will live with oth­er women as they are eval­u­at­ed to replace the dis­obe­di­ent queen. Morde­cai sim­ply tells Esther that Vashti refused the king's com­mand and was banished.
Esther and her fel­low can­di­dates for queen are not friends in a women's dor­mi­to­ry; they are young women being groomed for their sex­u­al poten­tial to a pow­er­ful man, not an entire­ly strange sit­u­a­tion when viewed in its cul­tur­al and his­toric con­text. Wolk­stein does not have Esther protest the injus­tice of this arrange­ment, avoid­ing his­tor­i­cal anachro­nism. Instead, she focus­es on the com­pan­ion­ship of the girls, relat­ing how they com­fort one anoth­er, even as some ​"cry from home­sick­ness." A group por­trait of mul­ti-eth­nic women in their all-female envi­ron­ment evokes what is effec­tive­ly a prison. When Morde­cai vis­its, he brings tra­di­tion­al Jew­ish foods, as well as sto­ries of the Bib­li­cal patri­archs and matri­archs. Esther, believ­ing that the king allows free­dom of wor­ship, does not under­stand the source of Mordecai's reminders to hide her back­ground. Both her Jew­ish­ness and her gen­der have forced her into con­fine­ment. Her phys­i­cal beau­ty is about to change her sta­tus, as Aha­suerus ele­vates her above the oth­er women, but her Jew­ish self, like her real name, must remain hidden
In Queen Esther the Morn­ing Star, Aha­suerus is a dan­ger­ous buf­foon. In Esther's Sto­ry, he is a majes­tic ruler, hand­some, and sen­si­tive to Esther's spe­cial qual­i­ties, call­ing her his ​"shin­ing one." The pow­er imbal­ance between them is min­i­mized in a courtship scene, where Esther spon­ta­neous­ly picks up a rose and puts it in the king's hair. When he says to her appre­cia­tive­ly, ​"How beau­ti­ful you are!" she turns the phrase back towards him in a ges­ture of equal­i­ty: ​"How beau­ti­ful you are!" Here the author has cho­sen to cre­ate a lov­ing side to Esther's mar­riage, sug­gest­ing that the growth of mutu­al love sep­a­rat­ed it from the objec­ti­fy­ing man­ner in which it began. Still, Esther is trou­bled by the rapid changes in her life: ​"Some days when I look in the mir­ror, I see the queen of Per­sia. Oth­er days I see Esther, who was once Hadas­sah." The tra­di­tion­al Purim sto­ry does not rec­on­cile the ten­sion between these two parts of Esther's life: as a woman who has been objec­ti­fied and con­trolled by men, and one who becomes an image of val­or and Jew­ish survival.
Both her Jew­ish­ness and her gen­der have forced her into confinement.
While in Gerstein's book, Aha­suerus is con­sis­tent­ly por­trayed as an impul­sive fool, and it is more dif­fi­cult to rec­on­cile the roman­tic fig­ure of the king in this book with his blind accep­tance of Haman's edict to destroy the Jews. Read­ers will share Esther's sense of pan­ic, as she reads Mordecai's let­ter implor­ing her to save her peo­ple by risk­ing her own life. He cites a prophe­cy by ​"a holy woman from Jerusalem" that Esther would become Persia's queen after Vashti's removal. Vashti's harsh pun­ish­ment is now iden­ti­fied as part of a high­er pur­pose. Esther looks out the win­dow at the morn­ing star, but returns to her roots for strength. Jew­ish lit­er­a­ture appears in Wijngaard's image, open vol­umes sprawled across the floor of her room. She remem­bers a prophe­cy of Isa­iah and decides, ​"If I am killed, then I will be killed." Here the author empha­sizes Esther's knowl­edge, mak­ing her com­mit­ment root­ed in a strong­ly informed Jew­ish iden­ti­ty, rather than a mere pas­sive accep­tance of her destiny.
While attend­ing the ban­quet which Esther has request­ed, the king is remind­ed that Morde­cai saved his life and Esther knows she must act; point­ing the fin­ger at Haman, and final­ly uncov­er­ing her true self: ​"Since I am a Jew, I too will die." Aha­suerus has his oppor­tu­ni­ty for hero­ism, sen­tenc­ing Haman to die on his own gal­lows, although, with­out Esther's inter­ven­tion the king would have del­e­gat­ed his min­is­ter the right to exter­mi­nate his inno­cent sub­jects. The Jew­ish peo­ple are allowed by the king to defeat their ene­mies, Esther and her hus­band live in har­mo­ny, and Mordecai's dig­ni­ty is restored. But Wolk­stein ends the book on an unusu­al note, show­ing the queen as an old woman; Esther remem­bers her extra­or­di­nary hero­ism with char­ac­ter­is­tic mod­esty. The Esther who lives into old age and is able to under­stand the con­se­quences of her deeds is a more com­plete role mod­el for young readers.
Esther is a Jew­ish sym­bol of female self­less brav­ery and beau­ty, but also of the con­straints of gen­der. Ger­stein frames the course of Esther's life as a chaot­ic adven­ture lead­ing to suc­cess; the Jew­ish peo­ple sur­vive and live on to eat haman­taschen. The Esther of Wolk­stein and Wijngaard's tale must sur­vive oppres­sion as a woman, along with the emo­tion­al haz­ards of a dual iden­ti­ty before she can rise to pro­tect her­self and her peo­ple. Chil­dren read­ing both books will note that the two Esthers embody some of the con­tra­dic­tions of the fes­ti­val itself. Famous­ly, the Book of Esther does not men­tion God. Purim is a day of rau­cous cel­e­bra­tion pre­ced­ed by a day of fast­ing. Jews as near-vic­tims are trans­formed into Jews as vic­tors. Relat­ing the sto­ry of Purim to chil­dren might also acknowl­edge the many dimen­sions, even dif­fi­cult con­tra­dic­tions, of Esther's place in Jew­ish his­to­ry. A woman forced to rely on her beau­ty, uproot­ed from her home, and deprived of her Jew­ish iden­ti­ty, becomes a revered sym­bol of Jew­ish strength in the face of adver­si­ty. The para­dox­es of Queen Esther reflect those of Purim, and of Jew­ish his­to­ry itself.
Emi­ly Schnei­der writes about lit­er­a­ture, fem­i­nism, and cul­ture for Tablet, The For­ward, The Horn Book, and oth­er pub­li­ca­tions, and writes about chil­dren's books on her blog. She has a Ph.D. in Romance Lan­guages and Literatures.