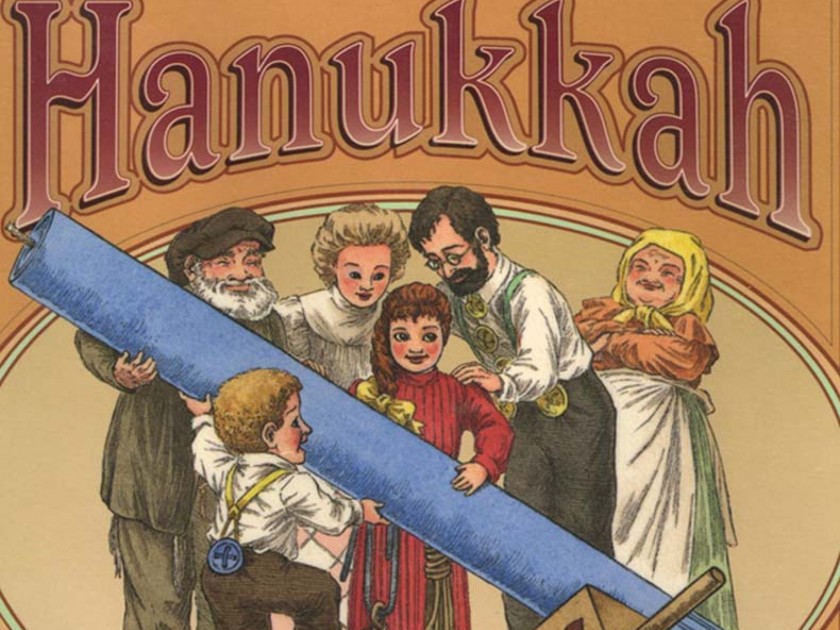 Hanukkah is an end­less­ly flex­i­ble hol­i­day, one whose mean­ing is sub­ject to con­stant reeval­u­a­tion by Jews. We ask, what is Hanukkah about? Does it com­mem­o­rate a his­tor­i­cal Jew­ish mil­i­tary vic­to­ry against the Hel­lenis­tic Seleu­cid Empire? Or per­haps the strug­gle against assim­i­la­tion, both cul­tur­al and spir­i­tu­al? Is it a trans­par­ent sub­sti­tute for Christ­mas, the hol­i­day with which it coin­cides on the West­ern cal­en­dar, with rich foods and present giving?
Hanukkah has a spe­cial res­o­nance as a his­tor­i­cal moment when Jews had to con­front a dif­fi­cult real­i­ty and make choic­es, ones which were dic­tat­ed by time, place, and com­mu­ni­ty. Two the­mat­i­cal­ly and artis­ti­cal­ly rich mod­ern clas­sics, one for old­er read­ers and one for young chil­dren, have become essen­tial books for Hanukkah read­ing. Karen Hesse and Bri­an Pinkney's The Stone Lamp: Eight Sto­ries of Hanukkah Through His­to­ry tells eight dif­fer­ent sto­ries in verse about courage and per­sis­tence in some of the most try­ing eras of the Jew­ish past. When Mindy Saved Hanukkah, by Eric A. Kim­mel and Bar­bara McClin­tock, focus­es on one rel­a­tive­ly famil­iar time and place, turn-of-the cen­tu­ry New York's Low­er East Side, giv­ing the set­ting and sto­ry renewed res­o­nance through inven­tive lit­er­ary and visu­al allu­sions. Both these books illu­mi­nate the core of Hanukkah, name­ly an insis­tence on self-def­i­n­i­tion in the mid­dle of dark­ness, whether tem­po­rary or prolonged.
Both these books illu­mi­nate the core of Hanukkah, name­ly an insis­tence on self-def­i­n­i­tion in the mid­dle of dark­ness, whether tem­po­rary or prolonged.
In The Stone Lamp, poet and nov­el­ist Karen Hesse frames the sto­ry of Hanukkah through eight sto­ries, begin­ning with the Cru­sades, and con­clud­ing with the 1995 assas­si­na­tion of Israeli Prime Min­is­ter Yitzhak Rabin. In between, read­ers meet a Jew­ish boy in medieval Paris whose father con­soles him over the Church's burn­ing of the Tal­mud by recit­ing sacred texts from mem­o­ry, and an East­ern Euro­pean boy vic­tim­ized by pogroms, whose broth­er resolves to join the rev­o­lu­tion­ary move­ment. In anoth­er chap­ter, two young chil­dren in 1938 Aus­tria cau­tious­ly cel­e­brate Hanukkah in the after­math of Kristallnacht's vio­lence. The book's tone is con­sis­tent­ly solemn, yet there is joy in Jew­ish resis­tance and tra­di­tion. Hesse's poems val­i­date children's fears, but also affirm the resilience that is part of their her­itage. Fam­i­lies, even ones torn apart by oppres­sors, remain an anchor in their lives. In ​"Exo­dus 1947," refugees from the Holo­caust arrive aboard the famous ship S.S. Exo­dus in Pales­tine, only to be turned back by the British and detained in Ger­many again. A des­per­ate girl reminds her­self that she has a future:
But there are no sol­diers now,
only ghosts.
I must remember.
It is the baby in her mother's arms that is real, the girl in the pur­ple coat,
and the stone menorah,
radi­ant in the snowy yard.
Hesse refracts the mean­ing of Hanukkah through a time in Jew­ish his­to­ry when the State of Israel was being found­ed, fol­low­ing the tragedy of the Holo­caust. This sequence of sto­ries revers­es the sto­ry of the Mac­cabees, whose vic­to­ry would not be per­ma­nent; Roman defeat in the first cen­tu­ry of the Com­mon Era, in spite of lat­er rebel­lions, would end Jew­ish state­hood until the twen­ti­eth cen­tu­ry. In mod­ern Israel, the Hanukkah sto­ry became evi­dence that Jews would even­tu­al­ly fight their oppres­sors and achieve nation­hood. Hesse's poem about the S.S. Exo­dus is a bit­ter reminder of how even the sur­vivors of geno­cide were turned away. The stone meno­rah is an insis­tent reminder that the ​"ghosts" of the past will be vindicated.
The sto­ry of ​"The Burn­ing of the Books" responds to the Catholic Church's vio­lent attacks on Jew­ish learn­ing in the Mid­dle Ages. In 1242, vol­umes of the Tal­mud and oth­er sacred writ­ings were pub­licly burned in Paris. Hesse's poem relates both the exis­ten­tial threat this act posed to Judaism, and the stub­born sur­vival of tra­di­tion even in the face of phys­i­cal destruc­tion. Emp­ty book­shelves record a sense of ter­ror, but also a child's deter­mi­na­tion to keep the prac­tice alive: ​"I read the glint of red stones on the riverbank/​I read the bent fig­ure of my grand­fa­ther, as he reach­es to help me with my load of sticks/​and I read Mama's face, steeped in a thou­sand thoughts…". The illus­tra­tions by Bri­an Pinkney are pow­er­ful com­ple­ments to Hesse's text. A young boy sits on his father's lap, as his father extends his hands broad­ly: ​"Papa opens his arms like a great book." Father and son are dressed in earth-col­ored robes, in con­trast to the yel­low-gold kip­pot on their heads, iden­ti­fy­ing them as Jews. The father becomes a kind of human book, whis­per­ing words of for­bid­den texts in his son's ear. He lights the family's Hanukkah lamp in defi­ance, remem­ber­ing the nar­ra­tive of the Mac­cabees, along with all the oth­er Jew­ish words and burned in the Church's fires. The book's open­ing and final pages evoke an eter­nal Jerusalem, in swirling blue and pur­ple with win­dows full of light. The city of the Mac­cabees enfolds all the episodes with­in. The dif­fer­ent chap­ters in The Stone Lamp col­lec­tive­ly empha­size that Hanukkah is a hol­i­day of protest, when actions, large or small, call for sol­i­dar­i­ty with a past of sur­vival amidst persecution.
Not all of Jew­ish his­to­ry is tragedy, even when obsta­cles to Jew­ish iden­ti­ty and sur­vival seem insur­mount­able. When Mindy Saves Hanukkah is an affec­tion­ate and wry homage to the char­ac­ters of Mary Norton's The Bor­row­ers (1952), with illus­tra­tions by Beth and Joe Krush in the Amer­i­can edi­tion. The Kleins are a Jew­ish fam­i­ly mak­ing their home in the famous Eldridge Street Shul, a cul­tur­al and reli­gious touch­stone for turn-of-the cen­tu­ry Jews who set­tled in New York until puni­tive immi­gra­tion laws restrict­ed their entry. Imag­ine if the Bor­row­ers, tiny peo­ple who live by their wits in an Edwar­dian British home, were Jew­ish. Imag­ine if, in addi­tion to evad­ing cap­ture while ​"bor­row­ing" from full-sized humans, such items as postage stamps to be repur­posed as wall décor, or emp­ty spools as fur­ni­ture, they need­ed to bor­row last year's full-size Hanukkah can­dle from behind the synagogue's Torah ark. Their diminu­tive stature is a reminder of their vul­ner­a­bil­i­ty as Jews, deter­mined to appro­pri­ate­ly cel­e­brate Hanukkah in spite of any obstacle.
Their diminu­tive stature is a reminder of their vul­ner­a­bil­i­ty as Jews, deter­mined to appro­pri­ate­ly cel­e­brate Hanukkah in spite of any obstacle.
Eric Kim­mel is one of the best-known authors of Jew­ish-themed children's books, often draw­ing on tra­di­tion­al folk­lore in an acces­si­ble way, which min­i­mizes the line between gen­er­a­tions. In When Mindy Saved Hanukkah, he puts his young hero­ine in per­il, but empha­sizes her indomitable tough­ness, as well as the sup­port of her grand­fa­ther. At oppo­site ends of the age spec­trum, both char­ac­ters refute assump­tions about lim­i­ta­tions on what they can do. Kim­mel cap­tures the family's argu­ment in short, Yid­dish-inflect­ed, sen­tences, as they con­sid­er the pos­si­bil­i­ty of cap­ture by a men­ac­ing cat brought in to keep mice out of the shul. Mindy resolves to come back with a can­dle. Armed with paper­clip and some twine, she sets out on an expe­di­tion to obtain sup­plies. Unlike her coun­ter­parts in the beloved British clas­sic, Mindy also wears a bag of gar­lic and car­ries her grandmother's pro­tec­tive impre­ca­tion: " Kena­ho­ra!…No evil eye!"
At this point in the nar­ra­tive, chil­dren may feel uneasy, as Mindy meets a ter­ri­fy­ing cat the size of a tiger. Zayde sud­den­ly appears, look­ing like an Ashke­naz­ic Mac­cabee. He is armed with a bot­tle cap shield and tooth­pick spear her­ring to ensnare the hun­gry cat and help to save the day, but, as the title assures read­ers, it is Mindy's refusal to take no for an answer that is the real source of free­dom for the Klein fam­i­ly. There is a great deal of dis­tance between the painful real­i­ties of The Stone Lamp and the hap­pi­ly resolved adven­ture of Mindy and her fam­i­ly. Still, Kim­mel projects the truths of Jew­ish expe­ri­ence onto his small and vul­ner­a­ble char­ac­ters while respect­ing the way in which his young and vul­ner­a­ble read­ers can process those expe­ri­ences. Rather than using per­son­i­fied ani­mals as metaphors, as in Spiegelman's Maus or direc­tor Don Bluth's An Amer­i­can Tail, the Jews in his sto­ry are peo­ple, but reduced in size to the point where an ordi­nary encounter with a cat can top­ple their exis­tence and deprive them of Hanukkah's cel­e­bra­tion of free­dom. Nei­ther the dan­gers of assim­i­la­tion nor the temp­ta­tions of Christ­mas are part of the Klein's tra­di­tion­al Hanukkah.
Bar­bara McClin­tock brings rich, his­tor­i­cal illus­tra­tions to Mindy's sto­ry. The book's con­tem­po­rary mes­sage of female strength unrolls in a dis­tant past, but a Jew­ish one, both strange and famil­iar. Pock­et watch­es and sus­penders may not be famil­iar to chil­dren read­ing the book, but the brass meno­rah and wood­en drei­dels of Hanukkah are still part of their visu­al vocab­u­lary. Char­ac­ters' faces have the time­less­ly exag­ger­at­ed expres­sions of fairy tales, and the cat embod­ies the cau­tion­ary sto­ries of Aesop or the Broth­ers Grimm.
The book's con­tem­po­rary mes­sage of female strength unrolls in a dis­tant past, but a Jew­ish one, both strange and familiar.
Chil­dren are nev­er too young to explore Jew­ish his­to­ry and the fes­ti­val of Hanukkah allows dif­fer­ent points of access to the past.When Mindy Saved Hanukkah ends with an unfor­get­table par­ty. Klezmer musi­cians play their instru­ments on a match­box stage while men and women dance apart from one anoth­er in equal­ly joy­ous cir­cles. Of course, there are guests, and, like the Bor­row­ers, they have last names which reveal their ori­gins. Instead of the Clock fam­i­ly, the Over­man­tels, and the Sinks, Kim­mel has invit­ed the Pequeños from Sephardic Shearith Israel, the more Amer­i­can­ized Lit­tles from Tem­ple Emanu-El, and the Katans all the way from Jerusalem. The last chap­ter of The Stone Lamp imag­ines a much more sub­dued Hanukkah cel­e­bra­tion, as an Israeli fam­i­ly observes the fes­ti­val in the after­math of Prime Min­is­ter Yitzhak Rabin's assas­si­na­tion. A lit­tle girl watch­es the can­dles burn, ​"her skin­ny arms spread out, half in bal­ance, half in won­der." Her broth­er ques­tions if Hanukkah con­tin­ues to have mean­ing after this nation­al tragedy. Both books, through poet­ic lan­guage and evoca­tive pic­tures, immerse read­ers in the com­plex­i­ties of Jew­ish his­to­ry. Hanukkah need not be reduced to one pri­ma­ry mes­sage for chil­dren. Resis­tance to oppres­sion and resilience in the face of adver­si­ty are impor­tant, along with hap­pi­ness at the year­ly oppor­tu­ni­ty to reen­act and reeval­u­ate the Mac­cabees' sac­ri­fice in the con­text of their own lives. Learn­ing about Hanukkah leads to themes of bal­ance, won­der, and con­tem­plat­ing hard ques­tions about resis­tance to seem­ing­ly immov­able forces. As Mindy's Mama thought­ful­ly con­cludes, ​"Heroes come in all sizes…Some lived long ago. Some live today."
Emi­ly Schnei­der writes about lit­er­a­ture, fem­i­nism, and cul­ture for Tablet, The For­ward, The Horn Book, and oth­er pub­li­ca­tions, and writes about chil­dren's books on her blog. She has a Ph.D. in Romance Lan­guages and Literatures.