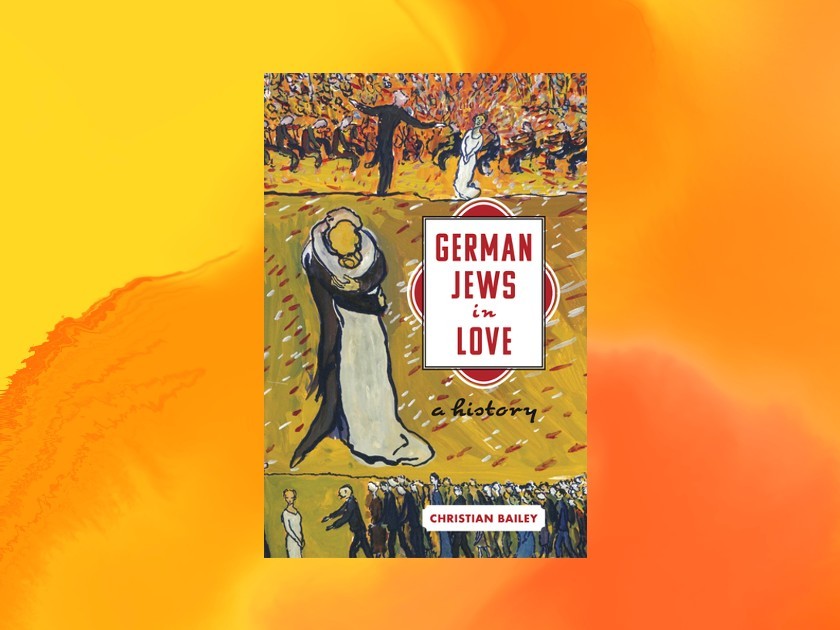 The mod­ern era in Ger­many was one of pro­found trans­for­ma­tion. In less than eighty years, Ger­many expe­ri­enced mul­ti­ple regime changes, rapid urban­iza­tion and sec­u­lar­iza­tion, altered gen­der rela­tions, and the ruin unleashed by war and geno­cide. Liv­ing amid all this tumult, social­ly and geo­graph­i­cal­ly mobile indi­vid­u­als could find it par­tic­u­lar­ly dif­fi­cult to estab­lish a sense of who they were and how they fit into their soci­eties. By falling in love and build­ing fam­i­lies, a new gen­er­a­tion of Ger­man Jews nev­er­the­less believed they could, at least in their pri­vate lives, live a free and authen­tic exis­tence. This is the argu­ment of my book, Ger­man Jews in Love: A His­to­ry—or at least the first half of the book, which deals with the peri­od between the 1870s and 1933. The sec­ond half then describes the col­lapse of this ide­al dur­ing and after the Nazi peri­od. Instead of dream­ing of a lov­ing mar­riage as a refuge, Jews in Ger­many after 1945 were more like­ly to think that their part­ner­ships should embody the val­ues of a more self-con­scious and assertive Jew­ish community.
These argu­ments stem from many indi­vid­ual love sto­ries — found in the form of diaries, let­ters, and mem­oirs — that span four­teen archives and five coun­tries. Of course, in a book that cov­ers this much ter­ri­to­ry, some accounts had to be left out. What I present here are a cou­ple of the sto­ries I wish I could have includ­ed. They depict life in the Third Reich and roman­tic rela­tion­ships that served as a salve in an oth­er­wise bleak world. What is par­tic­u­lar­ly strik­ing is that the indi­vid­u­als involved seemed to realise that they need­ed to hang on to love in order to bear the polit­i­cal sit­u­a­tion around them. A lov­ing rela­tion­ship could offer tem­po­rary respite, com­pen­sa­tion for a life destroyed, or the pos­si­bil­i­ty of a roman­tic future far away from Nazi Germany.
A lov­ing rela­tion­ship could offer tem­po­rary respite, com­pen­sa­tion for a life destroyed, or the pos­si­bil­i­ty of a roman­tic future far away from Nazi Germany.
Käte Schmid, a for­mer­ly Jew­ish con­vert to Catholi­cism, rec­og­nized this as she fell in love with the non-Jew­ish man who would become her sec­ond hus­band, the physi­cist Her­man Hoer­lin. Schmid was a remark­able woman with an excep­tion­al sto­ry: She man­aged to have her first husband's name cleared after he was killed by mis­take dur­ing the ​"Knight of the Long Knives," and she also per­suad­ed Nazi Par­ty lead­ers to clas­si­fy her as a ​"Mis­chling of the First Degree," despite the fact that she had two Jew­ish parents.[1] Still, she was aware that her mar­gin­al sta­tus threat­ened her new part­ner. At times, she would wor­ry: ​"I some­times think I should remove myself from your cheer­ful and care­ful­ly laid out life," she would say, or ​"I must leave you. You have free­dom and well-being. Do you real­ly want your fate bound to mine? Could I wish for that?"[2] But she fed on Hoerlin's own vital­i­ty, which she wit­nessed when spend­ing time with him in their hik­ing club. Indeed, when he told her that he had the ​"strength to rip up trees," she found that she now had the ​"ener­gy to fall in love."[3] When Schmid thought about the future or zoomed out from her day-to-day life, she felt hope­less about ​"the cold and oppres­sive atmos­phere" in what used to be her home. She despaired at the prospect of ​"giv­ing birth in this Germany."[4] But more often, with what we might now call a kind of mind­ful­ness, she dwelled on the imme­di­ate phys­i­cal plea­sures of being with Hoer­lin. While wait­ing for him in his office on one occa­sion, she imag­ined see­ing him in his ​"white lab coat"; she remem­bered rain hit­ting their ​"hot cheeks" while they went moun­tain-climb­ing; and she ​"real­ly con­cen­trat­ed on think­ing about [his] face" when she ​"sealed [his] mouth with [hers]."[5]
It tend­ed to be hard­er for mixed cou­ples when the hus­band was Jew­ish. Not only did Jew­ish hus­bands usu­al­ly face worse dis­crim­i­na­tion, but the inver­sion of gen­der roles with­in the mar­riage was more rad­i­cal: Non-Jew­ish wives often had to take on the more pub­lic roles, nego­ti­at­ing with oft-hos­tile author­i­ties on behalf of their part­ners. This sit­u­a­tion usu­al­ly caused both part­ners pro­found dis­com­fort in what was an oth­er­wise hyper­mas­cu­line society.
Not all rela­tion­ships could be so pas­sion­ate as Kate's and Herman's. But even indi­vid­u­als who were not phys­i­cal­ly close could still bring each oth­er strength. The idio­syn­crat­ic rela­tion­ship that devel­oped from late 1938 to ear­ly 1939 between dis­tant cousins Helen and Kurt Klein­man illus­trates that the fan­ta­sy of a life with a part­ner was enough to pre­serve one's spir­its. Helen, a US cit­i­zen from New York City, agreed to mar­ry Kurt, a res­i­dent of Vien­na, with­out hav­ing met him, in order to get him out of Europe. The cou­ple wrote to one anoth­er before he set sail and, in the process, fell in love. Let­ters from Helen pro­vid­ed the per­fect con­trast to Kurt's world of sleep­less nights wor­ry­ing about the per­se­cu­tion of friends and fam­i­ly. He drew strength from her kind­ness — a kind­ness that was all too absent in his dai­ly life. As he told her: ​"You care for me like a moth­er … I always had courage and self­con­fi­dence [sic], but some­times I lose the belief in me already. There are only your let­ters, which give me joy and that I nev­er shall forget."[6] It was only with her nur­tur­ing that Kurt could reen­gage a more care­free part of his per­son­al­i­ty. Hav­ing received let­ters from Helen for over two months, he told her he want­ed to hear sto­ries of ​"not rea­son­able but crazy things," ​"for I will laugh, I will be glad and lucky after read­ing your let­ters." She belonged to a fan­ta­sy world that was essen­tial for his emo­tion­al sur­vival. ​"You are," he told her, ​"my fabelfairy [sic] dar­ling and I am the poor prince, who you helped in the oppression."[7]
[1] For more, see Bet­ti­na Hoer­lin, Steps of Courage: My Par­ents' Jour­ney from Nazi Ger­many to Amer­i­ca, (Bloom­ing­ton: Author­House, 2011).
[2] Leo Baeck Insti­tute, New York (LBINY), AR 25540, Kate and Her­man Hoer­lin Col­lec­tion, Box 1, Fold­er 1, Kate Schmid to Her­man Hoer­lin — Book­let of Trans­la­tions and Excerpts, 2008. Let­ters from 6th and 9th Novem­ber, 1934
[3] LBINY, AR 25540, Hoer­lin Col­lec­tion 1/1, undat­ed let­ter from sum­mer 1934.
[4] LBINY, AR 25540, Hoer­lin Col­lec­tion 1/1, let­ters of 8th or 9th Decem­ber, 1935 and 10th Jan, 1936.
[5] LBINY, AR 25540, Hoer­lin Col­lec­tion 1/1, undat­ed let­ter from sum­mer 1934, let­ter from 23rd Sep­tem­ber, 1934, let­ter from Octo­ber, 1934.
[6] LBINY, AR 10738/MF 504, Kurt and Helen Klein­man Col­lec­tion, Box 1/​Folder 3, Let­ters from Kurt Klein­man, May 1938 to Jan­u­ary 1939. Let­ter from 5th Octo­ber, 1938.
[7] LBINY, AR 10738/MF 504, Klein­man Col­lec­tion 1/3, let­ter from 8th Octo­ber, 1938.
Chris­t­ian Bai­ley is Assis­tant Pro­fes­sor of His­to­ry at Pur­chase College.