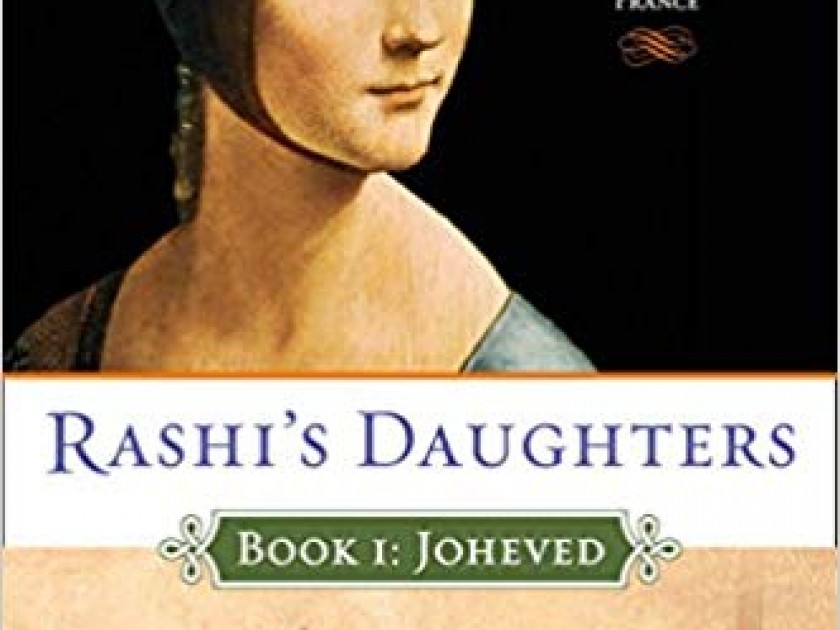 In her last post Mag­gie Anton, the author of the Rashi's Daugh­ters tril­o­gy, reviewed Elie Wiesel's Rashi. Below, Anton writes on being a his­tor­i­cal novelist.
Because the main char­ac­ters in my Rashi's Daugh­ters tril­o­gy are real, his­tor­i­cal fig­ures, the fam­i­ly of the great medieval Jew­ish schol­ar, my read­ers are both con­cerned and curi­ous about what is fact and what is fic­tion in my nov­els. This impor­tant con­sid­er­a­tion leads to a basic ques­tion: what is the dif­fer­ence between a his­to­ri­an and a his­tor­i­cal nov­el­ist? Answer: the his­to­ri­an must be right, but the his­tor­i­cal nov­el­ist can­not be wrong. In oth­er words, as long as nobody can prove the fic­tion author is mis­tak­en, she can write what she likes. Legal­ly, you can­not libel the dead.
But the nov­el­ist must have some integri­ty. Obvi­ous­ly if forks weren't invent­ed until the 14th cen­tu­ry, then Rashi's fam­i­ly, liv­ing in the 11th cen­tu­ry, can't use them. Yet because nobody knows what my hero­ines did for a liv­ing, I felt free to make Miri­am a mid­wife and Rachel a cloth­ier. After all, the major­i­ty of long-dis­tance trade, a Jew­ish monop­oly at this time, involved lux­u­ry woolens and silk. And there were cer­tain­ly plen­ty of mid­wives in medieval France [it's not as if I made Rashi a mid­wife]. The author must also be accu­rate about details such as what her char­ac­ters eat, how they dress, where they lived. For Rashi's house­hold, this meant I had to know what was Jew­ish Law in his com­mu­ni­ty and how it dif­fered from halacha today. And since I con­sid­ered my char­ac­ters sophis­ti­cat­ed enough to gos­sip about local court pol­i­tics, I insist­ed on fer­ret­ing out events and scan­dals that actu­al­ly occurred in Cham­pagne and Paris, as well as the names of the nobles and cler­ics involved.
What about leg­ends? Cer­tain­ly a nov­el­ist should weave leg­ends into the sto­ry, per­haps except­ing those that have been absolute­ly dis­cred­it­ed. But the details should be authen­tic. Not every­one agrees that Rashi was a vint­ner, but when I chose to give him this pro­fes­sion, I became an expert on medieval wine­mak­ing. One famous leg­end says that Rashi's daugh­ters were learned in a time when most women were for­bid­den to study the holy texts. So I cre­at­ed real­is­tic scenes in which their father first began to teach them, then decide what texts they'd study and how their hus­bands and com­mu­ni­ties would react to this breach of cus­tom. When I dis­cov­ered a leg­end that Rashi's daugh­ters wrote his Tal­mud com­men­tary on Trac­tate Nedarim [which is def­i­nite­ly not his], I couldn't resist hav­ing them write it in the final vol­ume of the tril­o­gy, Book III – Rachel.
One final caveat. If the author wants to invoke leg­ends, or even write some­thing with no evi­dence what­so­ev­er, she owes it to her read­ers to inform them of this in an after­word or ​'note to read­ers' at the novel's conclusion."
Mag­gie Anton's newest book, Rashi's Daugh­ters, Book III: Rachel: A Nov­el of Love and the Tal­mud in Medieval France, is now avail­able. Vis­it http://​www​.rashis​daugh​ters​.com, her offi­cial website.
Mag­gie Anton is the author his­tor­i­cal tril­o­gy
Rashi's Daugh­ters
. Her new series,
Rav His­da's Daugh­ter
, set in
3
rd-cen­tu­ry Baby­lo­nia as the Tal­mud is being cre­at­ed, was a Nation­al Jew­ish Book Award final­ist and Library Jour­nal's choice for Best His­tor­i­cal Fic­tion. A Los Ange­les native, Mag­gie worked for
33
years as a clin­i­cal chemist for Kaiser Per­ma­nente before becom­ing an author.