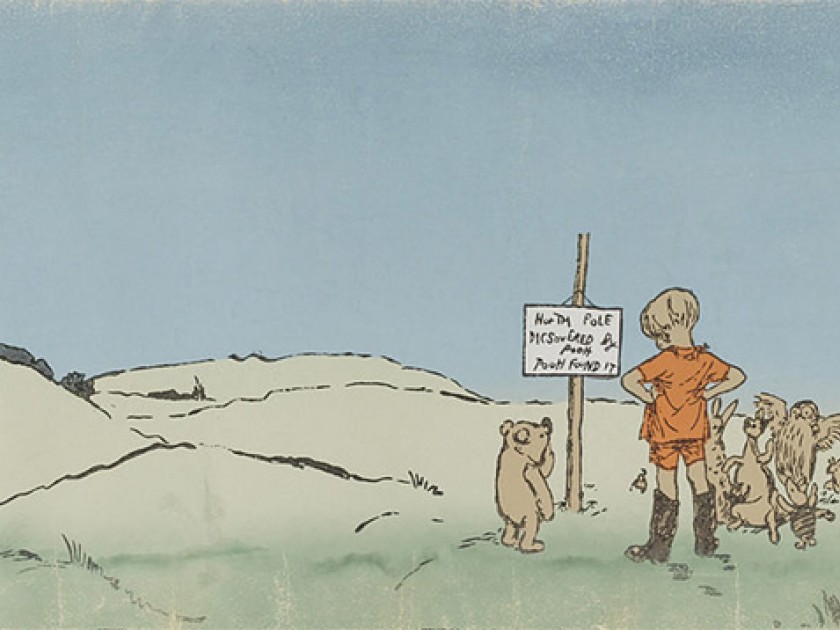 Christo­pher Nox­on is the author of Plus One and a recent inductee into the Tribe, com­plet­ing his con­ver­sion to Judaism this past August. He will be blog­ging about his expe­ri­ence all week as part of the Vis­it­ing Scribe series on The ProsenPeo­ple.
It's right there in the first six let­ters of my name — the boy from Beth­le­hem, the Jew­ish car­pen­ter, the King of Kings!
I may as well be called Jesus.
The truth is, reli­gion was nev­er much of any­thing in my fam­i­ly. My dad is descend­ed from Cana­di­an Quak­ers but nev­er went to church in his life. He and my mom, a beat­nik-fem­i­nist who lat­er became Bud­dhist, named me not for the star of the New Tes­ta­ment but after Win­nie the Pooh's curly-haired plus one, Christo­pher Robin. (Fun fact: the real-life Christo­pher Robin wasn't even Chris­t­ian — he grew up to be, like my dad, an avowed atheist.)
My Jew­ish jour­ney began twen­ty years ago when I met and fell in love with Jen­ji, a Bev­er­ly Hills com­e­dy writer who proud­ly iden­ti­fied as Jew­ish — at least in the won't‑buy-a-German car-or-eat-ham-but-will-have-the-shrimp-if-it's‑fresh-and-chilled kind of way.
Ear­ly on in our mar­riage, I con­sent­ed to her demand that we raise the chil­dren Jew­ish. What­ev­er doubts I had about the Almighty or gefilte fish, I fig­ured our three kids would only ben­e­fit from a sol­id foun­da­tion in what I under­stood to be a foun­da­tion­al tra­di­tion of the West­ern civ­i­lized world. If all else failed, I fig­ured it would give them some­thing to rebel against besides their crazy goy dad.
And that was that; I was con­tent to remain on the side­lines. At the syn­a­gogue day school where we sent the kids, when they talked about ​"inter­faith fam­i­lies," I proud­ly iden­ti­fied myself as the inter.
At var­i­ous points, I con­sid­ered con­vert­ing. While we were dat­ing, Jen­ji and I took an Intro to Judaism class at the Uni­ver­si­ty of Judaism — unfor­tu­nate­ly, it had all the appeal and mys­tery of a court-man­dat­ed driver's ed course. Also, every time I opened the Torah I'd land on a furi­ous warn­ing about God's wrath; or instruc­tions on sac­ri­fic­ing ani­mals or keep­ing slaves; or worst of all, a call to stone homo­sex­u­als or heretics or those who dare to work on the Sabbath.
I asked friends what they made of these pas­sages and got more or less the same response: Relax! It's lit­er­a­ture! Only real­ly nut­ty Jews view the Torah as lit­er­al truth, and the sto­ry of Judaism is in large part the sto­ry of a nev­er-end­ing argu­ment over the texts.
Years went by, and I set­tled into what might be called Jew­ish adja­cen­cy. I was a flam­ing shaygetz in a world of Jews. A care­tak­ing sup­port goy.
As an unof­fi­cial, unaf­fil­i­at­ed friend of the Tribe, I found a cer­tain free­dom. I couldn't don the prayer shawl or offer an aliyah at my kids' bar and bat mitz­vah, but with a few excep­tions I was wel­comed to par­tic­i­pate. It was kind of great, actu­al­ly. Friends born into it dealt with com­pli­cat­ed famil­ial asso­ci­a­tions or pangs of guilt or embar­rass­ment as they made peace with their Judaism. Every prayer offered or drei­del spun con­jured com­pli­cat­ed mem­o­ries of over­bear­ing moth­ers, hor­ri­ble Hebrew schools, and anguish over Israel. Their prac­tice of Judaism was wrapped up in thorny ques­tions of iden­ti­ty and heritage.
I had none of that. I could approach Judaism unbur­dened by ques­tions of whether doing this prac­tice or not made me a ​"good" or ​"bad" Jew. I could ​"do" Judaism, enact­ing the spir­it of the prac­tice with­out wor­ry­ing about the labels asso­ci­at­ed with it.
When peo­ple asked, I'd say I wasn't Jew­ish but that I was ​"doing Jew." In think­ing about what that meant, I stum­bled upon what felt like a core truth about myself, the faith and, ulti­mate­ly, the God ques­tion I'd start­ed with. At a study group one night I heard Rab­bi Eddie Fein­stein teach about the con­cept of God not as an omnipo­tent deter­mi­nant force but as an ongo­ing action of cre­ativ­i­ty and car­ing. Like any great sim­ple truth, this one — God as verb, not noun— got under my skin and seeped into my thinking.
The whole ques­tion of reli­gious prac­tice was reframed, think­ing of God less as an almighty force but as a process under­tak­en by peo­ple act­ing out a spir­it of kind­ness, cre­ativ­i­ty and love.
The Torah was still most­ly off­putting, but I came to love the act of bump­ing up against it, pulling out strands that made sense and rail­ing against inter­pre­ta­tions that didn't. It was all about action — liv­ing not judg­ing, chan­nel­ing not obey­ing, con­nect­ing not corralling.
This, of course, is a cen­tral tenet of Judaism; it's a faith of deeds, not creeds.
It all start­ed to make a lot more sense. After years and years of ​"doing Jew­ish" I start­ed think­ing seri­ous­ly about being Jew­ish. I felt like I'd been liv­ing in a for­eign coun­try for most of my adult life with a green card — I could work here, but I didn't have the full rights and respon­si­bil­i­ties of cit­i­zen­ship. I want­ed in.
Christo­pher Nox­on is a jour­nal­ist and illus­tra­tor who has writ­ten for the New York­er, the Atlantic. Salon and the New York Times Mag­a­zine. He is the author of the nov­el Plus One about an inter­faith fam­i­ly in Hol­ly­wood, and the non­fic­tion Reju­ve­nile: Kick­ball Car­toons Cup­cakes and the Rein­ven­tion of the Amer­i­can Grown Up.