Ear­li­er this week, Lau­rel Coro­na wrote about her depic­tion of the mikveh in her recent­ly pub­lished nov­el The Map­mak­er's Daugh­ter (Source­books). She will be blog­ging here all week for Jew­ish Book Coun­cil and MyJew­ish­Learn­ing.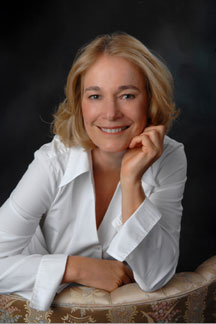 Renowned oper­at­ic bari­tone Thomas Hamp­son was once asked how he man­aged to keep from cry­ing dur­ing a trag­ic aria. His reply? If the com­pos­er had want­ed him to cry he would have writ­ten it into the score. The singer's job was to make the audi­ence cry.
I have cried from time to time writ­ing my nov­els, but less than read­ers have, if their com­ments are to be believed. Like Hamp­son, when I am writ­ing an emo­tion­al scene, I am immersed in con­vey­ing its inten­si­ty to the read­er using the only tool I have — words.
It's a form of par­al­lel pro­cess­ing, feel­ing the sto­ry enough to write it rich­ly, and remain­ing just enough out­side it to find the words. A read­er can say in a blub­ber of tears, ​"Oh that's just so sad," or scream ​"No!" when some­thing ter­ri­ble hap­pens, but I can't. Nor — and this is more dif­fi­cult — can I tell you what to feel. I have to take you there.
Even my most roman­tic sto­ries are the prod­uct of some­thing not the usu­al stuff of love: prac­ti­cal deci­sion mak­ing. I know what needs to hap­pen for the over­all sto­ry to progress. I intro­duce char­ac­ters and plot ele­ments to help me tell the tale. Some­where along the line, the sto­ry takes off so dra­mat­i­cal­ly I some­times won­der if I am in charge at all, or just tak­ing dictation.
In my nov­els, the pro­tag­o­nists are always my inven­tions, and thus much of my plot is dri­ven by the need to have them be where the his­to­ry and bio­graph­i­cal fig­ures are most inter­est­ing. In my lat­est nov­el, The Map­mak­er's Daugh­ter (Source­books 2014), this involved get­ting a young Jew­ish girl, Amalia, into the court of Hen­ry the Nav­i­ga­tor, but since I want­ed her also to wit­ness the expul­sion of the Jews from Spain, she had to live long enough to become a great-grand­moth­er. For the first time in my writ­ing career, I had to fig­ure out how to tell a multi­gen­er­a­tional saga through the eyes of one woman. I knew I also want­ed her sto­ry to include the rich world of Mus­lim Spain, so I had to fig­ure out a way to get Amalia to the court of the Caliph of Grana­da and then find a rea­son and means for her to leave so all the rest could happen.
Because I love Amalia, I also want­ed her to have a rich life, full of fam­i­ly and friends. A sec­ond lev­el of deci­sions required find­ing char­ac­ters, both his­tor­i­cal and invent­ed, who could pop­u­late her world in the way I desired. I want to avoid spoil­ers here, so I will say only that love — deep, pas­sion­ate, ful­fill­ing love — is a big part of her mem­o­ries as she looks back on her life while wait­ing for the ship to take her into exile. So are her bonds with women, which are always at the core of my nov­els. So is her iden­ti­ty as a Jew, for which she has risked so much, gain­ing great depth and rich­ness of spir­it in return.
I gave her a good life, though rarely an easy one. She is wait­ing with­in the pages of The Map­mak­er's Daugh­ter to tell you about it.
Lau­rel Coro­na is a pro­fes­sor of Human­i­ties and World Reli­gions at San Diego City Col­lege. She received a Christo­pher Medal for her non-fic­tion book Until Our Last Breath: A Holo­caust Sto­ry of Love and Par­ti­san Resis­tance (St. Mar­t­in's Press, 2008), and in addi­tion to The Map­mak­er's Daugh­ter (Source­books, 2014) has writ­ten thee oth­er nov­els focus­ing on real women over­looked or mis­rep­re­sent­ed in his­to­ry. Vis­it her web­site here.
Dr. Coro­na is a pro­fes­sor of Human­i­ties and World Reli­gions at San Diego City College.