Assaf Gavron​'s most recent book, Almost Dead, is now avail­able. He will be blog­ging for the Jew­ish Book Coun­cil and MyJew­ish­Learn­ing​'s Author Blog series all week.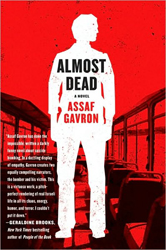 To research my nov­el Mov­ing (pub­lished in Israel in 2003), I trav­eled to New York to work in the mov­ing busi­ness for three months.
It is known, at least among Israelis and Amer­i­can Jews, that the mov­ing busi­ness in New York has been large­ly tak­en over by Israelis in the last decades, as exem­pli­fied by firms such as Moishe's, Shlep­pers and dozens of small­er com­pa­nies in New York and else­where, owned by Israelis and employ­ing young Israeli men after mil­i­tary ser­vice. This phe­nom­e­non has led to the cre­ation of an Israeli movers com­mu­ni­ty in New York, with its own habits, lin­go (a spe­cif­ic kind of ​'Hebr­ish', Hebrew-Eng­lish), blocks of res­i­dence in Man­hat­tan, New Jer­sey and else­where, favorite restau­rants and clubs to hang out in, and so on.
The idea to write a nov­el based on this com­mu­ni­ty, and their expe­ri­ence as a group of young for­eign­ers in a unique pur­suit of the Amer­i­can Dream, came to me fol­low­ing a series of con­ver­sa­tions with a close friend who had worked as a mover in New York for three years in the ear­ly 1990's. This friend set me up with his con­tacts and I was invit­ed to work in a mov­ing com­pa­ny in New York.
Between Jan­u­ary and May 1998, I became a mover in Trio Mov­ing and Stor­age, a small com­pa­ny based in mid­town Man­hat­tan. I moved the fur­ni­ture and per­son­al belong­ings of fam­i­lies, offices and com­pa­nies all over the U.S., and had an inti­mate inside look at the way the busi­ness worked, the life of Israelis in it, and the way they expe­ri­enced Amer­i­ca, its land­scapes, roads, cul­ture and people.
I worked in New York, but also trav­eled long-dis­tance: to old-age homes in Flori­da, to Min­neso­ta with Russ­ian immi­grants, to Texas, to north­ern Michi­gan with hip­pies, to Chica­go, Boston and more. Being in a small com­pa­ny enabled me to quick­ly learn the dif­fer­ent parts of the job and to reach the posi­tion of dri­ving a truck on my own on long dis­tance trips.
The expe­ri­ence was fas­ci­nat­ing and inspir­ing, and pro­vid­ed me with plen­ty of fod­der for the result­ing thriller-com­e­dy that is Mov­ing. As I write in the first chap­ter of the book:
"Work­ing as movers, you see changes all the time. You're part of them. You see peo­ple at the moment of change… You see Amer­i­ca from right inside its soft under­bel­ly, right inside people's frag­ile lives."
Mov­ing was pub­lished in Israel in 2003 and was a best­seller; It will be pub­lished in Ger­man trans­la­tion in Octo­ber 2010. A movie based on the nov­el is in pro­duc­tion by Lama Films from Tel Aviv ("Par­adise Now", ​"Jel­ly­fish").
Assaf Gavron's most recent book, Almost Dead, is now avail­able. He will be blog­ging for the Jew­ish Book Coun­cil and MyJew­ish­Learn­ing​'s all week. Vis­it his offi­cial web­site here.