Baruch and Judy Ster­man​

'

s
The Rarest Blue: The Remark­able Sto­ry of an Ancient Col­or Lost to His­to­ry and Redis­cov­ered
is now avail­able. They will be blog­ging here all week for Jew­ish Book Coun­cil and MyJew­ish­Learn­ing.
We admit it, we are obsessed with blue. Also with seashells and snails. Our house is filled with skeins of blue threads, tufts of wool in every shade of blue imag­in­able, and dozens of shells of dif­fer­ent sizes and pecu­liar shapes. But we weren't always so infat­u­at­ed.

We were intro­duced to the won­der­ful world of blue quite by chance. Late one Thurs­day night, around twen­ty years ago, an old high-school bud­dy called and asked if I would like to join him the next day to go scu­ba div­ing in the Mediter­ranean. He was going to help a ded­i­cat­ed rab­bi col­lect some sea-snails. Not just any snails, but a par­tic­u­lar species that had once been used to pro­duce the fab­u­lous­ly expen­sive and stun­ning dye known as bib­li­cal blue, or tekhelet. In the ancient world, tekhelet had been a cor­ner­stone com­mod­i­ty worth up to twen­ty times its weight in gold, but for cen­turies it had been lost and all but for­got­ten. Only recent­ly had there been a revival of inter­est in the ancient dye­ing process. I myself had only a faint knowl­edge of the top­ic of tekhelet, which is men­tioned numer­ous times in the Bible as the main com­po­nent of the priest­ly gar­ments and the dec­o­ra­tive cur­tains of the Tem­ple.

The night my friend called was cold and win­tery, and the next day was going to be the same or worse. Join­ing him would mean that I'd have to wake up before dawn in order to make it from my home in Jerusalem to the North­ern coast and back before Shab­bat. I had every rea­son to bow out, but words seemed to come out of my mouth before I could prop­er­ly think them through: ​"Sure – see you at four." Those words were the begin­ning of an adven­ture that would start as a curios­i­ty, devel­op into a pas­sion, and ulti­mate­ly become the obses­sion that vir­tu­al­ly defines my iden­ti­ty.

We real­ize, of course, that not every­one sees the world through blue col­ored glass­es, though we are con­tin­u­al­ly sur­prised by how many peo­ple – from rab­bis to chemists, from painters and numis­ma­tists to schol­ars spe­cial­iz­ing in mag­ic and super­sti­tion – have in fact devot­ed their lives to research­ing all areas relat­ing to this ancient dye. Indeed, hunt­ing for snails and per­form­ing micro-surgery to extract a tiny gland in order to obtain a frac­tion of a gram of dye might appear to be an arcane activ­i­ty of lit­tle rel­e­vance to mod­ern sen­si­bil­i­ties.

But these low­ly snails have a world to teach us. And in many ways, that is itself the most impor­tant les­son that we have learned from our involve­ment in the tekhelet sto­ry. We have seen, over and over again, how when you start to dig deeply into a top­ic, regard­less of how small and insignif­i­cant it seems at first glance, you soon begin to real­ize the inter­con­nec­tiv­i­ty of all knowl­edge. One thing leads to anoth­er; one aspect of research sheds light on a vast­ly dif­fer­ent area of inves­ti­ga­tion, and in some cas­es can lead to new ideas, and even fun­da­men­tal reeval­u­a­tion of accept­ed notions. Dig deep enough into any small region of human endeav­or, and you will even­tu­al­ly reach the spring of wis­dom below – every­thing is relat­ed, and each well taps into a dif­fer­ent part of the under­ly­ing whole.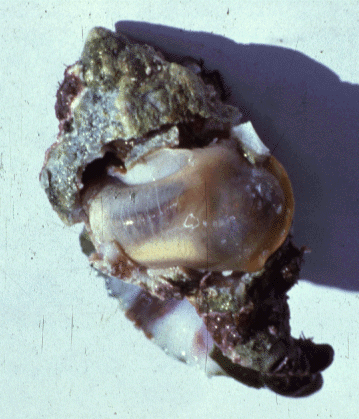 The prin­ci­ples of mol­e­c­u­lar spec­troscopy that I had encoun­tered dur­ing my stud­ies towards a doc­tor­ate in laser physics help explain why the mol­e­cule pro­duced by our snails is unique as vir­tu­al­ly the only nat­ur­al occur­rence of a last­ing blue dye. The pow­er of blue was the moti­va­tion behind one Ger­man artist's choice to explore the effects of press­ing snail glands onto a can­vas to pro­duce mes­mer­iz­ing swirls of blue, and the psy­cho­log­i­cal effects of blue stud­ied by sci­en­tists prompt­ed the Japan­ese tran­sit authority's deci­sion to replace all their sub­way light­ing with blue LEDs. (They say the calm­ing effects of the col­or blue have reduced the spate of sui­cides in the train sta­tions).

Isaac New­ton com­pared him­self to a young child ​"play­ing on the sea-shore, and divert­ing myself in now and then find­ing a smoother peb­ble or a pret­ti­er shell than ordi­nary, whilst the great ocean of truth lay all undis­cov­ered before me." We are all play­ing on the shores of the very same end­less sea, and some­times even seem­ing­ly insignif­i­cant shells may turn out to be, in the Bible's words, ​"trea­sures hid­den in the sand." Uncov­er­ing these trea­sures, one by one, adds to man's under­stand­ing of the world around him. And each person's pas­sion con­tributes to our col­lec­tive knowl­edge, ever grow­ing and increas­ing… if only at a snail's pace.
Check back on Thurs­day for more from Baruch and Judy Ster­man for the Vis­it­ing Scribe. Read more about The Rarest Blue here.
Baruch received his doc­tor­ate in physics at the Hebrew Uni­ver­si­ty, and is a lead­ing tech­nol­o­gist in the Israeli high-tech sec­tor. He is co-founder of the Ptil Tekhelet Asso­ci­a­tion, which has restored the ancient bib­li­cal blue dye. Orig­i­nal­ly from New Jer­sey, he lives in Efrat with his wife Judy (co-author of The Rarest Blue) and their sev­en children.