M. M. Sil­ver is a mod­ern Jew­ish his­to­ry schol­ar at Max Stern Col­lege of Emek Yezreel in Israel. His newest book, Louis Mar­shall and the Rise of Jew­ish Eth­nic­i­ty in Amer­i­ca: A Biog­ra­phy, is now avail­able. He will be blog­ging here this week for Jew­ish Book Coun­cil and MyJew­ish­Learn­ing.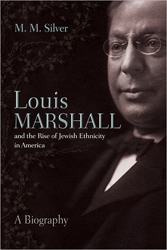 Here's a thought exper­i­ment designed to show you how the Jew­ish world does not work today. Imag­ine that some extreme­ly com­mit­ted, pro­fes­sion­al­ly accom­plished Jew­ish indi­vid­ual arose today in Amer­i­ca, and sud­den­ly served as lay direc­tor of key Jew­ish reli­gious insti­tu­tions, stew­ard­ed vital Jew­ish com­mu­ni­ty inter­ests on Capi­tol Hill, super­vised Amer­i­can Jew­ish con­tacts with Israeli lead­ers, and man­aged cam­paigns for imper­iled or impov­er­ished Jew­ish com­mu­ni­ties around the world. You're think­ing about a Jew­ish Papa­cy that could nev­er arise – at least nev­er again.
Let's expand these exper­i­men­tal terms, and move beyond the con­cerns of Mod­ern Jew­ish His­to­ry and think about eth­nic real­i­ties in Amer­i­can His­to­ry. When has it ever hap­pened that the acknowl­edged leader of one eth­nic group takes up the reins for oth­er eth­nic groups, man­ag­ing and direct­ing their court­room and pub­lic bat­tles against dis­crim­i­na­tion and prej­u­dice? How many eth­nic lead­ers in Amer­i­ca have attend­ed to the parochial affairs of their own group, fought for jus­tice for oth­er socio-reli­gious groups, and cre­ative­ly broad­ened con­cep­tu­al­iza­tions of legal rights to afford pro­tec­tion to the environment?
By all these, Jew­ish His­to­ry, Amer­i­can His­to­ry and Eth­nic His­to­ry, stan­dards, Louis Mar­shal­l's life (1856−1929) stands out as a sin­gu­lar, and com­pelling­ly intrigu­ing, event.
Review­ing items stored in his archive, at the Amer­i­can Jew­ish Archives in Cincin­nati, I won­dered how many lives could have col­lect­ed so many papers that would have to be ranked with the ​"Top 100 doc­u­ments in Amer­i­can Jew­ish His­to­ry." No mat­ter how seri­ous­ly or enter­tain­ing­ly one might envi­sion such a list – whether it would include George Wash­ing­ton's let­ter to the Jews of New­port or Sandy Koufax's first con­tract with the Brook­lyn Dodgers – Mar­shal­l's col­lec­tion would like­ly pro­vide 10 per­cent, or more, of the items. Hen­ry Ford​'s apol­o­gy to the Jews (sent to, and dic­tat­ed by, Mar­shall) is in the Cincin­nati archive, as is the recent­ly dis­cov­ered ​"Pro­to­col of Peace" agree­ment end­ing the great cloak­mak­ers strike of 1910, along with cor­ner­stone doc­u­ments of the ear­ly phas­es of sig­na­ture Amer­i­can Jew­ish orga­ni­za­tions and insti­tu­tions (the Amer­i­can Jew­ish Com­mit­tee, the Jew­ish The­o­log­i­cal Sem­i­nary, the Joint Dis­tri­b­u­tion Committee).
Any search for pri­ma­ry doc­u­men­ta­tion attest­ing to Amer­i­can Jew­ry's rela­tions with world Zion­ism in the decade after the Bal­four Dec­la­ra­tion and the British con­quest of Eretz Israel would begin and end in Louis Mar­shal­l's archive. The same could be said about Amer­i­can Jew­ry's rela­tions gen­er­al­ly with over­seas Jew­ish groups dur­ing the first half of the inter­war period.
Have you ever won­dered how Amer­i­can Jews respond­ed to asper­sions about Jew­ish boot­leg­gers and ​"wine rab­bis" dur­ing Pro­hi­bi­tion? Or what they had to say about the Ku Klux Klan when that hate group's mem­ber­ship soared to include sev­er­al mil­lion mem­bers, dur­ing its sec­ond wave of activ­i­ty in the 1920s? You can go find the essen­tial doc­u­ments in Mar­shal­l's archive.
I'm not sure exact­ly where each of these would rank on the ​"Top 100" list. Ahead of the pur­chase receipt for Mon­i­ca Lewin­sky's dress but behind Woody Allen​'s script for Annie Hall? Ahead or behind Morde­cai Noah's 1825 procla­ma­tion for the ​"reestab­lish­ment of Hebrew gov­ern­ment" at Ararat? Nes­tled some­where between the maps of Gen­er­al Grant​'s num­ber 11 expul­sion order and Grou­cho and Chico Marx's search for the ​"why a duck" viaduct on the Flori­da peninsula?
Inso­far as they point to the dif­fi­cul­ty of pri­or­i­tiz­ing expe­ri­ences and events in the Jews' (or any­one else's) his­to­ry, these ques­tions are not entire­ly face­tious. Ulti­mate­ly, what counts as impor­tant in a national/​ethnic/​religious group's expe­ri­ence is what­ev­er makes its mem­bers' hearts throb in fear or excite­ment, and what­ev­er pries open a grin or gri­mace on their faces.
By such down-to-earth stan­dards, along with the far more sen­ten­tious­ly for­mu­lat­ed mea­sure­ments relied on by those of us who, for bet­ter or worse, received pro­fes­sion­al train­ing in Jew­ish His­to­ry, Louis Mar­shall ranks as an over­whelm­ing­ly impor­tant fig­ure in Amer­i­can Jew­ish His­to­ry. His archive has as many heart throbs, grins and gri­maces as that of any oth­er promi­nent activist or leader in the com­mu­ni­ty's his­to­ry. I wrote a big book about him out of the feel­ing that col­lect­ed with­in his life is as much evi­dence about what Amer­i­can Jew­ish life has real­ly been about as could pos­si­bly be found in any biography.
Join M. M. Sil­ver for the Louis Mar­shall and the Rise of Jew­ish Eth­nic­i­ty in Amer­i­ca: A Biog­ra­phy book launch on March 12th at Con­gre­ga­tion Emanu-El in NYC. More infor­ma­tion about this event can be found here