Ear­li­er this week, Jay Neuge­boren wrote about the title sto­ry of his third col­lec­tion and the art of silence. He has been blog­ging here all week for Jew­ish Book Coun­cil and MyJew­ish­Learn­ing.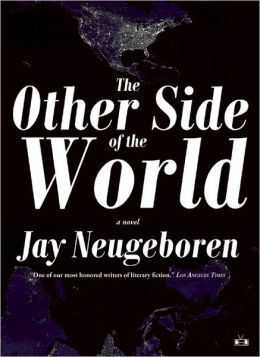 My most recent­ly pub­lished nov­el, The Oth­er Side of the World, con­tains a 100-page nov­el-with­in-the-nov­el set entire­ly in Sin­ga­pore and Bor­neo. The book appeared in ear­ly Decem­ber, and since then read­ers and inter­view­ers keep ask­ing an obvi­ous ques­tion: Have you ever been to Sin­ga­pore and/​or Bor­neo?

The answer: No …

And the response to this answer is often bewil­der­ment, as in: How can you write about a place you've nev­er seen or been to? To this point no one, includ­ing friends and review­ers who have been to Sin­ga­pore and Bor­neo, has ques­tioned the cred­i­bil­i­ty of the Sin­ga­pore and Bor­neo I've con­jured up. But why should peo­ple believe that a fic­tion writer has to go to a place in order to write about it? An ear­li­er nov­el of mine, The Stolen Jew (1981), begins in Israel, on a beach in Her­zlia, and I wrote this nov­el before I'd ever been to Israel. The Stolen Jew also con­tains sev­er­al sec­tions set in the Sovi­et Union, both in time-present (about smug­gling out a Jew­ish dis­si­dent), and in the nine­teenth cen­tu­ry (about a Jew­ish boy kid­napped to take the place of anoth­er Jew­ish boy for 25 year ser­vice in the Tsar's army — the dread­ed can­ton­ist gzeyra).

I had nev­er been to the Sovi­et Union.

The list of writ­ers who have writ­ten about places they've nev­er been to is long and impres­sive, begin­ning with Shake­speare (his many plays set in Italy: Oth­el­lo, Two Gen­tle­men of Verona, Romeo and Juli­et, and The Mer­chant of Venice, etc.), and includes, for starters, Saul Bel­low (Hen­der­son the Rain King, set in Africa, which Bel­low had nev­er vis­it­ed), Franz Kaf­ka (Ameri­ka, set on our shores, which Kaf­ka nev­er saw), Ita­lo Calvi­no (Invis­i­ble Cities, an imag­i­nary dia­logue set in Chi­na between Kublai Kahn and Mar­co Polo). And Shake­speare, I note, nev­er met a Jew, for they were ban­ished from Eng­land dur­ing his life­time, yet he cre­at­ed Shy­lock.

William Saroy­an, a splen­did nov­el­ist and sto­ry writer, once did a trav­el piece for Esquire mag­a­zine about Mex­i­co City. After the arti­cle appeared, his edi­tor at Esquire called to tell him that sev­er­al read­ers had writ­ten to the mag­a­zine say­ing they could not find some of the places Saroy­an men­tioned in the arti­cle. Had Saroy­an vis­it­ed them? ​"You asked me to write about Mex­i­co City," Saroy­an replied. ​"You didn't say I had to go there." And of course there are the thou­sands of his­tor­i­cal nov­els — nov­els that try to por­tray his­tor­i­cal peri­ods and fig­ures by fic­tion­al­iz­ing them — as opposed to what writ­ers like Bel­low, Calvi­no, Shake­speare, McMurtry, Charyn, Chabon, Lax­ness, Dick­ens, and oth­ers have done, which is to re-imag­ine his­tor­i­cal peri­ods and fig­ures.

But why, in nov­els and sto­ries, should writ­ing about a place you've nev­er been to be any dif­fer­ent than writ­ing about imag­i­nary peo­ple you've nev­er known? Or about his­tor­i­cal fig­ures you've nev­er met (e.g., E. L. Doctorow's Rag­time, Colm Toibin's The Mas­ter, Mark Twain's Joan of Arc)?
The great joy for me as a writer of fic­tion is to be able to go any­where in time and place, and to be any­one. In my next nov­el, The Amer­i­can Sun & Wind Mov­ing Pic­ture Com­pa­ny (March 2013), I'll start out as a twelve-year-old boy in the year 1915 who, on a frozen lake in Fort Lee, New Jer­sey, is about to play the part of a young girl in a (silent) film his fam­i­ly is mak­ing. And the nov­el I am at work on now is told by a black man, born in Louisiana at the begin­ning of the twen­ti­eth cen­tu­ry, who becomes close friend and ​"Man Fri­day" to the heavy­weight cham­pi­on, Max Baer, who famous­ly, and in my nov­el, strode into the ring at Yan­kee Sta­di­um on August 6, 1933, proud­ly wear­ing a Star of David on his box­ing trunks, and pro­ceed­ed to knock out a for­mer heavy­weight cham­pi­on of the world, ​"Hitler's Box­er," Max Schmel­ing. And after that, I'll prob­a­bly be …
Jay's newest book, The Amer­i­can Sun & Wind Mov­ing Pic­ture Com­pa­ny, will be pub­lished in March. Vis­it his offi­cial web­site here.
Jay Neuge­boren is the author of nine­teen books, includ­ing two prize-win­ning nov­els (The Stolen Jew, Before My Life Began), two award-win­ning books of non­fic­tion (Imag­in­ing Robert, Trans­form­ing Mad­ness), and four col­lec­tions of award-win­ning stories.