In today's install­ment of the Vis­it­ing Scribe for Jew­ish Book Coun­cil and MyJew­ish­Learn­ing, Eddy Port­noy sat down with Ben Katchor to dis­cuss his newest book, Hand-Dry­ing in Amer­i­ca: And Oth­er Sto­ries, which will be pub­lished by Pan­theon Books on March 5th.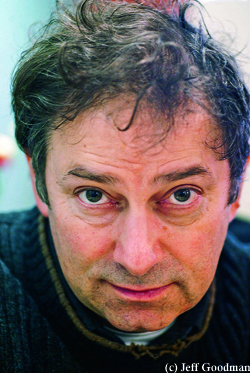 The artist Ben Katchor is a mas­ter of a visu­al urban milieu that echoes post-war New York City, but real­ly isn't that at all. Pop­u­lat­ed by stocky char­ac­ters who tramp about and explore an odd­ly famil­iar, yet com­plete­ly invent­ed uni­verse, Katchor's pic­ture-sto­ries (as he likes to call them) are stir­ring for­ays into the urban absurd. The recip­i­ent of Guggen­heim and MacArthur awards, among oth­ers, Katchor cre­ates a kind of visu­al poet­ry com­prised of every­day arti­facts and activ­i­ties. His abil­i­ty to bring every­day objects and activ­i­ties to the fore­front of his visu­al nar­ra­tives lends his work an imag­i­na­tive, absur­dist qual­i­ty fired by light switch­es, peep­holes, wheel­chair ramps, coat check rooms and invent­ed occu­pa­tions, like spit­toon pump engi­neers and rhum­ba line orga­niz­ers. Katchor sees what we don't in pedes­tri­an objects and events and crafts short, com­ic nar­ra­tives out of them. His books, which include Julius Kni­pl, Real Estate Pho­tog­ra­ph­er; The Jew of New York, and The Card­board Valise, are part of his con­tin­u­al­ly expand­ing oeu­vre, which has come to include operas based on a num­ber of his sto­ries.

His most recent pub­li­ca­tion, Hand-Dry­ing in Amer­i­ca, is a com­pi­la­tion of full-col­or, one-page pic­ture sto­ries that appeared in the urban design and archi­tec­ture mag­a­zine, Metrop­o­lis. Like most of his work, they take place in an invent­ed Katchoresque urban world. I sat down with Ben recent­ly to have a mean­der­ing dis­cus­sion about it.

Eddy Port­noy: Your sto­ries are full of unusu­al names of peo­ple and places, are any of them real?
Ben Katchor: It's strange when some­one tells you that you've made a lit­er­ary, or cul­tur­al, ref­er­ence in a strip to some­one you've nev­er heard of. It's some­thing I made up, but then they say that's the famous Israeli come­di­an. Some­body wrote a whole the­sis cen­tered around the con­nec­tion between the char­ac­ter, Kishon, in The Jew of New York, and the Israeli writer, Ephraim Kishon, who I had nev­er heard of. I just like the sound of the name, like a cush­ion or a pil­low (in Yid­dish). Some, like Harkavy, in The Slug Bear­ers of Kay­rol Island, are real ref­er­ences (in this case, to Yid­dish author, Alexan­der Harkavy).

EP: Jew­ish names and ref­er­ences some­times pop up in your work. Is there a Jew­ish com­po­nent to this book?
BK: Well, only that the the author had par­ents who grew up in a more tra­di­tion­al, ear­ly twen­ti­eth cen­tu­ry Jew­ish cul­ture.

EP: Is that reflect­ed in the book? Some of your works have Yid­dish ref­er­ences. Are there any here?
BK: I don't know. A lot of Yid­dish words have come into Eng­lish. I just want­ed more to come. It's a way to intro­duce new Yid­dish words into the Eng­lish lan­guage. Not that I define them, but…well, maybe there's noth­ing Jew­ish any­more in the world.

EP: I think there prob­a­bly is.
BK: I don't know. I think it's a pret­ty neb­u­lous term. Even his­tor­i­cal­ly.

EP: What role did Yid­dish play when you were grow­ing up?
BK: It was my father's lan­guage. We lived in Bed-Stuy and most of his friends were Yid­dish speak­ers. There were always Yid­dish papers, like the Frei­heit in the house. He took me to all these Yid­dish cul­tur­al events, con­certs, lec­tures, plays, all before the first grade. Those years were a whole life, an eter­ni­ty. That's a long time for a lit­tle kid, all these incred­i­ble events. He would drag me along on errands to the Low­er East Side, I used to like to go along. He want­ed me to be able to func­tion in Yid­dish, but not so much that he forced me to study it. I didn't real­ly use it, I always spoke Eng­lish.

EP: Was it a reli­gious house­hold?
BK: No, my father had no inter­est in orga­nized reli­gion. He was an athe­ist, a utopi­an social­ist who sub­scribed to the Frei­heit, the Yid­dish-lan­guage Com­mu­nist dai­ly paper.

EP: So it was just the sec­u­lar cul­tur­al Jew­ish­ness.
BK: Just!? Maybe that's all there is to it. I think that was an enor­mous world of cul­tur­al activ­i­ty. I could hear all this Yid­dish music, I grew up lis­ten­ing to Yid­dish records and we had a library of Yid­dish books, and we told jokes from the humor col­umn in the Frei­heit.

EP: What role does the city you grew up in play in your work?
BK: Well, Kni­pl takes place in an imag­i­nary large East Coast city. It may be filled with Jews, but also dis­ci­ples of a count­less cul­tures and reli­gions of my own inven­tion … I guess you could ana­lyze the source of these things in the real world and deter­mine that they could only have been invent­ed by some­one who grew up in New York urban cir­ca 1950 to the 1970s. There's an old Kni­pl strip about a guy play­ing with the elas­tic band of his under­pants who lives in a union hous­ing project. A good his­to­ri­an could look at that and fig­ure out exact­ly which union in New York inspired that sto­ry. He could ana­lyze the brands of men's under­wear avail­able dur­ing that peri­od, the hair pat­terns on the char­ac­ter's body as a sign of a par­tic­u­lar eth­nic­i­ty, and so on. You could prob­a­bly go into every one of these sto­ries and ana­lyze the details ask­ing, what did Katchor know, what could Katchor know, grow­ing up and how is that unique to his socio-cul­tur­al back­ground or milieu. In such an exer­cise the chances of error are great.

My strips reflect a par­tic­u­lar kind of dis­lo­cat­ed urban envi­ron­ment. And maybe in a hun­dred years, you'll have to anno­tate these things. After they get rid of all the unions, they'll say, ​"what do you mean, ​'The Men's Under­pants Union.' What does that mean, a ​'union?'"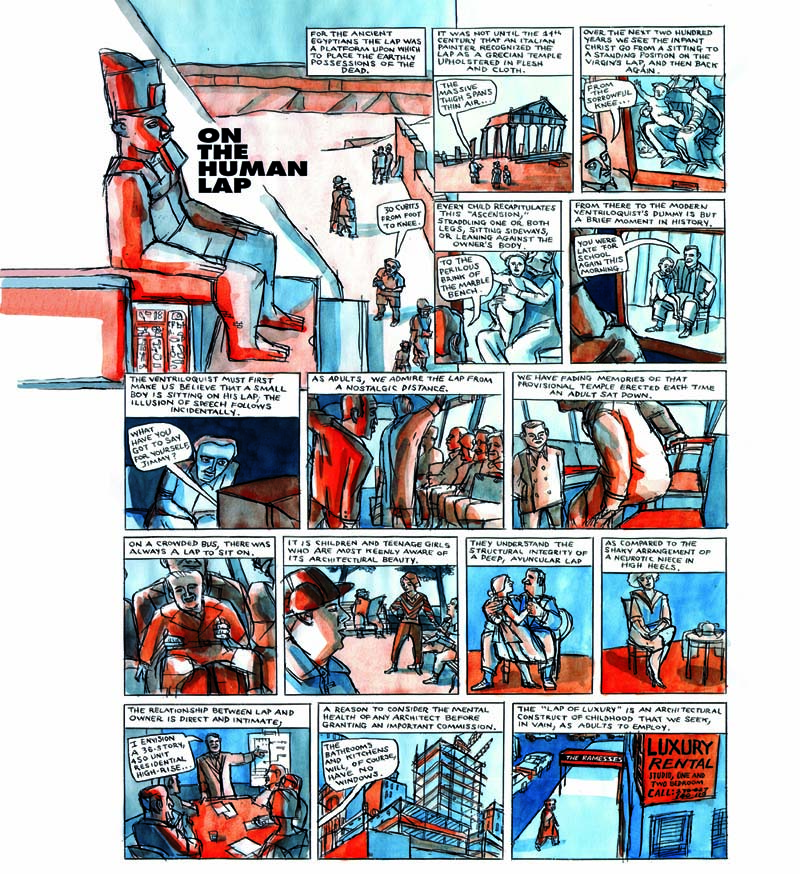 EP: But a lot of it is also invent­ed.
BK: The kinds of things that have nev­er been record­ed in his­to­ry have to be made up. His­to­ry only records very nar­row slices of what goes on in the world. Nobody wrote about the guy who came to Morde­cai Noah's Ararat and was dis­ap­point­ed by the failed scheme. That's what inspired me to write and draw The Jew of New York. It's so-called his­tor­i­cal fic­tion.

EP: Would you like to con­clude by say­ing some­thing about Hand-Dry­ing in Amer­i­ca?
BK: It's a com­pi­la­tion of fif­teen years of short sto­ries about the built world. As I've lived all my life in cities, I can't help but try to find some sense in the way things have been arranged. It's a form of appre­ci­a­tion for a failed world.
Eddy Port­noy teach­es Jew­ish lit­er­a­ture and Yid­dish lan­guage at Rut­gers Uni­ver­si­ty. Find out more about Ben Katchor here.
An expert on Jew­ish pop­u­lar cul­ture Eddy Port­noy has an MA in Yid­dish from Colum­bia and a PhD in Jew­ish his­to­ry from JTS. The exhi­bi­tions he has cre­at­ed for YIVO have won plau­dits from The New York Times VICE The For­ward and others.