Ear­li­er this week, Jay Neuge­boren wrote about the art of silence. He will be blog­ging here all week for Jew­ish Book Coun­cil and MyJew­ish­Learn­ing.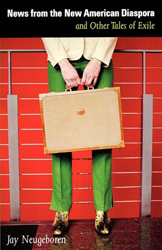 Some years ago, when I was pres­i­dent of Con­gre­ga­tion B'nai Israel, in Northamp­ton, Mass­a­chu­setts, I wrote a short sto­ry I set in my syn­a­gogue. Here, Cha­gall-like, are the story's open­ing lines:
When the tele­phone rang, short­ly after three a.m. on a cold, ear­ly Novem­ber morn­ing — Offi­cer Ed Sedows­ki call­ing to say that a lost Torah had been found wan­der­ing around the local shop­ping mall — Rab­bi Saul Gewirtz was fast asleep on his liv­ing room couch, hav­ing tak­en him­self there some two hours before, fol­low­ing a fight with his wife Pauline.
I had a delight­ful time con­jur­ing up an imag­i­nary rabbi's life — I rewrote the sto­ry sev­er­al times, pub­lished it in a good lit­er­ary quar­ter­ly, and sev­er­al years lat­er the sto­ry became the title sto­ry of my third col­lec­tion, News from the New Amer­i­can Dias­po­ra and Oth­er Tales of Exile. The sto­ries I gath­ered for this col­lec­tion spanned most of the twen­ti­eth cen­tu­ry of Jew­ish-Amer­i­can life, and in 2005, at the time of the book's pub­li­ca­tion, I returned to Northamp­ton to give a read­ing at the syn­a­gogue. (A wan­der­ing Jew myself, after 30 years of exile in New Eng­land, I had, in 1999, left Northamp­ton and returned to my home town of New York City.)

But many years before this, when the sto­ry was a man­u­script, I had shown it to our B'nai Israel rab­bi, Philip Graubart, him­self a mar­velous nov­el­ist and short sto­ry writer. Philip and I were friends, and I asked him to take a look at it, espe­cial­ly because in the sto­ry I had detailed a day in Rab­bi Saul Gewirtz's life. In that sin­gle day, Rab­bi Gewirtz is attacked by a man with AIDS, who spits on the res­cued Torah, and accus­es the rab­bi of being a heart­less unfor­giv­ing God and smug Jew­ish doc­tor rolled into one; he is sex­u­al­ly assault­ed and cursed by a female con­gre­gant with whom he had once had an affair; he is harangued by a Russ­ian Jew­ish emi­gré whose chil­dren despise him, and whose wife has left him, and who, weep­ing away, asks the rab­bi why God plays jokes with hon­est men.
They came and they went: a les­bian cou­ple whose adopt­ed daugh­ter, not yet a year old, was afflict­ed with leukemia; an Israeli man of sev­en­ty-eight whose divorced wife was dying in Israel and who want­ed to go there and ask her for­give­ness, but was ter­ri­fied of fly­ing and fear­ful that his ex-wife would die before he arrived; a fifty-year-old stock­bro­ker, whose father, eighty-three years old and a sur­vivor of Buchen­wald, had Alzheimer's, was per­pet­u­al­ly incon­ti­nent, refused to wear dia­pers or to live in a nurs­ing home, and so was sit­ting day and night in his own piss and shit in the son's home; a broth­er and sis­ter, four­teen and fif­teen years old, who, vic­tims of a joint cus­tody arrange­ment in which they stayed in a house that their moth­er and father took turns vis­it­ing, had begun hav­ing sex with one another …
And on and on it went.

Rab­bi Graubart called me a few days lat­er, and sug­gest­ed we have lunch togeth­er. I was ner­vous — wor­ried he had tak­en the sto­ry per­son­al­ly, and had been offend­ed — but when, at lunch, I asked him what he thought of the sto­ry, he said he loved it. When I asked him what he thought of the rabbi's day, and of the peo­ple who came and went from the rabbi's study, he smiled.

​"It seemed like a typ­i­cal day in my life," he said.
And then he laughed.
Jay's newest book,
The Amer­i­can Sun

&

Wind Mov­ing Pic­ture Com­pa­ny
, will be pub­lished in March. Vis­it Jay's offi­cial web­site here.
Jay Neuge­boren is the author of nine­teen books, includ­ing two prize-win­ning nov­els (The Stolen Jew, Before My Life Began), two award-win­ning books of non­fic­tion (Imag­in­ing Robert, Trans­form­ing Mad­ness), and four col­lec­tions of award-win­ning stories.