David Ehrlich has pub­lished two books of short sto­ries in Hebrew,
18
Blue
and
Tues­day and Thurs­day Morn­ings
. His newest book,
Who Will Die Last: Sto­ries of Life in Israel
, is now avail­able. His book­store-cafe in Jerusalem, Tmol-Shilshom, is a haven for avant garde artists and writ­ers, host­ing read­ings by authors such as
David Gross­man
,
Etgar Keret
, and A. B. Yehoshua. He will be blog­ging here all week for Jew­ish Book Coun­cil and MyJew­ish­Learn­ing.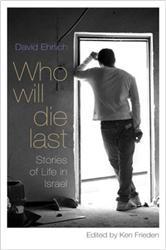 Here's some­thing that just hap­pened to me. I was walk­ing with an Amer­i­can friend in the pic­turesque quar­ter of Neve-Tsedek in Tel-Aviv, look­ing for an ice cream place called ​"Sav­ta" (Grand­ma). We asked some­one where it was and he showed us the way, just two blocks from there. ​"But you know what," he con­fid­ed, ​"There's an even bet­ter ice cream place in the oth­er direc­tion, also very near." We still con­tin­ued to Sav­ta's, either because of the attrac­tive name or because we saw from a dis­tance the beau­ti­ful set­ting in a shady, flour­ish­ing side alley. Ice cream is not only ice cream, it's also the expe­ri­ence around it, right?
As we took our seats, my Amer­i­can friend said, ​"I can't believe it. In the US they'd have told you exact­ly how to get there and that's all. Here, they'll tell you that there's a bet­ter ice cream."
"Of course," I said, ​"and I'm sur­prised this guy did­n't rec­om­mend the flavors."
It remind­ed me of an inci­dent that Amos Oz shared when he spoke at my book­store café, Tmol-Shilshom, a few months ago. Accord­ing to Oz, a plane full of vaca­tion­ing Israelis had land­ed in Cyprus. One of them spot­ted a dis­tin­guished fel­low trav­el­er walk­ing into the ter­mi­nal by him — the Gov­er­nor of the Bank of Israel, Stan­ley Fish­er (who just ter­mi­nat­ed his term last month). ​"Aren't you the Gov­er­nor of our cen­tral bank?" he asked. ​"Yes I am," said Fish­er. Lo and behold, the man asked: ​"Out of the Change places here, where will I get the best rate for my money?"
Only with Israelis this could hap­pen, con­clud­ed Oz.
He sure is right. Only Israelis would lead you to the best ice cream place even if you did­n't ask. For bet­ter or for worse, only on an Israeli street would total strangers tell you that your kid should be wear­ing anoth­er lay­er (when it's cold) or one less lay­er (when it's hot). ​"If I were to drop dead on the street," said Oz, ​"it'd bet­ter be an Israeli street, where peo­ple would care."
I agree, even though we pay a toll. Peo­ple here think your busi­ness is their busi­ness. Only here you'd be asked very per­son­al ques­tions by peo­ple you hard­ly know. You could even be asked how much your salary is, believe it or not. But like Oz, I like liv­ing in a place where peo­ple care. More­over, there's a sense of an extend­ed fam­i­ly. Peo­ple care about you because it's (still) a small place, and in a strange way, they kind-of-know-you even if they don't. We Israelis share spe­cial cul­ture and lan­guage and fate. We have been togeth­er through wars and more wars but also some exhil­a­rat­ing times. We're still sur­round­ed by bor­ders that we can rarely cross, so we mix with each oth­er (unless we buy a vaca­tion deal in the near­by Cyprus, but even then we end up mix­ing with our own). We live under an exis­ten­tial threat. We fear we might be wiped out at some point. Some of us will nev­er admit this anx­i­ety, and oth­ers will talk about noth­ing else. In any case, to me, being an Israeli is a unique expe­ri­ence which a stranger will nev­er understand.
The first sto­ry in my new book is called ​"To The Lim­it," and it could­n't take place any­where else in the world. It's about two dri­vers who expe­ri­ence road rage all the way from one end of this small coun­try to the oth­er. The last sto­ry in my book (which gave its name to the col­lec­tion), ​"Who Will Die Last," is more uni­ver­sal. I feel that my book exists in the ten­sion between these two poles, and so do I.

Check out David Ehrlich's col­lec­tion, Who Will Die Last: Sto­ries of Life in Israel, here.