Ear­li­er this week, Mar­jorie Ingall let us in on five rea­sons for the delayed pub­li­ca­tion of her book, Mamaleh Knows Best: What Jew­ish Moth­ers Do to Raise Suc­cess­ful, Cre­ative, Empa­thet­ic, Inde­pen­dent Chil­dren, and the glo­ries of ghost­writ­ing. Mar­jorie has been guest blog­ging for Jew­ish Book Coun­cil all week as part of the Vis­it­ing Scribe series here on the The ProsenPeo­ple.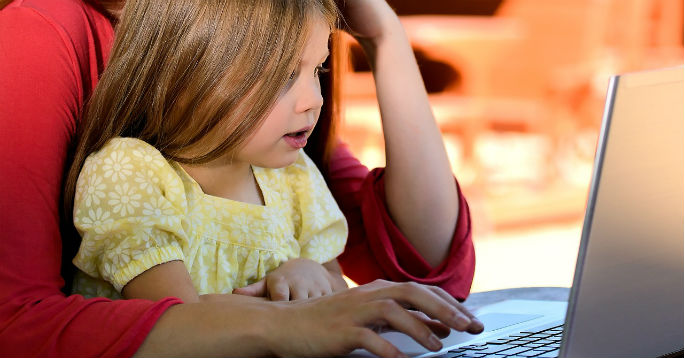 Are you famil­iar with STFU, Par­ents? It is a blog that mocks parental over­shar­ing on social media. Do you post inces­sant­ly about eat­ing your own pla­cen­ta? Tweet about your infant's Apgar scores? Respond to online grief about mass shoot­ings with tone-deaf posts about how yay, your kid pooped in the pot­ty? Mazel tov, you are a can­di­date for STFU, Parent-Shaming.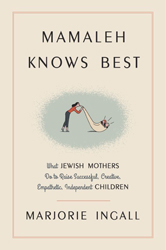 I know the risks. I've writ­ten par­ent­ing columns for two dif­fer­ent pub­li­ca­tions, The For­ward and Tablet. I have sure­ly crossed the line and been annoy­ing as heck. Writ­ing about babies is real­ly writ­ing about your­self: you're work­ing out your fears, your own child­hood mishe­gas, the beau­ti­ful and ter­ri­ble tran­si­tion from some­one with bod­i­ly auton­o­my to some­one whose body isn't entire­ly your own any­more. It's world-remak­ing, this busi­ness of being entire­ly respon­si­ble for anoth­er human life. But the longer I've been a par­ent, the more care­ful I've got­ten. I don't write about my own chil­dren any­more with­out their con­sent. They're old enough to have some expec­ta­tion of pri­va­cy. Once your child has been on this plan­et for a bit, I think they should have a say in how they're depict­ed for pub­lic consumption.
All of us — writ­ers and not — should be care­ful about what we say about our kids on social media. We want them to be safe. We want them to be not mor­ti­fied. And we want, our­selves, to avoid seem­ing nar­cis­sis­tic, self-absorbed or deranged. Come on, does any­one want to see that Insta­gram depic­tion of a dia­per filled with yel­low poop? Sure, you're proud of your child's artwork/​grades/​acting/​dancing/​sportsing! But con­sid­er the sheer vol­ume of what you share. Because hon­est­ly, the rest of us don't care much. We enjoy cute pics of your spawn, as long as that's not all you post, and as long as you also coo about oth­er people's spawn. Nev­er be broad­cast-only, online or in life. We love hear­ing about the fun­ny things your kids say, as long as we don't wince read­ing them, know­ing your kid would be humil­i­at­ed if they knew what you were telling the anony­mous Inter­net masses.
And think about your audi­ence before you start declaim­ing. For instance, why respond to someone's online grief over infer­til­i­ty with a men­tion — any men­tion — of your chil­dren? Your friend knows that many peo­ple strug­gle but even­tu­al­ly become par­ents. Point­ing out your own priv­i­leged sta­tus, the fact that you are where she wants to be, is not helpful.
I'm not say­ing don't share. Since long before I became a par­ent, I've been a mem­ber of The Well, an ancient online con­ver­sa­tion­al space that pre­dates the World Wide Web. In 1993, I bought a used 2400-baud modem from some ran­dom dude in the finan­cial dis­trict. I logged onto an elec­tron­ic bul­letin board (BBS) to write a mag­a­zine sto­ry about whether ​"cyber­space" (wince) was safe for girls. When I dialed in and got that twangy-beepy noise, it meant I couldn't be online and on a tele­phone at the same time. When I joined The Well, many of us were 20-some­things; we even­tu­al­ly became par­ents and began shar­ing tales of the joys and chal­lenges of par­ent­hood. Because it's a small com­mu­ni­ty that doesn't allow anonymi­ty — and that one must pay (or pro­vide vol­un­teer con­fer­ence-host­ing ser­vices) to belong to — there's a high­er bar to entry. The con­ver­sa­tion is smart. There are small con­fer­ences where peo­ple have known you for­ev­er, where you can unbur­den your­self, or brag, with­out feel­ing as though you're per­form­ing like a cir­cus mon­key or betray­ing your child. It feels more like real-life friend­ship than online per­for­mance. I talk to my friends and my mom about moth­er­hood, but I also rely on online friend­ships in an increas­ing­ly wired world. There's no shame in that.
And there's a bonus! A lot of us say ​"The Well is my baby book." Who has time to scrap­book? And who can pre­serve mem­o­ries via Face­book or Twit­ter, when any­thing you post is lost in the data slip­stream after a few evanes­cent moments? But on a BBS, with a few com­mands, you can gen­er­ate a report on all your posts in a cer­tain time peri­od con­tain­ing a cer­tain word. I just searched for Max­ine (my younger kid's name), 2006 – 2007. She was two to three then, a good age for fun­ny sto­ries. I start­ed cack­ling at what I found.
And yes, she gave me per­mis­sion to share my posts from back then:
2006: max­ine delib­er­ate­ly ripped a lift-the-flap book this morn­ing and said with a gleam in her eye, now i need TAPE! (she loves tape.) i said, ​"we don't rip books. i'm going to tape it, not you." beg­ging and whin­ing fol­lowed. i said, ​"i'm not going to REWARD you with tape for rip­ping a book!" and she gave me the big eyes and said, ​"i'm only a baby!"

2007: max­ine: ​"there are five ele­ments: earth, air, fire, water and cheese."

2007: max­ine and i were play­ing with dress-up dolls (you know, those melis­sa & doug wood­en mag­ne­tized ones) and we put on our fan­cy out­fits and she said, ​"DAR­LING! you look SMASHED!"
OK, so maybe Max­ie (now 11) and I think these sto­ries are fun­nier than you do. Which is under­stand­able, what with you not being relat­ed to us. That's why I tried to be very judi­cious about the num­ber of kid sto­ries I shared in my book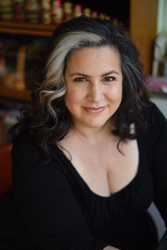 Mamaleh Knows Best: What Jew­ish Moth­ers Do to Raise Suc­cess­ful, Cre­ative, Empa­thet­ic, Inde­pen­dent Chil­dren. No one wants to be THAT GUY at the cock­tail par­ty, loud­ly brag­ging and pro­claim­ing with a G&T in one sweaty hand. But it's nat­ur­al to want to share sto­ries — it's human, it's pro­found, and it can be a source of con­nec­tion if you do it right.
Mar­jorie Ingall is a colum­nist for Tablet Mag­a­zine and a fre­quent con­trib­u­tor to The New York Times Book Review. She has writ­ten for many oth­er mag­a­zines and news­pa­pers, includ­ing The For­ward (where she was The East Vil­lage Mamele), Real Sim­ple, Ms., Food & Wine, Glam­our, Self, and the late, lament­ed Sassy, where she was the senior writer and books editor.
Relat­ed Content:
Mar­jorie Ingall is the author of Mamaleh Knows Best: What Jew­ish Moth­ers Do to Raise Cre­ative, Empa­thet­ic, Inde­pen­dent Chil­dren, and The Field Guide to North Amer­i­can Males. A for­mer colum­nist for Tablet and the For­ward, she is a fre­quent con­trib­u­tor to The New York Times Book Review and has writ­ten for a gazil­lion oth­er outlets.