Ear­li­er this week, Rachel Can­tor wrote about the pow­er of the Aleph. Her nov­el, A High­ly Unlike­ly Sce­nario, or a Neet­sa Piz­za Employee's Guide to Sav­ing the World (Melville House), is now avail­able. She has been blog­ging here all week for Jew­ish Book Coun­cil and MyJew­ish­Learn­ing.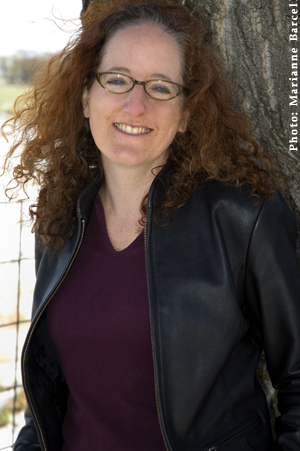 In 1990, I worked with Afghan refugees in Peshawar, Pak­istan, then the site of the largest refugee pop­u­la­tion in the world. Specif­i­cal­ly, I worked with a pro­gram that the­o­ret­i­cal­ly hoped to pre­pare Afghan women to work in ​"pub­lic admin­is­tra­tion," per­haps in that longed-for time after they were able to return home. Our actu­al aims were more mod­est: we taught most­ly ​"busi­ness" Eng­lish and basic com­put­er skills to women, who in their home­land might have been doc­tors or lawyers, so they could find recep­tion­ist-type jobs with the only work­places that would take them, which is to say, oth­er refugee-assis­tance agen­cies. It is a mea­sure of their extreme­ly lim­it­ed oppor­tu­ni­ties and their love of learn­ing that our stu­dents (it still hurts to call these grown women ​"stu­dents") were thrilled to be there.
As was I, despite the dif­fi­cul­ties of liv­ing in Peshawar, and of work­ing with Afghan women, who were viewed by the more con­ser­v­a­tive ele­ments of the refugee pop­u­la­tion as belong­ing at home. A hous­ing pro­gram was destroyed because some­one believed the wid­ow ​"ben­e­fi­cia­ries" of that pro­gram were being cor­rupt­ed. The van that brought us to work was swept for explo­sives each day before we could enter our work com­pound; our pro­gram was shut down for a not-incon­sid­er­able amount of time because of death threats; female Afghan staff were evac­u­at­ed to Europe for that same rea­son. Expa­tri­ate aid work­ers did not receive such threats, to the best of my knowl­edge, but our move­ments were high­ly restrict­ed: we could not go to many pub­lic places (the movies, for exam­ple) for fear of bombs; we had to be dri­ven every­where; there was no chance we might sim­ply take a walk around the neigh­bor­hood. I dressed in mod­est shal­war kameez when at work or in the com­mu­ni­ty. More sub­tly, I think we were always on edge, our behav­ior as large­ly unwel­come expa­tri­ates always scru­ti­nized. The envi­ron­ment in Peshawar was con­sid­ered so hos­tile that it was, if mem­o­ry serves, one of only two loca­tions in the world (the oth­er being Sudan) where non-embassy staff could join the Amer­i­can Club, an embassy-run bar where we could drink, play darts, com­pare notes about jobs we'd held (well, which my col­leagues had held) around the world, and relax.
Com­pli­cat­ing this already chal­leng­ing milieu was a steady tone of offi­cial anti-Semi­tism. I still have a clip­ping from the local Eng­lish-lan­guage news­pa­per about the Pro­to­cols of the Elders of Zion, pre­sent­ed as descrip­tion of fact! There was anti-Chris­t­ian sen­ti­ment as well (a favorite fea­ture of that same Eng­lish-lan­guage news­pa­per was sto­ries about Chris­t­ian Pak­ista­nis who'd con­vert­ed to Islam), but those sto­ries were cel­e­bra­to­ry, not vir­u­lent, not (to me, any­way) fright­en­ing. And there was the ever-present sad­ness — the sad­ness of our Afghan col­leagues, our Afghan stu­dents — as they mourned their lost homes. It seemed their exile would last forever.
It was in this charged envi­ron­ment that I expe­ri­enced one of my first Passover seders. My fam­i­ly had nev­er cel­e­brat­ed Pesach, not even in watered-down form. I had gone to a seder once in high school — this one in Peshawar could eas­i­ly have been my sec­ond. I don't remem­ber where the mat­zoh came from, or even if we had any. All I remem­ber was that the seder was led by an Amer­i­can man who was wide­ly believed a spy (a not unrea­son­able con­clu­sion in those days), and that there were many, many peo­ple there. And that I felt a sense of belong­ing, and relief, in their com­pa­ny — sur­pass­ing that which I had felt even in the pri­va­cy of our shared staff hous­es, or when we let our hair down at the Amer­i­can Club. We sang songs I didn't rec­og­nize; I assume we tast­ed bit­ter herbs. Did we talk about free­dom, and the return of the exiled? I like to think we did.
Rachel Can­tor is the author of the nov­el A High­ly Unlike­ly Sce­nario, or a Neet­sa Piz­za Employee's Guide to Sav­ing the World (Melville House). Her sto­ries have appeared in mag­a­zines such as the Paris Review, One Sto­ry, Ninth Let­ter, Keny­on Review, and the New Eng­land Review. In addi­tion to writ­ing fic­tion, she free­lances as a writer for non­prof­its that work in devel­op­ing coun­tries. Rachel lives in New York, in the writer­ly bor­ough of Brook­lyn. She is, always, at work on anoth­er book. Read more about Rachel and her work here.
Rachel Can­tor was born in Hart­ford, Con­necti­cut, and raised in Rome. She worked for jazz fes­ti­vals in France and food fes­ti­vals in Aus­tralia before get­ting degrees in inter­na­tion­al devel­op­ment and fic­tion writ­ing. Her short sto­ries have appeared in The Paris Review, One Sto­ry, Keny­on Review, and oth­er pub­li­ca­tions. She lives in Brook­lyn, New York.