Rachel Can­tor is the author of the nov­el A High­ly Unlike­ly Sce­nario, or a Neet­sa Piz­za Employee's Guide to Sav­ing the World (Melville House). In addi­tion to writ­ing fic­tion, she free­lances as a writer for non­prof­its that work in devel­op­ing coun­tries. She will be blog­ging here all week for Jew­ish Book Coun­cil and MyJew­ish­Learn­ing.
I don't speak Hebrew and, despite a few semi-earnest attempts to learn my aleph-bet, I don't read it either. I rec­og­nize enough spo­ken words of bib­li­cal Hebrew that I can more or less fol­low an Eng­lish trans­la­tion when some­one reads Torah, but that's about it. And while I've stud­ied some Kab­bal­ah, I am no schol­ar: I know that indi­vid­ual Hebrew let­ters are asso­ci­at­ed with spe­cif­ic mys­ti­cal qual­i­ties, but I can­not tell you what they are. Still, I am fas­ci­nat­ed by the aleph.
Toward the end my nov­el, A High­ly Unlike­ly Sce­nario, or a Neet­sa Piz­za Employ­ee's Guide to Sav­ing the World, the thir­teenth-cen­tu­ry Jew­ish mys­tic Abra­ham Abu­lafia appears before my hero, the hap­less Leonard, in the old medieval basil­i­ca of St. Peter's in Rome. Known for his med­i­ta­tive work com­bin­ing Hebrew let­ters, Abu­lafia hov­ers over Leonard (lit­er­al­ly: his feet do not touch the ground), jug­gling Hebrew let­ters in fan­tas­tic, unfol­low­able pat­terns. He wants to impress Leonard with his mes­sage, and he does. But unbe­knownst to him, he drops an aleph as he dema­te­ri­al­izes. The remain­der of the book hinges on this aleph. Leonard can exchange it for some­thing he bad­ly needs (his sev­en-year-old nephew Felix!). It also, not inci­den­tal­ly, allows him to save the world. Phew!
The aleph! I know of it what you prob­a­bly know: first let­ter, no sound, the begin­ning of the words echad, refer­ring to divine uni­ty; ein sof, the infi­nite which is the divine source of all man­i­fes­ta­tion; and emet, or truth. Pow­er­ful! But if I must be truth­ful, it was not my rab­bi teach­ers who drew me to the let­ter, it was the Argen­tinean writer Jorge Luis Borges.
Borges may or may not have been descend­ed from Por­tuguese Jews, but his inter­est in Jew­ish texts, sym­bols, and ideas defined a size­able por­tion of his life and work: he trans­lat­ed Kaf­ka, loved Buber​'s Has­sidic tales, and lec­tured on the Kab­bal­ah; he wrote sto­ries with Kab­bal­is­tic and oth­er Jew­ish themes, and searched his ances­try (in vain, appar­ent­ly) for Jew­ish fore­bears. What­ev­er his ​"pedi­gree," I love his work and, in par­tic­u­lar, his 1945 sto­ry ​"The Aleph."
In this sto­ry, a hor­ren­dous­ly pedan­tic poet by the name of Car­los Argenti­no Daneri is writ­ing an epic poem that seeks, basi­cal­ly, to describe every­thing on the plan­et, or maybe even the uni­verse. He is aid­ed, it turns out, by an aleph in his base­ment, which, he explains to the story's nar­ra­tor, is a point in space that con­tains all oth­er points. Look­ing into it, one can see every­thing that is — clear­ly and at the same moment. The nar­ra­tor is allowed a glimpse; he describes the result­ing vision nec­es­sar­i­ly as a suc­ces­sion of images, though of course he sees them all simul­ta­ne­ous­ly. What fol­lows is a beau­ti­ful para­graph list­ing some of these images, both enor­mous and minute­ly spe­cif­ic (deserts and each of their grains of sand, his own bow­els, hors­es on the shore of the Caspi­an Sea, the obscene let­ters his beloved had writ­ten to this pedan­tic poet …).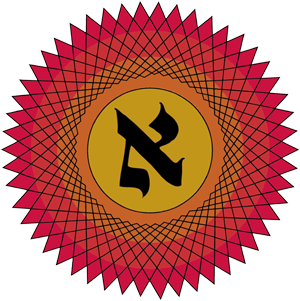 One of my favorite writ­ing exer­cis­es when I taught for one brief year was to assign stu­dents this sto­ry and ask them to write such a list of images — just the list: they didn't have to cre­ate a sto­ry about or around it. I guessed that freed from the rig­ors and con­straints of nar­ra­tive they too would write aston­ish­ing para­graphs — and they did! I star­tled them by ask­ing to keep those lists (at a time when teach­ers still received hard copies of stu­dent work!) — they were that good. I have them still.
In my book, the aleph (which, nat­u­ral­ly, quiv­ers and vibrates) is more focused: it does not allow view­ers to see the entire uni­verse from every con­ceiv­able angle; rather, it enables them to see scenes from their own lives, past and future; this, in turn, helps them under­stand and embrace their des­tinies. The vision is no less trans­for­ma­tive, how­ev­er. A vari­a­tion of Reb Borges' aleph, to be sure, but a heart­felt homage nonetheless!
Rachel Can­tor's sto­ries have appeared in mag­a­zines such as the Paris Review, One Sto­ry, Ninth Let­ter, Keny­on Review, and the New Eng­land Review. Rachel lives in New York, in the writer­ly bor­ough of Brook­lyn. She is, always, at work on anoth­er book. Read more about her here.
Rachel Can­tor was born in Hart­ford, Con­necti­cut, and raised in Rome. She worked for jazz fes­ti­vals in France and food fes­ti­vals in Aus­tralia before get­ting degrees in inter­na­tion­al devel­op­ment and fic­tion writ­ing. Her short sto­ries have appeared in The Paris Review, One Sto­ry, Keny­on Review, and oth­er pub­li­ca­tions. She lives in Brook­lyn, New York.