Ear­li­er this week, author Paul Gold­berg wrote about the fam­i­ly sto­ries that sparked The Yid and the pop­u­lar­i­ty of King Lear in mid­cen­tu­ry Moscow and Yid­dish the­ater. With the release of his first nov­el, Paul has been guest blog­ging as a Vis­it­ing Scribe all week here on The ProsenPeo­ple.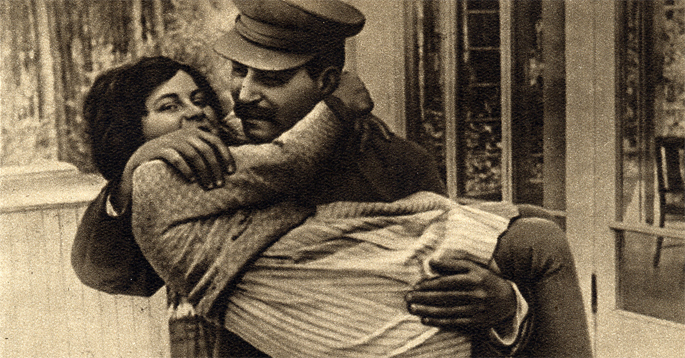 My nov­el The Yid is about a plot to assas­si­nate Iosif Stal­in before he launch­es the largest purge of his 29-year rule.
Stal­in absolute­ly had to fig­ure in my nov­el direct­ly. I need­ed his phys­i­cal­i­ty, his spir­i­tu­al being. I had to get inside his skull, to taste his para­noia, his demen­tia. This task was an anath­e­ma of his­tor­i­cal research. It's impres­sion­is­tic, exis­ten­tial. I was grasp­ing for telling details that pro­vid­ed win­dows into the tyrant's final hours. Does he believe the end is near? Does he believe that there can be no such thing as the world with­out Stal­in? How does it feel to expe­ri­ence his brand of demen­tia, his brand of paranoia?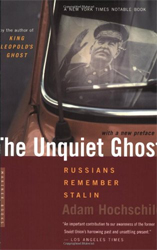 I scoured many vol­umes, look­ing for details, final­ly mak­ing a sur­pris­ing find­ing: telling details are large­ly deter­mined by the teller. For exam­ple, in a book called The Unqui­et Ghost, Adam Hochschild describes trav­el­ing through Gorbachev's Rus­sia as it strug­gles to rec­on­cile with its Stal­in-era past. Hochschild asks the same ques­tions I ask as a nov­el­ist, look­ing for the same insight into the tyrant's mind.
At Stalin's dacha in Sochi, Hochschild describes the beau­ti­ful­ly restrained Art Deco décor. Stalin's oth­er dacha in Kunt­se­vo, out­side Moscow, is sim­i­lar­ly ele­gant. Stal­in-era archi­tec­ture projects opu­lence. There are colos­sal sculp­tures, big columns. It's the oppo­site of the mod­ernist struc­tures of the twen­ties and thir­ties and is eeri­ly rem­i­nis­cent of the Nazi Goth­ic style of archi­tec­ture. From Hochschild's reli­able depic­tions, I was able to pick up on this strange incon­sis­ten­cy and the ques­tion it demands:
Why does this brig­and choose to live in an envi­ron­ment so clear­ly inspired by Frank Lloyd Wright? Stalin's inte­ri­ors look like the sort of places where an Amer­i­can cap­tain of indus­try — I am think­ing of Nel­son Rock­e­feller — would have been quite at home. Could it be that he is not as uncouth as we would like to believe? Does this choice of archi­tec­ture come from with­in this man or does it just happen?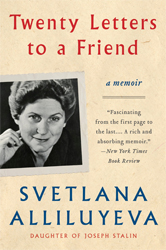 Anoth­er telling detail came from Stalin's daugh­ter, Svet­lana. In her mem­oir 20 Let­ters to a Friend she recalls dis­cov­er­ing that the old man hung pho­tos of chil­dren on the wall of his study, cutouts from Sovi­et mag­a­zines. Svet­lana attrib­ut­es this to Stalin's efforts to sub­sti­tute fic­tion­al chil­dren for the grand­chil­dren with whom he had no contact.
I trust Svetlana's sto­ry, but not her expla­na­tion. What if the chil­dren are a part of the old man's demen­tia? What if they are the nucle­us of the world as he expe­ri­ences it in the win­ter of 1953? What if they are the inspi­ra­tion for his plans? Stal­in doesn't sleep much. He waits for chil­dren to step off the illus­tra­tions pinned to the wal­nut pan­els of Frank Lloyd Wright-esque rooms. How will the world exist with­out Stal­in? The old man hates doc­tors, negates the very exis­tence of dis­ease. Will chil­dren come to his defense? Are they his guardians or har­bin­gers of his death?
Images tell the sto­ry, too. Stal­in is a lit­tle man with a crooked left arm. The arm has pet­ri­fied, turned into gran­ite, hard as a stat­ue, which would be fit­ting, except the fin­gers curl. If you can part them with your right hand, a cig­a­rette can be insert­ed. Or part them fur­ther and fold in a pipe. The elbow moves for­ward, then back again, but not the arm. It hangs at an obtuse angle. And pain is close, lurk­ing in the left shoulder.
I had the set and Stalin's phys­i­cal characteristics.
From there, it would have been a cop-out to describe a demon­ic pres­ence. I need­ed to know from some­one I trust­ed what it was like to con­verse with the man.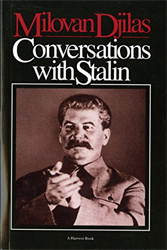 Here, I made use of the mem­oir of the Jugoslav Com­mu­nist Milo­van Dji­las. It's titled Con­ver­sa­tions with Stal­in and tells the sto­ry of his three brief meet­ings with Stal­in. It works so well because the nar­ra­tor doesn't pre­tend to be com­pre­hen­sive or objec­tive. Svet­lana isn't sep­a­rate enough from her father to pro­vide the sort of telling details I need­ed as a nov­el­ist. (Niki­ta Khr­uschev, anoth­er notable mem­oirist, was a part of the same stra­tum.) By con­trast, Dji­las is an out­sider, an intel­lec­tu­al, and he stays in the frame at all times, pro­vid­ing one telling detail after another.
In one of these meet­ings, a scene that ​"might be found only in Shakespeare's plays," Dji­las reg­is­ters a com­plaint about Red Army sol­diers rap­ing and mur­der­ing women in areas they had lib­er­at­ed. The com­ment infu­ri­ates Stal­in: The Red Army has fought for thou­sands of kilo­me­ters before march­ing into Bel­grade in 1944, he objects, ​"And such an army was insult­ed by no one else by Dji­las! Dji­las, of whom I could least have expect­ed such a thing, a man whom I received so well!" Stal­in rages. ​"And an army which didn't spare its blood for you! Does Dji­las, who is him­self a writer, not know what human suf­fer­ing and the human heart are? Can't he under­stand it if a sol­dier who has crossed thou­sands of kilo­me­ters through blood and death has fun with a woman or takes some trifle?"
Lat­er in the feast, Stal­in kiss­es Djilas's wife, not­ing that he made this lov­ing ges­ture at the risk of being charged with rape.
Dijlas's final meet­ing with Stal­in por­tends the lat­ter man's advanc­ing demen­tia. ​"There was some­thing both trag­ic and ugly in his senil­i­ty," Dji­las observes. ​"The trag­ic was invis­i­ble — these were the reflec­tions in my head regard­ing the inevitabil­i­ty of decline in even so great a per­son­al­i­ty. The ugly kept crop­ping up all the time. Though he had always enjoyed eat­ing well, Stal­in now exhib­it­ed glut­tony, as though he feared that there would not be enough of the desired food left for him. On the oth­er hand, he drank less…
"He laughed at inani­ties and shal­low jokes… In one thing, though, he was the Stal­in of old: stub­born, sharp, sus­pi­cious when­ev­er any­one dis­agreed with him."
At one point in this last con­ver­sa­tion, Stal­in opines about the atom bomb: ​"That is a pow­er­ful thing, pow-er-ful!" I don't know the pre­cise Russ­ian words, but I think they would be: ​"Moschnaya shtu­ka, moshch-na-ya!"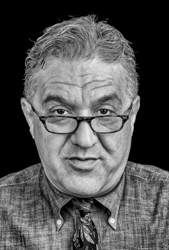 This is the ​"moun­tain man of the Krem­lin" described by Mandelshtam:
His fat fin­gers are black­er than worms,
His words weigh­ing a pood — 16-kilo.
Roach mus­tache emits a thick laugh,
And a glow emanates from his boots.
This is the Stal­in I want­ed my con­spir­a­tors to encounter on March 1, 1953: crass, taunt­ing, inane, dement­ed, yet still as ​"pow-er-ful" as the weapons of hell­ish destruc­tion he has in his arsenal.
Paul Gold­berg has writ­ten two books about the Sovi­et human rights move­ment, and has co-authored (with Otis Braw­ley) the book How We Do Harm, an exposé of the Amer­i­can health­care sys­tem. He is the edi­tor and pub­lish­er of The Can­cer Let­ter, a pub­li­ca­tion focused on the busi­ness and pol­i­tics of can­cer. He lives in Wash­ing­ton, D.C.
Relat­ed Content:
Paul Gold­berg is the author of two pre­vi­ous nov­els: The Yid, a final­ist for the Sami Rohr Prize for Jew­ish Lit­er­a­ture and the Nation­al Jew­ish Book Award's Gold­berg Prize for Debut Fic­tion, and The Chateau. He has writ­ten two books about the Sovi­et human rights move­ment as well as an expose of the U.S. health­care sys­tem. He lives in Wash­ing­ton, D.C.