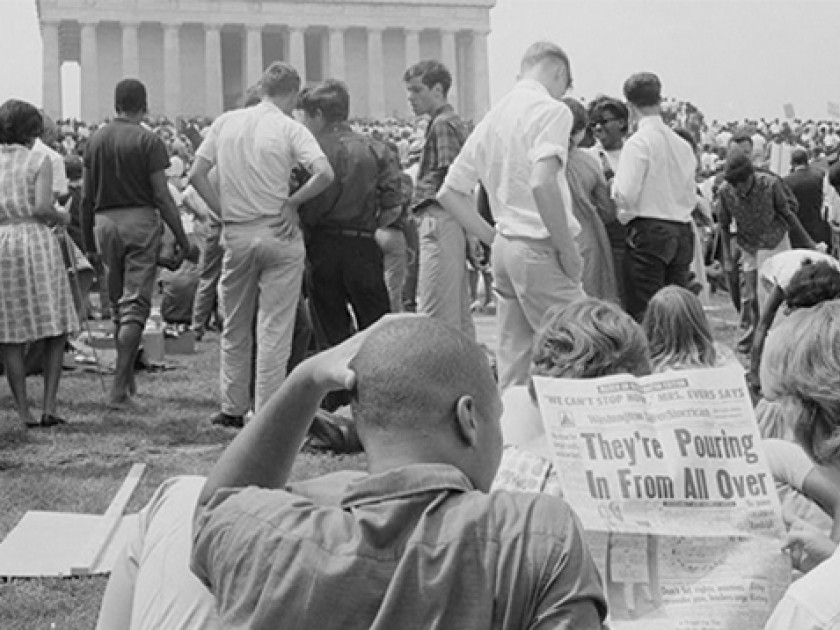 Marc Dollinger is the author of Black Pow­er, Jew­ish Pol­i­tics: Rein­vent­ing the Alliance in the 1960s (Bran­deis Uni­ver­si­ty Press). He is blog­ging here as part of Jew­ish Book Coun­cil's Vis­it­ing Scribe series.
Since the end of World War II, Amer­i­can Jews and African Amer­i­cans have jour­neyed through more than 75 years of inspir­ing polit­i­cal alliances that brought nation­al atten­tion to Jim Crow seg­re­ga­tion, wit­nessed Jew­ish par­tic­i­pa­tion in some of the most dan­ger­ous civ­il rights actions of the 1950s and 1960s, and cel­e­brat­ed mon­u­men­tal leg­isla­tive vic­to­ries in the Civ­il Rights Act of 1964 and the Vot­ing Rights Act of 1965. The rela­tion­ship has also suf­fered frac­tures. When black nation­al­ists ral­lied around the emerg­ing Black Pow­er move­ment, they pressed whites, mean­ing Jews, to the mar­gins of their orga­ni­za­tions' lead­er­ship. Anti-Zion­ist and anti-Semit­ic state­ments from some blacks alien­at­ed Jew­ish lead­ers while Jew­ish racism under­mined African Amer­i­can con­fi­dence in the strength of white lib­er­al­ism to get the job done. For most observers, the black-Jew­ish alliance start­ed with a strong spir­it of con­sen­sus, only to suf­fer when the rad­i­cal pol­i­tics of the late 1960s balka­nized eth­nic and racial groups across the Amer­i­can polit­i­cal land­scape. A clos­er exam­i­na­tion, though, reveals a far more opti­mistic, if sur­pris­ing, story.
Between the mid-1950s and mid-1960s, a time civ­il rights his­to­ri­an Mur­ray Fried­man called ​"the gold­en age" of the black-Jew­ish alliance, the two groups cel­e­brat­ed the hope and opti­mism of the Cold War con­sen­sus. Blacks and Jews forged inter­ra­cial alliances while reli­gious lead­ers across the Protes­tant-Catholic-Jew tri­ad advanced inter­faith dia­logue, all part of the larg­er effort to pro­mote the Unit­ed States as a cen­ter of democ­ra­cy, plu­ral­ism, and oppor­tu­ni­ty for all. With these efforts, Amer­i­cans across the polit­i­cal spec­trum aspired to real­ize the nation's dic­tum: E Pluribus Unum, from many, one.
When Pres­i­dent Lyn­don Baines John­son signed the Civ­il Rights Act of 1964 and Vot­ing Rights Act of 1965, the legal sep­a­ra­tion of the races end­ed. In the years that fol­lowed, many white lib­er­als paused their civ­il rights efforts, cheer­ing their leg­isla­tive achieve­ments. While African Amer­i­can civ­il rights work­ers cel­e­brat­ed a hard-earned vic­to­ry, they also under­stood that the most chal­leng­ing work, fight­ing the insti­tu­tion­al racism woven into the very fab­ric of Amer­i­can soci­ety, remained. They tend­ed to look with even greater skep­ti­cism at white, and Jew­ish resolve. After a series of high-pro­file alter­ca­tions through­out the mid-1960s, the black-Jew­ish alliance seemed to break, with each side tend­ing to its own group's needs.
Con­trary to con­ven­tion­al think­ing, though, the end of the black-Jew­ish alliance and rise of black mil­i­tan­cy did not end the inter­ra­cial con­sen­sus. It sim­ply rede­fined it for a new iden­ti­ty-pol­i­tics based era. At the very time when the two com­mu­ni­ties split over fun­da­men­tal dif­fer­ences in polit­i­cal approach­es and strate­gies, Jew­ish lead­ers sensed oppor­tu­ni­ties to lever­age Black Pow­er think­ing to strength­en Jew­ish edu­ca­tion, iden­ti­ty, and polit­i­cal activism. When young pro­gres­sive Jews faced rebuke from black mil­i­tants intent on main­tain­ing African Amer­i­can lead­er­ship of civ­il rights orga­ni­za­tions, they respond­ed by bor­row­ing a page from the Black Pow­er hand­book. Across the Jew­ish com­mu­nal land­scape, young Jews turned inward.
Jew­ish lead­ers and orga­ni­za­tions offered strong and pub­lic sup­port for Black Pow­er. In 1968, the Amer­i­can Jew­ish Com­mit­tee praised Black Pow­er for its empha­sis on ​"black ini­tia­tive, black self-worth, black iden­ti­ty, black pride." Philadelphia's Rab­bi Dov Peretz Elkins, play­ing on the pop­u­lar ​"Black is beau­ti­ful" slo­gan, assured his con­gre­gants that ​"we have always felt that Jew­ish is ​'beau­ti­ful.'" Boston's famed rab­bi Roland Git­tel­sohn, a mem­ber of Pres­i­dent Har­ry S. Truman's pres­i­den­tial civ­il rights com­mis­sion, argued ​"the pos­i­tive aspect of black pow­er is its search for eth­nic iden­ti­ty. This, we Jews of all peo­ples should be able to under­stand and approve. The Amer­i­can Negro today is in this respect retrac­ing pre­cise­ly the expe­ri­ence of Amer­i­can Jews a gen­er­a­tion or two ago."
Amer­i­can Jews inter­nal­ized Black Power's mes­sage in a host of new Jew­ish-cen­tered ini­tia­tives. One quar­ter of the activists in the Stu­dent Strug­gle for Sovi­et Jew­ry earned their train­ing in the civ­il rights move­ment. Its leader Jacob Birn­baum pro­claimed, ​"Many young Jews today for­get that if injus­tice can­not be con­doned in Sel­ma, USA, nei­ther must it be over­looked in Kiev, USSR." When the State of Israel earned a dra­mat­ic mil­i­tary vic­to­ry in the 1967 Six Day War, Amer­i­can Jews, buoyed by the rise of black nation­al­ism, sur­prised even their own com­mu­nal lead­ers with their new­found Zion­ist activism. Giv­ing to Israel-relat­ed funds dou­bled the year after the war while some 7,500 stu­dents gath­ered their pass­ports and trav­eled to Israel to lend their sup­port. As Git­tel­sohn claimed, ​"The Black Pow­er advo­cate is the Negro's Zion­ist. Africa is his Israel."
As African Amer­i­cans redis­cov­ered their ances­tral home­lands with African dress, names, style, and cul­ture, so too did the Jews. ​"The Jew­ish Cat­a­log," a 1960s-inspired ​"how to" vol­ume that taught oth­er­wise assim­i­lat­ed Jews how to return to tra­di­tion, emerged as the Jew­ish Pub­li­ca­tion Society's sec­ond-best sell­ing book. Only copies of the Hebrew Bible out­paced its sales. Even right-lean­ing Jews joined the new mil­i­tant con­sen­sus as Meir Kahane's Jew­ish Defense League emu­lat­ed Black Pow­er ide­ol­o­gy in its calls for greater Jew­ish activism.
The ​"alliance go smash" mod­el that peri­odized black-Jew­ish rela­tions as warm and wel­com­ing from 1954 – 1964 only to be ruined with the rise of Black Pow­er fails to account for a pow­er­ful new con­sen­sus that brought Jews and blacks back togeth­er again. Even as the two groups appeared sep­a­rate, divid­ed, and even antag­o­nis­tic towards one anoth­er, they still walked down the same iden­ti­ty-pol­i­tics inspired path togeth­er. Some­times, out­ward dif­fer­ence masks inter­nal consensus.
Dr. Marc Dollinger holds the Richard and Rho­da Gold­man Endowed Chair in Jew­ish Stud­ies and Social Respon­si­bil­i­ty at San Fran­cis­co State University.He has served as research fel­low at Prince­ton University's Cen­ter for the Study of Reli­gion as well as the Andrew W. Mel­lon Post-doc­tor­al Fel­low and Lec­tur­er in the Human­i­ties at Bryn Mawr Col­lege, where he coor­di­nat­ed the pro­gram in Jew­ish Studies.He is author of Quest For Inclu­sion: Jews and Lib­er­al­ism In Mod­ern Amer­i­ca pub­lished by Prince­ton Uni­ver­si­ty Press, Cal­i­for­nia Jews, co-edit­ed with Ava Kahn, and Amer­i­can Jew­ish His­to­ry: A Pri­ma­ry Source Read­er, both pub­lished by Bran­deis Uni­ver­si­ty Press.