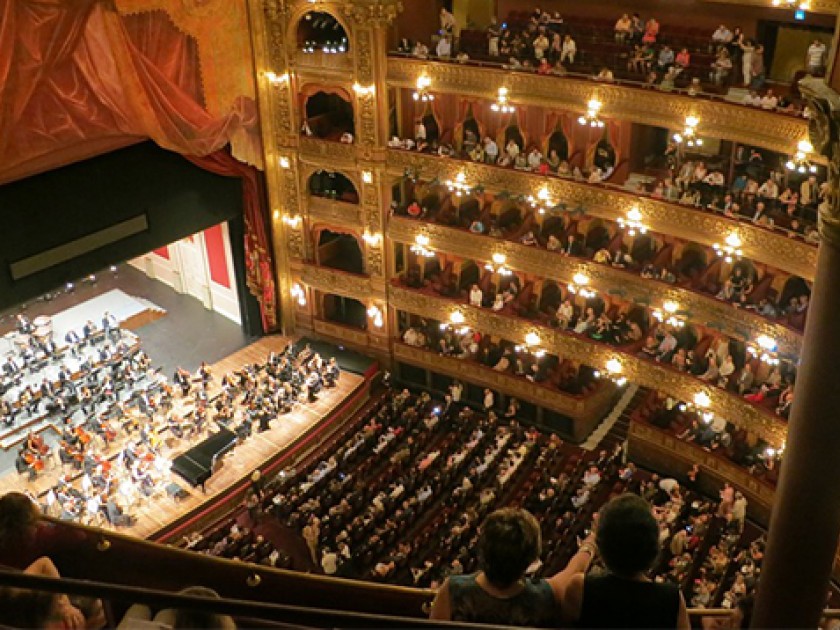 Ves­per Stam­per is the author and illus­tra­tor of What the Night Sings. She is blog­ging here as part of Jew­ish Book Coun­cil's Vis­it­ing Scribe series.
My grand­par­ents were my first and most impor­tant musi­cal influ­ences. My grand­fa­ther was always singing, doing lit­tle jigs around the house. He had a rich bari­tone that I can still hear now, even fif­teen years after can­cer took his voice out of the world. My grand­moth­er, too, was a very for­ward alto who could (mag­i­cal­ly, to a lit­tle girl) whis­tle through her teeth. WQXR, the clas­si­cal sta­tion in New York, was always on in their house. When I was far younger than you'd expect a lit­tle kid to sit still, my grand­fa­ther would take me to see the New York Phil­har­mon­ic. I was mes­mer­ized by the music, and the spell nev­er left me. My child­hood was quite trou­bled, but my grand­par­ents were a salvif­ic pres­ence, and so was their music. Music, for me, has always been asso­ci­at­ed with hope.
I attend­ed LaGuardia High School of the Arts in Man­hat­tan, where I was pos­i­tive­ly immersed in clas­si­cal music, not from some dis­tant stage, but from my fel­low teenaged friends, in the hall­ways and class­rooms. Even though I was an art major, I man­aged to sneak into the Senior and Gospel Choirs. I couldn't imag­ine doing only art and not music. I dou­bled down on my very lousy piano play­ing, teach­ing myself some sat­is­fy­ing Bach, Beethoven and Mozart pieces — for my own enjoy­ment, nev­er for an audi­ence. At fif­teen, I picked up the gui­tar and nev­er looked back, going on to become a tour­ing and record­ing singer-song­writer along­side my career as an illustrator.
I'm not sure when the char­ac­ter of Ger­ta first revealed her­self to me as a musi­cian, but she had to be a singer, a lover of the great Ger­man-lan­guage oper­at­ic tra­di­tion that stemmed from Hilde­gard von Bin­gen (whose 12th cen­tu­ry Ordo Vir­tu­um could, some argue, be con­sid­ered the first opera), flowed through Bach's heav­en­ly ora­to­rios, and blos­somed into Mozart's mas­ter­pieces and beyond. Before she and her father are deport­ed from the musi­cal town of Würzburg, Ger­ta does not know she is Jew­ish. Thanks to an elab­o­rate and nec­es­sary ruse by her father, she believes her­self to be thor­ough­ly Ger­man, and is prepar­ing for her oper­at­ic debut, the aria Erbarme Dich from Bach's St. Matthew Pas­sion.
A com­plex and lengthy work, the St. Matthew Pas­sion is full of pathos and tragedy. It recounts, in both nar­ra­tive detail and reflec­tive medi­a­tion, the last hours of the life of Jesus. What strikes me about the med­i­ta­tive move­ments with­in St. Matthew is that they do not direct­ly reflect the sto­ry, but are expres­sions of grief and loss that stand on their own and apply to all of us.
The St. Matthew Pas­sion begins with the words Kommt, ihr Tröchter, helft mir kla­gen: ​"Come, O daugh­ters, help me lament." Even sev­er­al years since I began work on What the Night Sings, I can­not get through the first mea­sure of that chorale with­out weep­ing. The sto­ry of the Pas­sion, after all, is a close­up on the sto­ry of the ancient Roman per­se­cu­tion of the Jew­ish peo­ple — one of many cat­alyt­ic events that cul­mi­nat­ed in the fall of Jerusalem, result­ing in the Dias­po­ra to Europe. The Dias­po­ra has been char­ac­ter­ized, as I point out in the book, by rough­ly 70 – 100 year cycles of Jew­ish per­se­cu­tion, right up to the present day. It is a real­i­ty we have not been able to shed in two thou­sand years.
One of the many things that punc­tu­ates the insan­i­ty of the Holo­caust is the fact that the same Ger­man cul­ture that gave us Bach and Schu­mann also pro­duced the gas cham­bers and Men­gele. It was impor­tant to me, there­fore, to jux­ta­pose the great­ness of Bach with the deprav­i­ty of Auschwitz, and to have that serve as a mir­ror to Gerta's strug­gle with her own recent­ly dis­cov­ered Jew­ish iden­ti­ty, and her reemer­gence into her­self as a woman of agency, a young adult, and an artist. She wres­tles with the sub­ject of her iden­ti­ty through­out the book. The fact is that with­in each of us lies this ten­sion. The human being is itself a para­dox — cre­at­ed in the image of God and there­fore imbued with great dig­ni­ty and capac­i­ty for good­ness, yet eas­i­ly tempt­ed toward self-inter­est, trib­al­ism, and evil. This echoes his­to­ri­an Alek­san­dr Solzhenitsyn's asser­tion in The Gulag Arch­i­pel­ago that ​"the line divid­ing good and evil cuts through the heart of every human being."
Music is a tran­scen­dent force. It can be hijacked for pro­pa­gan­da; it can be painful­ly asso­cia­tive. But it can be potent in its abil­i­ty to heal, to lift peo­ple out of the hell they may be expe­ri­enc­ing at that very moment, if only for a moment. Music exists, in a sense, in a real­i­ty above good and evil. As Ani­ta Lasker-Wall­fisch, a cel­list in the Auschwitz Women's Orches­tra, says in this inter­view: "[Mengele]…did not spoil Schu­mann or the Träumerei for me."
Ves­per Stam­per is an author/​illustrator liv­ing in the North­east with her hus­band film­mak­er Ben Stamper,and her two chil­dren. She has an MFA in Illus­tra­tion as Visu­al Essay from School of Visu­al Arts NYC. Fol­low her on Insta­gram and Face­book @vesperillustration.