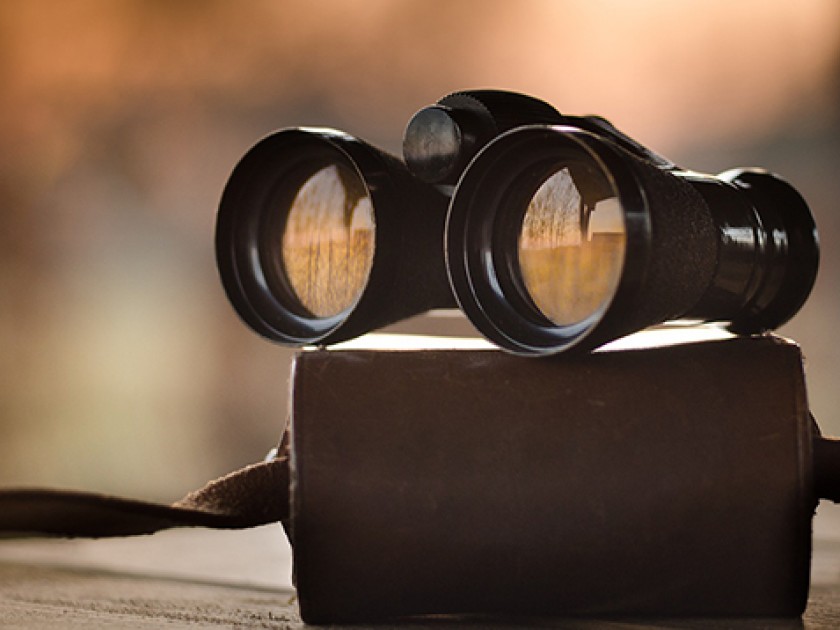 Ear­li­er this week, Alli­son Amend shared the facts she had about the real Frances Con­way and how she became the pro­tag­o­nist of Enchant­ed Islands. Alli­son is guest blog­ging for the Jew­ish Book Coun­cil this week as part of the Vis­it­ing Scribe series on The ProsenPeo­ple.
My lat­est nov­el, Enchant­ed Islands, is about the life sto­ry of an unlike­ly spy, a mid­dle-aged Jew­ish woman who trav­els to the Galá­pa­gos Islands with her hus­band, Ainslie, a naval intel­li­gence offi­cer, to spy on the Ger­mans liv­ing there.
My pro­tag­o­nist Frances Con­way (based on a real-life res­i­dent of the Galá­pa­gos Islands, though per­haps not a spy, and per­haps not Jew­ish) may not be Mata Hari or a mem­ber of the Bletch­ley Cir­cle, but she had her small but impor­tant role to play in the under­re­port­ed South Amer­i­can the­ater: South Amer­i­ca, and specif­i­cal­ly the Galá­pa­gos Islands, was the site of myr­i­ad covert activ­i­ties in dur­ing World War II.
The Galá­pa­gos Islands are of strate­gic naval impor­tance. 500 miles off the coast of Ecuador, they played a sig­nif­i­cant role in the Unit­ed States' vic­to­ry in the War of 1812: Cap­tain David Porter cap­tured three armed British whal­ing ves­sels that had stopped at the Islands to gath­er fresh water and tor­tois­es to put in the hold to feed its men. (There's an appar­ent­ly apoc­ryphal sto­ry that sailors put mail in the Flo­re­ana Island post office bar­rel with their des­ti­na­tion, which allowed the Unit­ed States to find them).
Flash for­ward about 120 years or so and the Galá­pa­gos were again a strate­gic strong­hold. The Unit­ed States feared that the Japan­ese navy would muster in the Galá­pa­gos and from there attack the Pana­ma Canal, which would have crip­pled Amer­i­can sup­ply lines. In response, the Unit­ed States Air Force built a base on the Island of Sey­mour North, or Bal­tra, famil­iar­ly known as The Rock.
Mean­while, on the main­land, rumors were swirling that Hitler had includ­ed South Amer­i­ca in his plans for world dom­i­na­tion soon­er rather than lat­er. Ger­man spies had infil­trat­ed Argenti­na, Brazil, Colom­bia, Chile and oth­er coun­tries, engag­ing in intel­li­gence gath­er­ing and sub­terfuge. Addi­tion­al­ly, Spain was trans­fer­ring paper intel­li­gence and equip­ment from South Amer­i­ca to Berlin. Roo­sevelt pos­sessed what was like­ly a British forgery of a map pur­port­ing to show Hilter's plans to divvy up South Amer­i­ca among the Axis pow­ers and sub­se­quent­ly invade north­ward. Roo­sevelt used this map to help con­vince Amer­i­ca to enter the war; it was essen­tial­ly the Niger yel­low­cake doc­u­ment of the pre­vi­ous century.
When the real Frances and Ainslie Con­way moved to the Galá­pa­gos Islands in 1937, they lived for six months on San­ti­a­go Island with an Ecuado­ri­an fam­i­ly and a lone Nor­we­gian for com­pa­ny. After six months, they were forcibly moved by the Ecuado­ri­an gov­ern­ment to Flo­re­ana, which had a his­to­ry of hous­ing Ger­mans (though by the time Frances and her hus­band arrived, there was only one Ger­man fam­i­ly left). The spec­u­la­tion that Frances and Ainslie were gov­ern­ment agents sent to spy is based in part on Ainslie's mil­i­tary past and an anony­mous fea­si­bil­i­ty study for an air base on Flo­re­ana Island, which he most like­ly authored.
In mak­ing my fic­tion­al Frances Con­way a Jew­ish spy, I placed her in a sit­u­a­tion where she must lie about her cul­ture and reli­gion. As the stakes get high­er and high­er (at one point, the Unit­ed States' secu­ri­ty is at risk), the ten­sion this sub­terfuge cre­ates stress­es her to near her break­ing point, forc­ing her to draw on reserves she wasn't aware she pos­sessed to save the day.
Alli­son Amend, a grad­u­ate of the Iowa Writ­ers' Work­shop, is the author of the Inde­pen­dent Pub­lish­er Book Award-win­ning short sto­ry col­lec­tion Things That Pass for Love and the nov­els Sta­tions West (a final­ist for the 2011 Sami Rohr Prize for Jew­ish Lit­er­a­ture and the Okla­homa Book Award) and A Near­ly Per­fect Copy. She lives in New York City.