This week, Alli­son Amend, the author of A Near­ly Per­fect Copy and the Sami Rohr Prize final­ist Sta­tions West, blogs for The Post­script on the end­ings and why they are not always so hap­py. The Post­script series is a spe­cial peek ​"behind the scenes" of a book. It's a juicy lit­tle extra some­thing to add to a book club​'s dis­cus­sion and a read­er's under­stand­ing of how the book came togeth­er.

To ​"host" Alli­son at your next book club meet­ing, request her through JBC Live Chat.
My father has a cousin, Joanie, who is a ​"read­er" in the old fash­ioned sense of the word: books, lots of them. Though her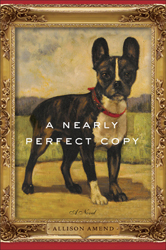 eye­sight is dete­ri­o­rat­ing, rare is the week Joanie does­n't demol­ish at least three books. She favors mys­ter­ies, hard-boiled detec­tive sto­ries, but there's rarely been a genre which did­n't some­how strike her as worth reading.
Joanie is a hoot; she may be proud­er of me than my own proud par­ents. Still, when I saw her at my book par­ty, she frowned at me through her drawn-on eye­brows (the pen­cil the same magen­ta col­or as her hair), and said, ​"Hon­ey, why don't you write a hap­py book? Why are all of your books so sad?"
"Because," I replied, ​"life is full of pain and suf­fer­ing, and as a Jew you should know that." Then I smiled to show I was jok­ing. I'm actu­al­ly a rather opti­mistic per­son. I believe every­thing works out ok in the end. I've also been accused of being fun­ny. But my books are cer­tain­ly not the kind where the pro­tag­o­nist rides off into the sunset.
Why not? Because life is full of pain and suf­fer­ing, duh. To quote The Princess Bride, any­one who says dif­fer­ent­ly is sell­ing something.
Also, end­ings are tricky. They are the most com­plained-about por­tion of books, my non­sci­en­tif­ic poll suggests.
As read­ers, we enter into rela­tion­ships with these char­ac­ters — we know their inner­most thoughts, their faults, their dreams. And we want them to suc­ceed the way we want our chil­dren to suc­ceed, to live hap­pi­ly. But what life is lived with­out adver­si­ty? And why on earth would we want to read about such a life?
The best end­ings make the read­er gasp in sur­prise and then rec­og­nize the con­clu­sion as inevitable. The char­ac­ters' live extend beyond the reach of the nov­el; and we're left to think about what their jour­ney tells us about ourselves.
Of course, many books end hap­pi­ly. There are entire gen­res devot­ed to reunit­ing sep­a­rat­ed cou­ples, or bring­ing mur­der­ers to jus­tice, or van­quish­ing alien aggres­sors. And these nov­els are com­fort­ing to us the way the pre­dictabil­i­ty of a 3‑minute pop song is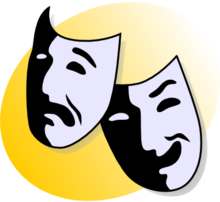 com­fort­ing, or a cup of Star­bucks cof­fee. But these are not pieces of cul­ture that stay with us, that change us or move us.
My nov­el, A Near­ly Per­fect Copy, is the sto­ry of two art-world denizens (a direc­tor of an auc­tion house in New York and a Span­ish artist liv­ing in Paris) who turn to forgery to get what they want, their prin­ci­ples thus sac­ri­ficed in the hopes that the end will jus­ti­fy the means. There is no way that the res­o­lu­tion of their sto­ry can involve pup­pies and rainbows.
Which is not to say that you'll fin­ish my book imbued with hope­less­ness and despair. As my fel­low nov­el­ist Nel­ly Rei­fler says, ​"even a dark end­ing can be uplift­ing, exhil­a­rat­ing, as long as it seems to hov­er in space and time — because then it reflects life to us as it is: unre­solved, eter­nal­ly unresolvable."
And that, Cousin Joanie, is the rea­son why my books don't have ​"hap­py" end­ings. Also [insert Borscht-Belt come­di­an accent] what, I'm Jew­ish! You want I should write a hap­py book?
To read more from Alli­son, see her Vis­it­ing Scribe posts here.
Alli­son Amend, a grad­u­ate of the Iowa Writ­ers' Work­shop, is the author of the Inde­pen­dent Pub­lish­er Book Award-win­ning short sto­ry col­lec­tion Things That Pass for Love and the nov­els Sta­tions West (a final­ist for the 2011 Sami Rohr Prize for Jew­ish Lit­er­a­ture and the Okla­homa Book Award) and A Near­ly Per­fect Copy. She lives in New York City.