Ear­li­er this week, Don­na Minkowitz wrote about how Judaism became the foun­da­tion for her mem­oir Grow­ing Up Golem: How I Sur­vived My Moth­er, Brook­lyn, and Some Real­ly Bad Dates. She has been blog­ging here all week for Jew­ish Book Coun­cil and MyJew­ish­Learn­ing.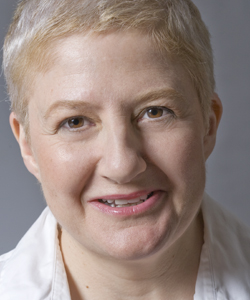 My moth­er always told us she could do mag­ic. And though my sis­ters and I were mod­ern chil­dren of the ​'70s, brought up by this very same moth­er to be left­ies and intel­lec­tu­als, we believed her — all the way into ear­ly adult­hood. She was that pow­er­ful a fig­ure to us.
She said her beloved bubbe and zaide had taught her the potent, some­times scary ele­ments of Jew­ish mag­ic — part of the ​"folk Kab­bal­ah," I would lat­er learn — that allowed her to pre­dict the future, inter­pret dreams, and — did she actu­al­ly say this, or was it extrap­o­lat­ed by me as a fright­ened five-year-old lis­ten­ing? — manip­u­late the world to her liking.
As an old­er child, I once bold­ly asked her to teach me ​"the signs" she men­tioned so often, by which she could read the future. She refused, say­ing ​"Once you know them, you'll see them every­where, and it will ter­ri­fy you." I could­n't imag­ine any­thing more ter­ri­fy­ing than her warning.
Still, part of me was incred­i­bly intrigued. ​"Mag­ic" was the thing I myself most want­ed to do from an ear­ly age, and J. R. R. Tolkien became my favorite writer at the age of nine (and remains my favorite today). Fan­ta­sy and sword-and-sor­cery were among the gen­res I loved the most, but I had nev­er heard of any Jew­ish sor­cer­ers or magi­cians until my moth­er men­tioned them.
One of the most sur­pris­ing things my moth­er told me about her ear­ly mag­i­cal edu­ca­tion was that it mixed Jew­ish enchant­ments with mag­ic derived from the Euro­pean pagan tra­di­tion. My mom said her Roman­ian bubbe taught her not just spells from our lands­men but ​"Roman­ian gyp­sy mag­ic," which frankly shocked me because what I had always heard of rela­tions between Jews and their non-Jew­ish neigh­bors in Europe seemed to pre­clude friend­ly cul­tur­al exchange.
(Yes, I now find it fun­ny that I found the claims about mag­ic easy to believe, but I was more doubt­ful about ami­able exchange of myths between Jews and goyim.)
One of the things I remem­ber most point­ed­ly from my three years of yeshi­va is Abra­ham being revered for smash­ing the idols of pagans, and the almost unbear­able hor­ror of the Greeks' turn­ing the Jew­ish Tem­ple into a pagan one (on the occa­sion in the 2nd cen­tu­ry B.C.E. that gave rise to Chanukah).
Even as an adult, my under­stand­ing of Jew­ish and pagan con­tacts in the home­lands of my grand­par­ents (Rus­sia, Roma­nia, and Aus­tria) was that there nev­er would have been much mer­ry shar­ing of sto­ries, tra­di­tions, or mag­ic. Each side, I thought, regard­ed the oth­er with too much dis­taste and even hatred.
I'm delight­ed to have dis­cov­ered I was wrong. When I researched the his­to­ries of the golem leg­end and of Jew­ish mag­ic itself for my mem­oir, Grow­ing Up Golem, I learned that there was, in fact, cul­tur­al inter­min­gling going on for cen­turies. No less an author­i­ty than Ger­shom Scholem writes of pagan, Chris­t­ian and Jew­ish ele­ments inter­min­gling in some tra­di­tions asso­ci­at­ed with the Kab­bal­ah, and the late schol­ar Joshua Tra­cht­en­berg, in a fas­ci­nat­ing work called Jew­ish Mag­ic and Super­sti­tion, dis­cuss­es enthu­si­as­tic shar­ing going back mil­len­nia (and con­tin­u­ing into the mod­ern era). In fact, alche­my, Kab­bal­ah, and Gnos­ti­cism have been cross­ing paths and bor­row­ing from one anoth­er for many hun­dreds of years.
I'm proud to be part of a cul­ture where Jew­ish dif­fer­ence turns out to be based in part on a cul­tur­al soup that got its nutri­ents from many places, where puri­ty turns out to have been less impor­tant than a vital inter­course and com­min­gling, one that gave rise to the leg­end of the golem itself.
Don­na Minkow­itz's most recent mem­oir,
Grow­ing Up Golem: How I Sur­vived My Moth­er, Brook­lyn, and Some Real­ly Bad Dates
, will be pub­lished by Mag­nus Books on Sep­tem­ber

25

th. She won a Lamb­da Lit­er­ary Award for her first mem­oir,
F
ero­cious Romance: What My Encoun­ters with the Right Taught Me About Sex, God, and Fury
. She has writ­ten for
The New York Times Book Review
, Salon, and
The Nation
. Read more about Don­na
here
.
Don­na Minkowitz was a colum­nist for the Vil­lage Voice for eight years, and her writ­ing has also appeared in The New York Times Book Review, Salon, The Nation, and Ms. Her first book, Fero­cious Romance, won a Lam­mie for its por­tray­al of the traits Minkowitz found she had in com­mon with the Chris­t­ian right, despite fierce­ly oppos­ing them politically.