Ear­li­er this week, Rab­bi Bar­ry Schwartz wrote about need­ing more Jew­ish debate. He will be blog­ging here all week for Jew­ish Book Coun­cil and MyJew­ish­Learn­ing.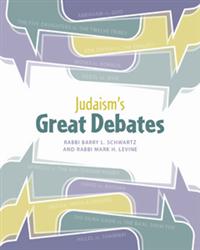 The first Jew­ish debate nev­er ceas­es to amaze me. I am of course refer­ring to the great debate between Abra­ham and God as record­ed in Chap­ter 18 of Gen­e­sis. While Abraham's epic sto­ry is remark­able, there is noth­ing in the pri­or (or sub­se­quent) bib­li­cal nar­ra­tive to indi­cate that the patri­arch will chal­lenge so bold­ly the God who com­mands his life so thor­ough­ly. This is the quin­tes­sen­tial man of faith, after all, who unques­tion­ing­ly sets forth to a new land and sub­mits even to the com­mand to sac­ri­fice his beloved son with nary a word of objection.
So when quite sud­den­ly ​"Abra­ham came for­ward" (18:23) and dares God to moral­ly jus­ti­fy the col­lec­tive pun­ish­ment of Sodom-well that is aston­ish­ing! ​"Will You sweep away the inno­cent with the guilty?" he point­ed­ly asks in the same verse. ​"Shall not the Judge of all the earth deal just­ly?" he pas­sion­ate­ly exclaims two vers­es lat­er. Abra­ham holds his ground as the debate goes back and forth con­cern­ing the min­i­mum num­ber of inno­cent peo­ple it would take to save the city.
The abrupt and appar­ent­ly trun­cat­ed con­clu­sion to the debate (see 18:33) shifts the enig­ma of Abra­ham to the enig­ma of God. Does the Judge of all the earth in fact act just­ly? Do some inno­cent per­ish with the wicked? Were the wicked beyond repen­tance and mer­cy? Were the ordi­nary cit­i­zens of Sodom equal­ly evil?
Who, then, won this debate? Cer­tain­ly Abra­ham leaves quite a lega­cy. Abra­ham could eas­i­ly have looked the oth­er way. He could have idly stood by. Instead he decides to stand up to God no less, his guide and pro­tec­tor. In the words of Nao­mi Rosen­blatt this sto­ry is about ​"the pow­er of one man of integri­ty to be the con­science of the world." In the words of Elie Wiesel ​"the Jew opts for Abra­ham-who ques­tions- and for God-who is questioned…knowing that he may oppose God as long as he does so in defense of His creation."
The Sages coined an expres­sion for chal­leng­ing God in the spir­it of Abra­ham, ​"hutz­pah k'lape shmaya- bold­ness (even nervi­ness) toward heav­en." This lega­cy of ​"holy hutz­pah" finds expres­sion through­out Jew­ish lit­er­a­ture, but espe­cial­ly in East­ern Euro­pean Hasidic tales like Rab­bi Levi Yitzhak's ​"Din Torah mit Got-Law­suit with God," and in anoth­er tale where he tells a sim­ple tai­lor who chal­lenged the Almighty in prayer, ​"Why did you let God off so eas­i­ly? You might have forced God to save all of Israel!"
Rab­bi Bar­ry Schwartz is direc­tor of The Jew­ish Pub­li­ca­tion Soci­ety in Philadel­phia and rab­bi of Con­gre­ga­tion Adas Emu­no in Leo­nia, NJ. He is the author of Judaism's Great Debates (Behrman House, March 2012 stu­dent edi­tion; Jew­ish Pub­li­ca­tion Soci­ety, May, 2012 adult edi­tion).