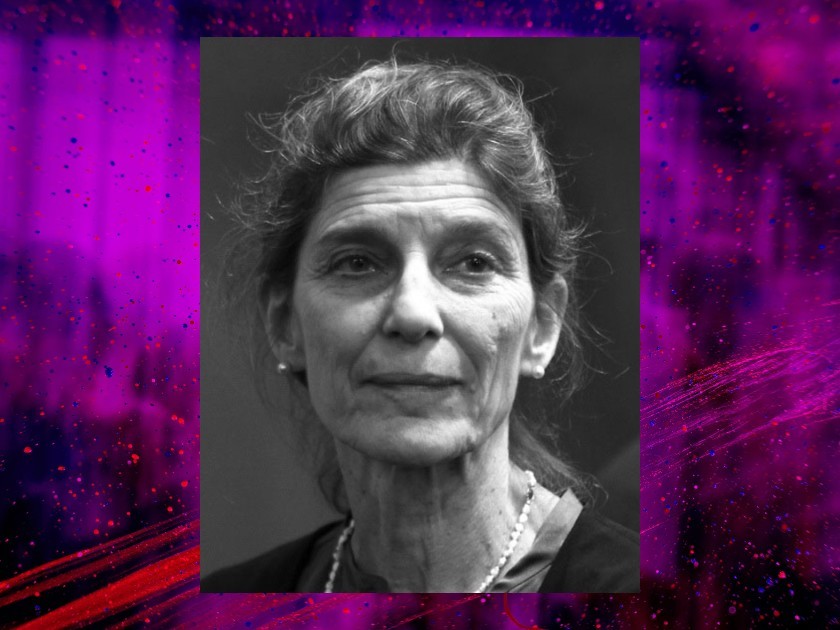 Ann Gold­stein is inter­viewed by Mer­rill Lef­fler about the mon­u­men­tal task of trans­lat­ing Pri­mo Lev­i's vast body of work, an endeav­or that cul­mi­nat­ed in three expan­sive vol­umes. This inter­view orig­i­nal­ly appeared in the 2017 issue of Jew­ish Book Coun­cil's lit­er­ary jour­nal, Paper Brigade. This July 31st marks the 100th anniver­sary of Pri­mo Lev­i's birth.
Mer­rill Lef­fler: The Com­plete Works has been a major under­tak­ing and achieve­ment — the trans­la­tion of four­teen books by Pri­mo Levi com­plet­ed by ten trans­la­tors, with sup­port­ing mate­ri­als that include a detailed chronol­o­gy of Levi's life; near­ly sev­en­ty pages of notes about the pub­li­ca­tion of each book; and essays on Levi in Amer­i­ca and the pub­li­ca­tion of his works through­out the world. How did all this come about?
Ann Gold­stein: The idea was not mine at all but that of Robert Weil, now the edi­tor in chief of Liv­eright, an imprint of W. W. Nor­ton. He felt strong­ly about the impor­tance of Levi's work and want­ed to bring all of it togeth­er, as he had done for The Com­plete Works of Isaac Babel, edit­ed by Natal­ie Babel and pub­lished by Nor­ton in a beau­ti­ful edi­tion near­ly fif­teen years ago. So in 1998, when Bob set about obtain­ing the rights to Levi's works, he didn't real­ize what he was in for. Orig­i­nal­ly he expect­ed to put togeth­er the old­er trans­la­tions in a cou­ple of vol­umes, but, as he writes in ​"Pri­mo Levi in Amer­i­ca," obtain­ing the rights from Levi's Ital­ian pub­lish­er, Ein­au­di, let alone the Amer­i­can and British pub­lish­ers who held Eng­lish-lan­guage rights, seemed at times insur­mount­able — that in itself took six years! But to do the hands-on work of bring­ing all the trans­la­tions togeth­er, Bob need­ed an Italianist.
ML: So that was you.
AG: Yes. I came on in 2004. While six of Levi's books had been trans­lat­ed in full over the years and, posthu­mous­ly, The Drowned and the Saved—a num­ber of oth­er books had been trans­lat­ed and pub­lished, in a some­what piece­meal fash­ion, in col­lec­tions that didn't cor­re­spond exact­ly to Levi's books in Ital­ian. Mean­while, there were sto­ries, essays, and arti­cles that had nev­er been trans­lat­ed at all. In Ital­ian, Levi's works appear chrono­log­i­cal­ly in the Opere, or Com­plete Works, edit­ed by Mar­co Belpoli­ti and pub­lished by Ein­au­di in 1997. Once we decid­ed to fol­low the Ital­ian Opere, so that the Amer­i­can edi­tion would be a true com­plete works, we real­ized that it would also make sense to do new trans­la­tions, the idea being that with one edi­tor-trans­la­tor there would be some uni­for­mi­ty of tone to the whole. The idea was a good one, though we under­es­ti­mat­ed how long it would take.
ML: What hap­pened? How did you go about plan­ning what turned out to be three large volumes?
AG: I had nev­er orga­nized a project like this, and I set up a sched­ule and dead­lines that turned out to be unre­al­is­tic. We thought that putting togeth­er a com­plete man­u­script would take per­haps three years, maybe a lit­tle more. Find­ing trans­la­tors involved an amount of tri­al and error, but in the end most of the trans­la­tors were peo­ple Bob or I knew, and whose work we knew. Had I known how long it was going to take, I might have want­ed to trans­late all of Levi's work myself, except for the poet­ry, which was done by Jonathan Galas­si. I should men­tion that the one book Bob couldn't get the Eng­lish rights to was If This Is a Man [pub­lished in the Unit­ed States as Sur­vival at Auschwitz]. But it turned out that Stu­art Woolf, the orig­i­nal trans­la­tor, had always want­ed to revise his orig­i­nal trans­la­tion, and he did.
ML: What was the trans­la­tion process and how did you go about editing?
AG: To begin with, trans­la­tors had to first get the work done, which in some cas­es got delayed for a vari­ety of rea­sons. They sent their man­u­scripts to me. I edit­ed them, and then sent them back for revi­sion. All this took many months and, as it turned out, years. My trans­la­tion style is to stay fair­ly close to the text. I don't like peo­ple to stray too far from the orig­i­nal. So I edit­ed them for the most part to my style. There are some dif­fer­ences, but my idea was that they would hold togeth­er despite hav­ing ten dif­fer­ent translators.
ML: You received a Guggen­heim for this work. When was that and what did it enable you to do?
AG: I got the Guggen­heim in 2009, and it enabled me to go to Rome for four months. For a per­son with a day job, time is an incred­i­ble gift. To be able to focus on Ital­ian, and on Levi in par­tic­u­lar, with­out the nor­mal demands of my life, allowed me to get a lot of work done. I also worked on some oth­er trans­la­tions— I did a short Alessan­dro Bar­ic­co project — but there was time for that, too. In fact, I like work­ing on more than one project at a time because I think it gives my Ital­ian a broad­er base. But also I was liv­ing in Italy, hear­ing Ital­ian, speak­ing it, in a more con­cen­trat­ed way than I had done in the past.
ML: Have you encoun­tered par­tic­u­lar prob­lems or chal­lenges in trans­lat­ing Levi com­pared with trans­lat­ing oth­er Ital­ian nov­el­ists like Pasoli­ni or Ele­na Ferrante?
AG: Levi was a chemist and he uses sci­ence and chem­istry — most famous­ly, of course, in The Peri­od­ic Table. But it's not only the vocab­u­lary; it's also the vocab­u­lary as metaphor. In ​"Car­bon," the mar­velous last chap­ter, he writes, ​"My first lit­er­ary dream was addressed to car­bon, the ele­ment of life, and was per­sis­tent­ly dreamed in a time and place where my life was not worth much [in Auschwitz]: I want­ed to tell the sto­ry of a car­bon atom." In writ­ing the car­bon atom as a lit­er­ary char­ac­ter, he takes it through its many trans­for­ma­tions, from its start in the form of cal­care­ous rock, to its detach­ment and pas­sage through dif­fer­ent chem­i­cal com­pounds. Not only vocab­u­lary is dif­fi­cult for the trans­la­tor — so too is the descrip­tion of process­es, such as the atom's trans­for­ma­tion from glu­cose to lac­tic acid.
ML: So how do you han­dle the complexities?
AG: I have a good friend who is a sci­en­tist and I've gone to him with prob­lems, and I've con­sult­ed with oth­ers as well. I should add that the sci­ence is not the only chal­lenge in Levi's work — he was deeply inter­est­ed in lan­guage and the way lan­guage changes — and a trans­la­tor has to deal with many nuances in his writ­ing. In the first chap­ter of The Peri­od­ic Table, ​"Argon," Levi dis­cuss­es the rela­tion­ship of words in Ital­ian, the Jew­ish Pied­mon­tese dialect of his fore­bears, and Hebrew, using the dialect and dialect expres­sions to cre­ate a pic­ture of a now-lost world. I did spend a long time on this book, but, as it turned out, I had the lux­u­ry of being able to work on it over a peri­od of years. I could put it aside and then take it up again. I also go to Italy and have had help at the Pri­mo Levi Study Cen­ter — in Ital­ian, Cen­tro Inter­nazionale di Stu­di Pri­mo Levi. There is a Cen­tro Pri­mo Levi in New York as well.
ML: Any­one who has read Levi on Auschwitz will be com­pelled by his unspar­ing hon­esty and his self-ques­tion­ing voice. Are there oth­er aspects of his writ­ing that read­ers will dis­cov­er when they read The Com­plete Works?
AG: I would say a writer who is often satir­ic and com­ic — yes, com­ic. For as direct and haunt­ed as he is about the Holo­caust and the capac­i­ty human beings have for bru­tal­i­ty, there is simul­ta­ne­ous­ly that oth­er Levi. There is also his inven­tive­ness and imag­i­na­tion, so evi­dent in his sort of sci­ence-fic­tion sto­ries — Ita­lo Calvi­no called them ​"bio­log­i­cal fic­tions." The uncol­lect­ed works that Mar­co Belpoli­ti first brought togeth­er for the Opere, let alone the books of sto­ries and essays that were trans­lat­ed, though only in part, show us a man who was first and fore­most a writer — a writer with an extra­or­di­nary curiosity.
Mer­rill Lef­fler has pub­lished three col­lec­tions of poet­ry, most recent­ly Mark the Music. A physi­cist by train­ing, he worked in the
NASA
sound­ing rock­et pro­gram, taught Eng­lish at the U. S. Naval Acad­e­my, and was senior sci­ence writer at the Uni­ver­si­ty of Mary­land Sea Grant Pro­gram, focus­ing on Chesa­peake Bay research.