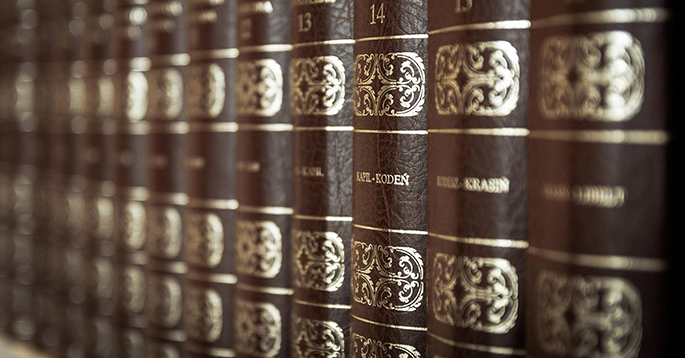 Jew­ish books, Jew­ish libraries — it's easy enough to attach the word Jew­ish to any­thing lit­er­ary. But what about Jew­ish antholo­gies? If Jews, as the say­ing goes, are the peo­ple of the book, then Jew­ish antholo­gies must be con­sid­ered. This emi­nent­ly Jew­ish tra­di­tion, which arguably began with the Bible, may indeed be the quin­tes­sen­tial Jew­ish prac­tice: cre­at­ing new Jew­ish lit­er­a­ture out of old Jew­ish literature.
As a his­to­ri­an, and, now, as an anthol­o­gist myself, I've thought a lot about cre­at­ing Jew­ish antholo­gies. It's an enor­mous respon­si­bil­i­ty, an entic­ing but daunt­ing chal­lenge. As the schol­ar David Roskies has writ­ten, ​"the anthol­o­giz­er gets to decide who's in and who's out, where to begin and where to end." These choic­es, like every­thing Jew­ish, are com­pli­cat­ed: ​"Before you know it, you have a sto­ry, a nar­ra­tive, and every such nar­ra­tive is fraught with mean­ing: aes­thet­ic, ide­o­log­i­cal, political."
Per­son­al­ly, I've found Roskies' words both use­ful and rel­e­vant. After I was named co-edi­tor, with Nurith Gertz, of a vol­ume of The Posen Library of Jew­ish Cul­ture and Civ­i­liza­tion, ear­li­er this year I became edi­tor-in-chief of the entire 10-vol­ume series, cov­er­ing all of Jew­ish his­to­ry, from Bib­li­cal times to the present. I was delight­ed to take on this immense project in addi­tion to my day job as a his­to­ri­an and pro­fes­sor. It has giv­en me an oppor­tu­ni­ty to think deeply about Jew­ish antholo­gies: what they are, what they've been, and what they might become.
I'll begin, as a his­to­ri­an must, with the past. Antholo­gies are a simul­ta­ne­ous­ly ancient, medieval, and mod­ern Jew­ish tra­di­tion. Dur­ing the Jew­ish Mid­dle Ages, antholo­gies became pri­ma­ry medi­ums for record­ing sto­ries, poems, and inter­pre­ta­tions of clas­si­cal texts. They also served as a means of trans­mit­ting and pre­serv­ing tex­tu­al tra­di­tions across gen­er­a­tions. When Jews sat down to their Passover Seder, they read from an anthol­o­gy: the Hag­gadah. This Jew­ish text con­tin­u­al­ly gets rein­vent­ed — illus­trat­ed, trans­lat­ed, mod­i­fied — to reach new generations.
In the mod­ern peri­od, Jews trans­formed the anthol­o­gy. It became into an instru­ment for cul­tur­al retrieval. Both Zion­ists and Yid­dishists used antholo­gies to advance their intel­lec­tu­al and polit­i­cal goals. No less impor­tant­ly, the anthol­o­gy helped estab­lish new fields of Jew­ish research. It played key roles in the study of Hebrew poet­ry, folk­lore, music, and pop­u­lar culture.
Today, schol­ars rec­og­nize the sig­nif­i­cance of Jew­ish antholo­gies. Midrash schol­ar David Stern, for instance, sees antholo­gies every­where in Jew­ish lit­er­a­ture. Stern, who edit­ed The Anthol­o­gy in Jew­ish Lit­er­a­ture, cites the Bible itself, not to men­tion near­ly all the canon­i­cal texts of Judaism: the Mish­nah, the Tal­mud, clas­si­cal midrash, and the prayer­book. Some bib­li­cal books are antholo­gies — e.g. Psalms and Proverbs. Oth­ers reflect what Stern calls an ​"antho­log­i­cal habit" — a ten­den­cy to col­lect ​"dis­crete and some­times con­flict­ing sto­ries or tra­di­tions." Think, for exam­ple, of the two accounts of the cre­ation of human beings pre­sent­ed side by side in Gen­e­sis, with­out com­ment or any effort to uni­fy them.
As this brisk sur­vey shows, Jew­ish antholo­gies are diverse and there­fore dif­fi­cult to define. Or are they? In his essay, Roskies gives a sim­ple, sub­lime def­i­n­i­tion: they are a Jew­ish con­ver­sa­tion extend­ing both back­ward and for­ward in time. Back­ward, because the anthol­o­gists have read and judged Jew­ish texts from ear­li­er eras, select­ing some, reject­ing oth­ers. For­ward, because the anthol­o­gist seeks to cre­ate new under­stand­ings that will shape the Jew­ish future, con­tribut­ing to an ongo­ing dia­logue. This is the ​"Jew­ish antho­log­i­cal imag­i­na­tion," as Roskies so ele­gant­ly puts it.
So, then, how should a mod­ern anthol­o­gist go about their task? For starters, they should pay close atten­tion to trans­la­tions. Trans­lat­ing has long, dis­tin­guished Jew­ish his­to­ry. As a means of con­vey­ing texts, sacred and sec­u­lar alike, into the lan­guages Jews speak, trans­la­tion has been invalu­able. It has kept Jew­ish tra­di­tions alive as Jews have migrat­ed and acquired new lan­guages. Trans­la­tion is com­pli­cat­ed, how­ev­er; and con­vert­ing Jew­ish sources into the cur­rent world's uni­ver­sal lan­guage, Eng­lish, is espe­cial­ly so. As lit­er­ary schol­ar Ani­ta Norich points out, yid­dishkeyt doesn't exact­ly mean Jew­ish­ness, and Shoah is not quite a syn­onym for Holo­caust. To trans­late, as the old say­ing goes, is to betray, to be a trai­tor. And yet it is necessary.
Trans­la­tion aside, there's the ques­tion of orga­ni­za­tion: where do you place hun­dreds, even thou­sands, of doc­u­ments, arti­facts, and works of art? In what order? In what cat­e­gories? With The Posen Library, there was no sin­gle answer to these ques­tions. Although the Bible might be a mod­el, none of the series' edi­tors even attempt­ed to cre­ate a sin­gle, uni­fied whole out of their selec­tions. Instead, they embraced vari­ety. Mean­ings would emerge from jux­ta­po­si­tion. Dif­fi­cult ques­tions like ​"What is Jew­ish art?" and ​"What is Jew­ish lit­er­a­ture?" would be answered implic­it­ly, through the anthol­o­gists' choic­es. Genre, chronol­o­gy, geog­ra­phy, and themes would be the reign­ing categories.
When all is said and done, the anthologist's pri­ma­ry task is still selec­tion: who is includ­ed, who is exclud­ed. Once again, I can speak per­son­al­ly to the plea­sure of solv­ing this rid­dle. Among the hard­est chal­lenges fac­ing Nurith Gertz and me was select­ing works by liv­ing writ­ers, artists, and thinkers. Some­times these were peo­ple we knew and admired. We couldn't include every­one, yet to my sur­prise, not every­one want­ed to be includ­ed! Some peo­ple, for what­ev­er rea­son, declined to have their work anthol­o­gized. There was also the ques­tion of grant­i­ng legal per­mis­sion, which revealed the polit­i­cal and per­son­al choic­es alive in the con­tem­po­rary Jew­ish world. This process, part of the behind-the-scenes labor of anthol­o­gy-mak­ing, deserves its own sep­a­rate essay.
All this his­to­ry, all this com­plex­i­ty, all these chal­lenges, are part of what con­tin­ues to excite me about antholo­gies. That, and the pos­si­bil­i­ty of inno­va­tion. The inter­net tan­ta­lizes. It holds out the oppor­tu­ni­ty to cre­ate a ​"liv­ing anthol­o­gy," one that could poten­tial­ly expand over time. For that rea­son, The Posen Library vol­umes will be pub­lished online, extend­ing their reach. Beyond that, The Posen Library will present new ways of think­ing about Jew­ish cul­ture and civ­i­liza­tion. It promis­es to change our under­stand­ing of the enor­mous breadth and depth of Jew­ish cre­ativ­i­ty across many cen­turies. If it suc­ceeds, it will demon­strate yet again the endur­ing vital­i­ty of the Jew­ish antho­log­i­cal imagination.
Relat­ed Content:
Deb­o­rah Dash Moore is Fred­er­ick G. L. Huetwell Pro­fes­sor of His­to­ry and Pro­fes­sor of Juda­ic Stud­ies at the Uni­ver­si­ty of Michi­gan. She is the author of GI Jews and coau­thor of Jew­ish New York.