C. Alexan­der Lon­don is the author of We Are Not Eat­en By Yaks: An Acci­den­tal Adven­ture, and the forth­com­ing sequel, We Dine With Can­ni­bals. As Charles Lon­don, his grown-up alter ego, he wrote One Day The Sol­diers Came: Voic­es of Chil­dren in War and Far From Zion: In Search of a Glob­al Jew­ish Com­mu­ni­ty. He will be blog­ging all week for the Jew­ish Book Coun­cil and MyJew­ish­Learn­ing​'s Vis­it­ing Scribe.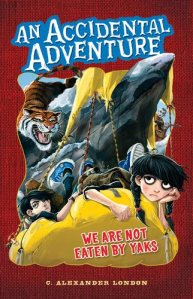 It's odd that a mid­dle grade nov­el called We Are Not Eat­en By Yaks about two eleven year old couch pota­toes and their adven­tures should have its ori­gins in a per­son­al quest for Jew­ish mean­ing, but if I had not been for the scat­ter­ing of the Jew­ish peo­ple, I nev­er would have been in Ran­goon to cel­e­brate the High Hol­i­days with a few of the last Jews in Bur­ma, and I nev­er would have writ­ten it.
I sup­pose I should start at the begin­ning, before I became a writer of books for younger read­ers.
I was in Asia doing research for what would become Far From Zion, a nar­ra­tive of my jour­ney through the far reach­es of the Dias­po­ra to fig­ure out what it meant for me to be a part of the Jew­ish peo­ple. What did I have in com­mon with a Jew in Ran­goon? What did he share with a recent con­vert in rur­al Ugan­da? And what did all of us share with a Jew­ish com­mu­ni­ty in Arkansas or with my Ortho­dox great-great grand­fa­ther who set­tled in Vir­ginia or with the nephew of a Cha­sidic Rab­bi in Jerusalem? What bound us togeth­er; why did Jew­ish com­mu­ni­ty per­sist, and what was my place in it?
I took a trip, start­ing in Bur­ma, to find out.
At the time, how­ev­er, thou­sands of monks and pro-democ­ra­cy pro­test­ers were clash­ing vio­lent­ly with gov­ern­ment sol­diers all over the coun­try, and on Yom Kip­pur, things in Ran­goon start­ed to get crazy. I lit­er­al­ly walked into the mid­dle of the protests in front of a sacred Bud­dhist shrine in the cen­ter of down­town. With­in twen­ty-four hours, the mil­i­tary jun­ta, which con­trols Bur­ma (and which they had renamed Myan­mar) sealed off the coun­try, shut down the inter­net and scram­bled all west­ern tele­vi­sion. No CNN. No NBC. No Car­toon Net­work. And I real­ly missed it.
Even as things were going insane in the streets, TV some­how made me feel safer, more com­fort­able, less far from home. After only a month, I was tired of trav­el­ing and chaos and excite­ment. I got out of the coun­try just when things start­ed to get vio­lent in Bur­ma and I flew to Mum­bai, India in the mid­dle of the fes­ti­val of Ganesh. Fire­works and pink paint every­where. Crowds of pil­grims and par­ty­go­ers on every corner.
I was so over it.
I was home­sick already and I had a year of trav­el ahead of me to places like Ugan­da, Bosnia, Iran, Cuba and, yes, even Arkansas. My friends and fam­i­ly were often jeal­ous because I was always in some far-off place hav­ing some crazy adven­ture — fam­i­ly mem­bers pic­tured me as a cross between Indi­ana Jones and Woody Allen—but all I want­ed was to be curled up on the couch at home watch­ing TV.
It was on that first flight out of Ran­goon (and a series of oth­ers as my year of wan­der­ing unfold­ed) that I imag­ined these two eleven year olds, Oliv­er and Celia Navel, who just want to be left alone to watch tele­vi­sion, but are doomed for a life adven­ture. They lived at the Explor­ers Club and are the chil­dren of world famous adven­tur­ers, inher­i­tors of a great tra­di­tion of glo­be­trekking, with which they want noth­ing at all to do.
When we meet Oliv­er and Celia in the first book in the series, they wish they could cast off that inher­i­tance and just be the nor­mal chil­dren of bor­ing par­ents. But their moth­er has gone miss­ing; their father craves excite­ment, and they are doomed to trav­el the world, to encounter mys­tics and sages, dis­cov­er ancient ruins, and come face to face with the myth­ic Yeti. They can­not cast off their destiny!
And they are so over it.
I guess there is some­thing Jew­ish about that. After being forced to wan­der for thou­sands of years, the Jew­ish peo­ple too, were so over it.
Of course, Moses nev­er had to fight a Yeti.